Shocking: Rosell mandates new child guideline at Camp Nou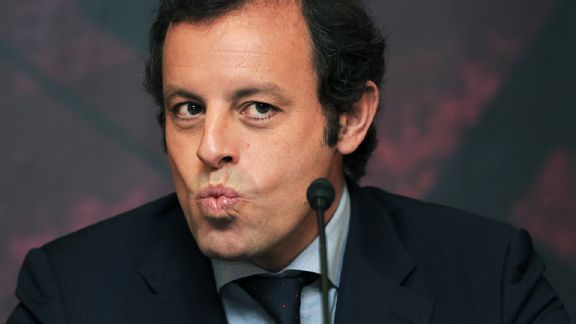 Lluis Gene/AFP/Getty ImagesSandro Rosell has mandated that children seven and under will need a ticket should they wish to attend a match at the Camp Nou.
Going to the Camp Nou with my beloved grandpa to watch my Blaugrana heroes on a regular basis is right at the very top of my most adored memories throughout my entire life.

Chanting and clapping the Cant del Barca surrounded by over 100,000 other Cules, celebrating the goals of Romario until my throat hurt or cheering for the fiery Hristo Stoichkov whenever he got involved in any heated arguments (which happened often) are moments which will live in my heart forever.

While growing up, mum always used the "if you don't behave, I will tell grandpa, and we both know what that means" strategy to keep me in line. I found the mere thought of disappointing him terrifying and that was certainly enough to instantly make me change my cheeky attitude.

We all knew that a grumpy grandpa would certainly mean that my fortnightly trip to the Camp Nou would be cancelled in the blink of an eye and that was a risk that I was just never prepared to take.

Having lived and breathed Blaugrana from such a very early age made me love the club as part of my family. Preparing our fuet sandwiches, wrapping that itchy knitted scarf around my neck, sitting on the coach surrounded by noisy supporters and holding grandpa's hand while entering the stadium is what we did and who we were as a family.

With all the above in mind, it is clear that I was shocked to hear Sandro Rosell announce that children will no longer have free entrance at the Camp Nou: "It is one of those rules you are not necessarily in favour of, but it is the law. I am the first who is against the decision that I have taken, but I had to take it due to the responsibility I have. Security experts alerted us to the fact that 40,000 children could come to a Clasico game at 6pm. We do not want to run that risk."

I must admit that the president's words do make sense from an institutional point of view. I agree that security of those who attend the match is paramount and that the law (which the Catalan government approved in 2006) must be adhered to. I do understand that the fact that no major incident in the stadium has involved children doesn't mean that such good fortune won't change in the future.

Personally, I do believe that the way in which the board has communicated their decision has just not been very well-planned or shared within the club members appropriately. The fact that this controversial, unpopular point was not even debated at the recent Barcelona Members Assembly is disappointing and shows an alarming lack of preparation and an inability to predict problems before they actually explode in front of their very eyes.

Of course, I do realise that Rosell hasn't forbidden children from entering the stadium: He has banned them from attending for free. In other words: If anyone wants to bring a kid to the stadium, then they will have to pay for another ticket. Considering the severe economical crisis which is still hitting the Catalans' pockets, coughing up an extra 55 euros for a Tercera Graderia ticket will simply not be an option for most.

Having attended games at the Camp Nou for over two decades now, I must admit that the large majority of under-7s who attend sit on their parent's laps and only take up a different seat if it is vacant once the game starts. I personally don't see a problem as kids have traditionally been very well supervised by their responsible adults.

Oh well. Life goes on and times fly by but, unfortunately, changes aren't always for the better. Barcelona will finally obey the law they have been breaking for almost eight years and, as it already happens in Real Madrid's Santiago Bernabeu and other major European stadiums, will force children to stay out unless they have bought their own ticket.

Try explaining to your seven-year-old grandson that you will not be taking him to watch Lionel Messi anymore because the president says he must have a ticket. While the law is there to be followed, that is certainly not a conversation anyone would like to have.

Many tiny Blaugrana hearts are about to be broken all over Catalunya and, at the same time, president Rosell has given their families another reason to vote him off the presidency when the next election comes in the summer of 2016.

PS: Thank you for the memories, grandpa, and Forca Barca!

Have your say

I welcome and appreciate all respectful feedback.

For more news and opinion notes on Barcelona, follow Francesc Tomas at @TomasESPN and Barcablog on Facebook; 49,000 Cules have already joined.