Barca should move quickly to lock up Iniesta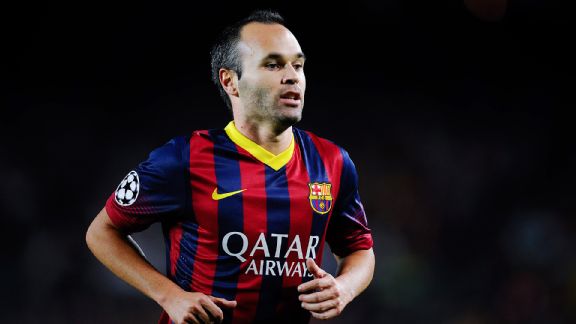 David Ramos/Getty ImagesIniesta will have to cram in games in Equatorial Guinea and South Africa.
Andres Iniesta will go down in the history of the game as a special player, regardless of what lies ahead for the little midfielder from the tiny village of Fuentealbilla, of just 2000 souls, in Spain's arid Castilla-La Mancha central plain.

He is, of course, a member of that small club of players whose goals have won a World Cup final for their countries, along with such luminaries as Zinedine Zidane and Ronaldo.

Iniesta was a unique player even before the 2010 World Cup final, but since he scored the winning goal against Holland on that July night in Johannesburg, he has been feted wherever he goes, including the Santiago Bernabeu.

The standing ovation he received when substituted at Celtic Park the other week in the Champions League was no different than those that he has enjoyed in stadiums all over Spain. The fact that it came from a knowledgeable Glasgow crowd that has appreciated good football since Real Madrid beat Eintracht Frankfurt 7-3 there in 1960 made it all the more special.

Barring a disaster on Tuesday evening against Georgia, Iniesta will help his Spain side qualify for the World Cup in Brazil next summer. The fact that the game is played in Albacete, the city in which he started his football career, means Iniesta will again reluctantly take centre stage.

- Report: Messi nears Barcelona comeback

With Iniesta, you get none of the adornments of the modern player. There are no tattoos or funky hair style for Iniesta; just a humble "kid next door" image, and one exceptionally gifted footballer.

Spanish television viewers have been entertained for many years by a junior seven-a-side tournament during the school holidays in a competition among junior teams of Spain's professional clubs. Over the years, it has provided a great supply of images of players who have gone on to become professionals.

Perhaps the best of all is early great footage of the man who went on to conquer the world, in the colours of Albacete in 1996.

Iniesta goes back as much as he can to his home village, located over 450 kilometres from Barcelona, where he has helped his family start a wine business that now features as shirt sponsor on Albacete Balompie S.A.D. shirts, the club where he began as an 8-year-old.

In 2011, he saved Albacete, once a staple of La Liga, from almost certain bankruptcy, and last summer he repeated his financial help for the club to avoid it from being relegated to the third tier of Spanish football.

Typical of Iniesta's generous nature, he invested 420,000 euros in 2011 to become the club's main shareholder before digging into his pocket again last summer to help out with 200,000 euros so the players did not go unpaid.

After his performance in that tournament in 1996, he signed for Barca at the age of 12, where he learnt about life, first at La Masia and later on in the Barcelona first team where he has played since 2002.

So it is no surprise that Iniesta came out again on Monday to repeat the now often heard mantra that Barca is his home where he feels part of the family, and that his signing of a contract extension to keep him at the club is just a matter of time.

"We have to go step by step," he told Spanish TV ahead of the Georgia game. "I am still happy doing what I love surrounded by people who respect me, so the rest will come. At the end of the day, if someone wants something enough they get it, or they try to get it. It is not something [the contract extension] that worries me. It will happen today or in two months time; the club want it and so do I. I feel good and want to continue playing better and stay where I want to be."

With words like that, clearer than water, as they say in Spain, it almost a given that Iniesta's close control style of play and important goals will be thrilling the crowds at the Camp Nou for some time to come. Barca need him, and it would seem from his words that he could never be as happy anywhere else.

What Iniesta does need now are minutes on the pitch. His slow start to the season has been explained by Tata Martino by his need for rest after international duty in the Confederations Cup. His coach has described him as "titularisimo" or a "surefire" name in his team and an "emblem" at the club.

A move to tie up the player sooner rather than later would also put to bed the rumours about other sides turning Iniesta with one last huge contract. He has made it perfectly clear where he wants to play his football. It may now be the time for the club to make a move that assures the guy who won the World Cup for Spain is still looking to win trophies at Barca.