Alexis Sanchez reborn after painful struggle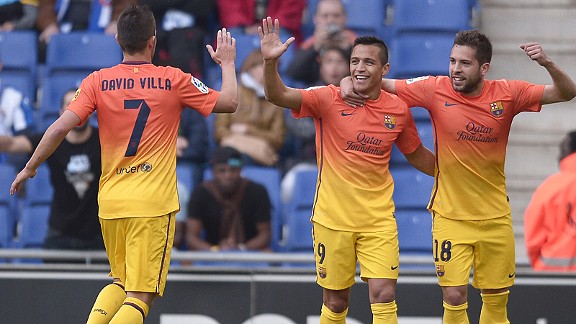 GettyImagesAlexis Sanchez has begun to shine after a rough start to his career at Barcelona.
Alexis Sanchez has finally reached his best after three eventful seasons at the Camp Nou. The Chile international is, finally, beginning to justify why Barcelona decided to invest a considerable €26 million (plus €11 million) on signing him from Udinese in the summer of 2011.

The main difference between the confused Sanchez, who alarmingly underperformed in front of the not-so-patient Cules for a couple of years, and the flourishing winger of today is simple: confidence -- from his coach, his teammates and, most importantly, from within. Those who don't believe they can succeed at the highest level never will.

The Catalans' supporters received the Chilean forward, as they do with any new signings, with open arms but also a fair amount of scepticism. In Barcelona, players are only as good as their last game for the Blaugranas and their past achievements don't count for much at all. Sanchez's success in the Italian Serie A, while impressive on paper, meant nothing from the moment he set foot in his new home stadium.

Pep Guardiola and successor Tito Vilanova did give Sanchez enough playing time to prove himself, as you would expect given the huge investment the club made for him.

The dynamic forward was quick to show his fighting spirit and determination to track back defensively when needed, but, unfortunately, his goal-scoring return was not as impressive: 26 goals in 87 matches and, what's worse, a couple of neverending goal-scoring droughts in the process.

Let's face it: Trying to find a space within a formation which also includes the most decisive player in football history can't be easy. As brilliant and effective as Lionel Messi is, the truth is that he naturally attracts a lot of attention from both rivals and teammates within a match. When matches turn ugly, being able to connect with La Pulga may make the difference between a disappointing defeat or a heroic, late victory.

From a supporters' perspective, it is a huge privilege to have the quadruple Ballon d'Or winner within the squad. Having said that, I can understand that having a teammate who makes the game look so easy could end up overshadowing a not-that-confident newcomer.

Sanchez, at his lowest, became a player who would often look for Messi rather than take on defenders himself. To be honest, this was also the case with others such as Pedro Rodriguez and even David Villa under Vilanova last season.

Such dependance on the Argentinean wizard (and the number 10's continuous injury worries when decisive matches came) made Barcelona far too predictable and much easier to defend against, ruining the team's season as a result.

Fortunately, the less speculative approach under Gerardo Martino, together with the more personal, individualised manner in which the new manager treats his players, has given Sanchez the confidence he was so desperately craving.

The arrival of the fearless Neymar, a striker who isn't afraid to take responsibility when needed, has also had a hugely positive impact on Sanchez's game. Since the absence of Messi due to injury, the pair have combined perfectly, often looking for each other while rotating in the team's attacking third.

Speaking to the media back in March, Sanchez explained: "I am a super player. I can win games. Even when I don't score, I will continue to be one of the best footballers in the world." At the time, many took the opportunity to use such bold statements against a player who was definitely not performing as well as expected rather than taking him seriously.

Eight months and several forced changes at managerial and squad level have finally brought out the best of Sanchez: Four goals and three decisive assists in 10 appearances but, more importantly, the intangible feeling that, with him on the pitch, Barcelona are more likely to hurt the rival back-line and achieve ultimate success.

Inevitably, the Chilean international's visible improvement has reportedly sparked interest from major European clubs who have obviously realised his potential. But at this moment in time, there is simply no need for him to leave Catalunya and develop his career anywhere else.

Good things happen to those who wait: Grande Alexis!

Have your say

I welcome and appreciate all respectful feedback.

For more news and opinion notes on Barcelona, follow Francesc Tomas at @TomasESPN and Barcablog on Facebook; 46,000 Cules have already joined.