Are Barca growing too big for their own good?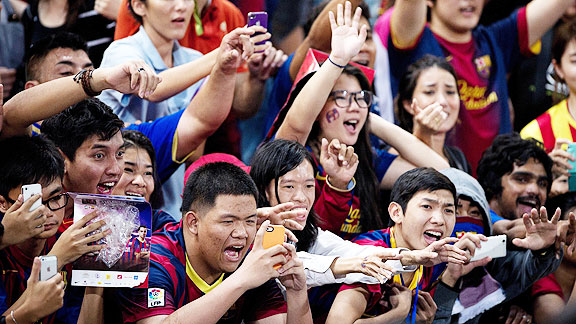 Nicolas Asfouri/AFP/Getty ImagesBarcelona's popularity has extended to such far-away places as Thailand, where the club spent part of its preseason.
The Barca brand is one of the biggest in football, if not the world of sport. Of that there is no doubt, and for a wide variety of reasons, none more so than the enduring ability the game has to fascinate people around the world.

Football fans want to watch the best, and Barca have been at the top of the game consistently since Johan Cruyff claimed the first of four European titles with his dream team in 1992. While football's new markets constantly grow, FC Barcelona are known in every corner of the planet, and they boasts some staggering figures.

- Report: Valdes keen on Monaco move
- Tomas: No point in crying over Valdes
- Report: Barca close to ter Stegen deal

Barca have 44 million fans on Facebook, 17 million followers on Twitter and, adding the personal followers of the players, more than 178 million followers in total on social media. They also have the second-highest annual financial turnover in football, behind Real Madrid, at 483 million euros in 2012.

As a coastal city, the locals of Barcelona have always had a reputation as being leaders of commerce. Successive leaderships at the club have learned how to bring a typical Catalan seny to the table, a concept unique to the area that translates as a specific type of wisdom or common sense.

Increases in commercial revenues and match-day revenues offset a slight drop in broadcasting revenues last year, and a quick trip around the tourist trap that is the Camp Nou any day of the week demonstrates how. Hordes of customers eat Barca bocata (sandwiches) and drink Barca beer before spending their money on merchandise in the famous old colours in the huge megastore.

Just last week, the club's vice president, Javier Faus, proudly declared that under his leadership the debt accrued by the previous leadership will have dropped by the end of this financial period from 440 million euros to a more manageable 250 million euros, while forecasting an end to the debt within four or five years.

Faus also addressed a current issue regarding the future of Camp Nou. "A new stadium would increase revenues by 30 to 40 million euros while a remodelled Camp Nou would bring in half of that," he said. "In a month we will have reports on the matter, and we will look at it in more detail. We'll take our time because it is a decision that will affect the club for a long time to come."

In the meantime, the club has had to defend its strategy on sponsorship in recent years; this season sees the first truly commercial brand as the main shirt sponsor with Qatar Airways adorning the shirt.

Fans around the world will have their own strong to indifferent opinions on the future of the stadium, the shirt sponsor, who the next club president is and many other matters affecting the club, depending on their level of support, proximity to the city and interest in such matters.

However, what really matters most to the majority is what is happening on the pitch, and because Barca have 10 straight wins this season in La Liga and the Champions League, nobody can complain about that.

So at first glance, everything appears rosy in Can Barça; however, it takes only a passing comment by a genuine football person, one who was heavily coveted by the club but never came, to act a warning of what lies ahead.

Fran Gonzalez was a midfielder for the famous Deportivo La Coruna side that emerged in the '90s. He possessed a spectacular left foot, and although he played for 17 years at his hometown club, he was very close to signing with Barca on a number of occasions. Fran's son Nico is now in the youth ranks at Barca, and he lives in the city. Other than that, his links to the club are like that of millions, those of an external observer, albeit one who knows a thing or two about the game.

Last week Fran Gonzalez was interviewed in El Mundo Deportivo in the run-up to his former club's game at Barca B on Sunday, a game Deportivo won 1-0. When questioned about the possibility of joining the club years before, he admits he was "stupid" and "regrets" not signing for Barcelona when he had the chance.

However, it was his clear and concise opinion on the current first-team situation that provoked the most interest. "In the end, it's boring how good they are, they make the rival seem so poor that there is no game," Gonzalez said. "La Liga teams need to be better because it is better to face the knockout rounds in Champions having suffered in the league. This league does not benefit Barca or Madrid, and we'll see what happens."

The reasons Barca and Madrid have been able to grow into huge global brands are enough to fill a book and too complicated to go into here, but bear in mind the words of Gonzalez when you watch Barca at Osasuna next weekend and think back to how easily Bayern Munich took the Blaugrana apart in last season's Champions League.

Ten wins out of 10 is nice at this stage, but will a top-heavy La Liga, further weakened this season, help Spanish teams at the business end of this season? Gonzalez thinks not, and all the revenues and brand building in the world will not change his forthright opinion about the Spanish league and the consequences for FC Barcelona.