No point in crying over Victor Valdes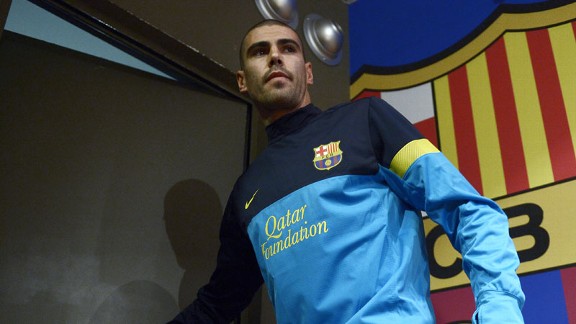 AssociatedVictor Valdes leaves the press conference at the Camp Nou after explaining his desire to move on
Victor Valdes decided to leave Barcelona a while ago so he must be replaced in good time in order to avoid a repeat of the embarrassing way the club was priced out of the market when chasing a centre-back last summer.

I have heard and read many comments of Cules who are still hopeful that the Catalan goalkeeper will miraculously change his mind at the last minute and admit that he was wrong to even think about leaving the Camp Nou.

Newsflash: That is simply not going to happen as Valdes will definitely leave regardless of how many people beg him not to.

Teammate Andres Iniesta has rightfully given up hope of retaining his best friend at Barcelona, saying this week: "It is not a matter of convincing Valdes now. He made his decision a long time ago and I think all of this talk of a possible stay is a waste of time. He has already explained his reasons and we must respect it. For me, it is a pity, but it is his decision."

If the words of one of the closest people in Victor's life weren't enough, the 31-year-old goalkeeper himself was seen asking the Camp Nou supporters to stop chanting his name and begging him to stay whenever he plays a home game, as if their support and adoration was somehow annoying him or impeding him from doing the job he gets paid so many millions of euros to do.

Personally, I strongly believe that those who don't want to be at Barcelona should just pack up their bags and leave. Ideally, Valdes should have been sold for profit last summer and the obtained fee reinvested on a replacement but, unfortunately, the reported lack of offers for him meant he will end up leaving for free in June 2014.

Sure, I am fully aware that Victor has started every game under Gerardo Martino, replaced out-of-favour Iker Casillas as the Spanish No. 1 and is performing at an extremely competitive level but, in his own words, "it is an irreversible decision" so the time is certainly right for Barca to stop crying over a want-away player who would rather be elsewhere and move on.

The Catalan media report that Marc-Andre Ter Stegen has already signed a pre-contract with Barcelona for 8.2 million euros. It is believed that sporting director and former Blaugrana goalkeeper Andoni Zubizarreta recently closed the negotiations with Borussia Monchengladbach after four of years of monitoring the tall, under-21 German international.

However, the decisions regarding the future of the Catalans' goalkeeping positions don't end there. Despite performing to a reliably decent standard whenever needed, next summer should also be the end of the road for Jose Manuel Pinto at the Camp Nou.

Let's face it, it would make perfect sense to add yet another new-comer who could actually challenge Ter Stegen (or whatever other keeper may be signed) for a starting spot rather than having a 38-year-old reserve keeper who has only played 21 league matches since 2007 waiting for a miracle on the sidelines.

My personal preference for this role would be Miguel Angel Moya, currently at Getafe. The 29-year-old has been linked with Real Madrid and Atletico in the past but, for whatever reason, has spent his whole career playing for mid-table teams after hugely successful international performances with the Spanish U-16s, U-17s and U-20s.

Pepe Reina has also been strongly linked with Barcelona. The former Liverpool star has repeatedly hinted he would be delighted to return to his home club after 11 years away, saying: "It would be great to return to Barcelona. I am very happy that my name is being mentioned, but my goal right now is to put in a good season with Napoli. In the summer, we will see."

David De Gea from Manchester United and Claudio Bravo from Real Sociedad have also been linked with the Blaugranas but, at this point, they are behind the three above-mentioned candidates.

President Sandro Rosell, Zubizarreta and coach Gerardo Martino have a hugely difficult, crucial goalkeeping decision to take. Let's hope, for the long-term stability of the club, that they manage to get it right this time.

As long as Valdes' replacement is skilled on the ball, calm under pressure and decisive when faced one-on-one, Barcelona will be fine. Unfortunately, finding a professional who can confidently show all of the above requirements is an extremely difficult task which currently has Cules secretly crossing their fingers.

Victor Valdes is the most successful goalkeeper in Barcelona history but the club will certainly continue to be successful without him.

Good luck in your adventures, Victor.

Have your say

I welcome and appreciate all respectful feedback.

For more news and opinion notes on Barcelona, follow Francesc Tomas at @TomasESPN and Barcablog on Facebook; 45,500 Cules have already joined.