Big decisions to be made about current, future Barca players
In an international week with few playing concerns at Barcelona, talk has turned to the state of various players and potential signings in the near future.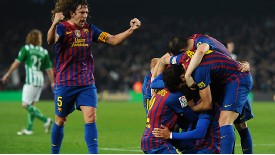 GettyImagesCarles Puyol has led his team to two Champions League titles in the past seven years.
With most players away from the club on international duty the only concern on the training ground this week is the progress of Carles Puyol and his imminent return.

On Thursday, Spanish TV showed the centre half back looking like his old self as he trained and played 45 minutes in a behind-closed-doors friendly against local side Saint Andreu which a Barca side won, 4-1.

After seven months out, it is a relief to all that Puyol, 35, came through his first semi-competitive game, Spanish TV interviewed some star-struck Saint Andreu players who all agreed Puyol was looking fit and ready for a return.

Former Barca player Julio Salinas, brother of Saint Andreu coach Patxi, who was present tweeted, "At game between Barca and Sant Andreu. Great facilities and pitch, but the best thing was to see Puyol back to full fitness."

-Tomas: Barca eye new centre-back, striker

Whether or not the club captain will be ready for the next league game at Osasuna a week on Saturday is still unknown, if he is it would be a boost just to have him around ahead of the home game against Real Madrid a week later Oct. 26.

Other players fighting to be ready for those games include the crucial twosome of Neymar and Lionel Messi. Messi did not play in the friendly on Thursday as a precaution while Neymar was unable to finish a training session with Brazil in Asia.

Messi has been relieved of international duties with Argentina in a bid to get back to full fitness. While both players should be ready for Madrid, manager Tata Martino will be looking at the fitness of both and all his returning internationals next week before choosing a squad for Pamplona.

It is likely his squad rotation policy will be in use again ahead of a busy week, with a Champions League clash at Milan to come four days before the Clasico.

Two players whose futures at the club next season are still making headlines are Victor Valdes and Andres Iniesta.

While the former has repeatedly said there is no chance of him changing his mind, Iniesta has claimed his decision to sign a new contract is not about money and told Spanish radio on Wednesday that his future at the club "is something that does not worry me, if two parties want to understand each other they will. I don't like to call it negotiations, Barca is my family and this is never sorted out in two months."

The declarations did not stop Spanish TV channel La Sexta from speculating on Thursday that a move to one of Europe's big spenders could be on the cards for Iniesta, claiming the departure of his closest friend in the dressing room Valdes could be a factor.

Iniesta seems to have given up on his friend staying, telling Cadena Ser radio "Víctor has made his decision. Talking about it is a waste of time. It's his decision and we have to respect it. It's a shame but that is it."

Meanwhile one fan thinks all is not lost and has started an initiative for the fans to convince Valdes to change his mind by singing his name in the 30th minute of each half at the Camp Nou.

The 21-year-old behind the scheme christened "Valdés forever" is also collecting signatures to present to the keeper in a last-ditch attempt to make him change his mind.

Despite a perfect start to the season with 10 wins in 10 competitive matches and a Spanish Super Cup, the rumours of who may be arriving will always be there. The latest ones link Barca to veteran German striker Miroslav Klose and Chelsea goalkeeper Thibaut Courtois, currently on loan at Atletico Madrid.

While one would be a short-term stop-gap in January and lend attacking strength to a side that has relied too much on Lionel Messi in recent years, the other would be an excellent long-term option for the position Valdes looks set to leave free.

It is, however, early days on the goalkeeping position and the club has obviously been monitoring the market for a while, which is why Chelsea would want to sell such an obvious talent also needs to be considered.

What is obvious is that time does not stand still and the Barca side we have enjoyed over the past few years is getting older and will constantly change. If Puyol does make it back sometime soon, let's enjoy the sight of him playing with Valdes, Iniesta, Xavi and all for what may be the last few occasions.