Alexis and Neymar take Barcelona to record winning streak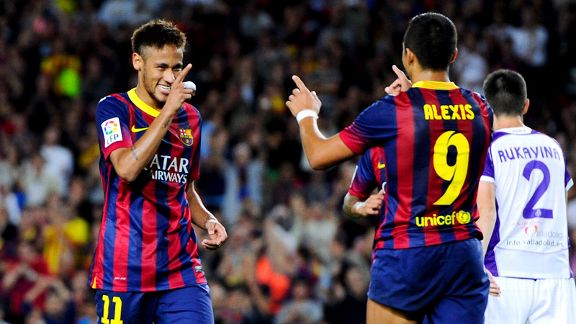 David Ramos/Getty ImagesBoth Neymar and Alexis Sanchez were at their best in Barcelona's 4-1 win over Valladolid.
Barcelona achieved a hard-fought 4-1 victory against Valladolid at the Camp Nou in matchday 8 of La Liga. Alexis Sanchez (double), Xavi Hernandez and Neymar scored the goals for the Blaugrana, who enjoyed 70 percent of possession, created 21 goal-scoring chances and attempted 16 shots, eight of them on target and one to the post.

- Report: Barca maintain perfect start

Key 1: After a fairly encouraging start, the Blaugranas found themselves a goal down after just nine minutes. I'm pretty sure nobody here would be surprised to learn the momentary disadvantage was due to yet another lapse in concentration while defending against the very first corner kick that the team had conceded.

While it is clear that Barcelona are improving offensively, their inability to defend set pieces is so blatantly evident that such continuous leakage of goals for the same reason is worrying, to say the least.

Much more attention must be given to defending in training so that such careless defending doesn't happen again. In football, the difference between success and failure is in the small details -- no more time should be wasted without addressing this urgent matter.

Key 2: Fortunately, Sanchez unleashed a superbly accurate strike that zoomed past the surprised Marino shortly after the above-mentioned defensive error. It would be fair to say that his impressive effort was the base in which this Barcelona victory was built on.

The Chilean international went on to score a second and could have even written his names with golden letters with a memorable hat-trick later on, but it wasn't to be. Regardless, such a formidable performance in front of the Camp Nou faithful should give him a much-needed boost.

Let's hope Cules are finally seeing Sanchez's true value as a world-class forward in his third season as a Blaugrana. The determined youngster certainly deserves all the success he is achieving and is hopefully going to continue to enjoy more in the future.

Key 3: Due to the ongoing absence of four-time Ballon d'Or winner Lionel Messi, Neymar had the chance to show his worth as the main Blaugrana attacking reference once again. Without La Pulga, the talented Brazilian took the responsibility to roam freely across the final third and combine with those around him as a false striker.

Neymar played for the team rather than himself, getting constantly involved in every attacking movement. His unrivaled confidence and skill allowed him to constantly face rival centre-backs. As the opponents' backline was forced to come out of position to chase him, many spaces to either pass the ball through or others to run into were created.

The inclusion of the speedy Cristian Tello and Sanchez in the wings made the pitch wider. The constant combinations (especially between the two South American forwards) were tremendously dynamic and, ultimately, unbalanced the game in the Catalans' favour.

Neymar's ability to make his teammates better as a result of his combination play and vision is certainly giving him increased importance within the dressing room and, fortunately, there are early signs that the best is yet to come.

Cules spent most of last season hoping for someone other than Messi to step up and lead in times of need. Fortunately, it looks as if Neymar is ready to accept the challenge and take the team forward with him under such circumstances in what is a clear step forward for the team as a whole.

Key 4: Regular readers of this column have hopefully realised that I avoid talking about the official's decisions if at all possible. Regrettably, there have been many instances in recent weeks where mistakes have been so blatantly obvious that I can seriously not let the evidence go unmentioned any longer.

Let's get to the point: Out of the many the millions of viewers who were watching the game either from home or the stadium, there was only one person who failed to see two indisputable penalties on Neymar: The gentleman with the whistle.

Sure, I do realise that refereeing is a challenging job, but believing that Spanish referees are impartial is also becoming increasingly difficult.

Since Florentino Perez returned to the presidency in 2009, Real Madrid have had 44 penalties awarded while Barcelona have only been given 25 in the same period. Cristiano Ronaldo has scored three of his four latest goals very deep into generous injury time. Last, but certainly not least, there is also the laughable penalty that Pepe was recently gifted at Elche -- so obvious that even the Madrid-based press had to accept the evidence.

I totally understand that all of the above may be caused by coincidence. Well, at least that is what Cules are going to have to force themselves to believe in order to continue to respect the Spanish league as an unadulterated, clean competition.

Anyway, back to the positives: The Catalans have now extended their best ever domestic start in club history, with eight victories in as many games, having scored 28 goals and only conceding six.

Next up: Osasuna once the dreaded international break is over.

The Quote: "I want to highlight our great second half, despite having a good chance in the first and a clear penalty which wasn't awarded. We lacked intensity when the game started; we improved as the game went on. This game wasn't as complete as the one in Glasgow. We won't always be able to come back from a 0-1." -- Martino.

Have your say

What did you think of the Blaugrana performance vs. Valladolid?

I welcome and appreciate all respectful feedback.

For more news and opinion notes on Barcelona, follow Francesc Tomas at @TomasESPN and Barcablog Facebook; 42,000 Cules have already joined.