Injured Messi, decisive win for record-breaking Barcelona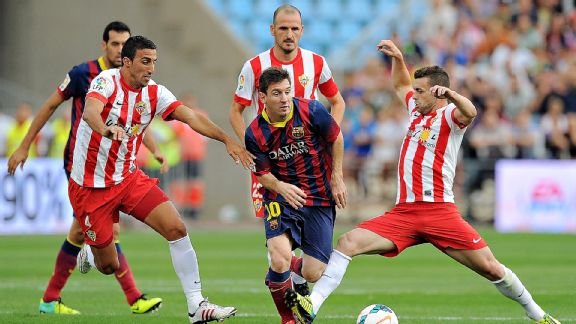 Denis Doyle/Getty ImagesLionel Messi departed early from Barcelona's match at Almeria, but not before scoring the opener in a 2-0 win.
Barcelona achieved a professional 0-2 win against Almeria at the Estadio de los Juegos Mediterraneos in Matchday 7 of La Liga. Lionel Messi and Adriano Correia scored the goals for the Blaugrana, who enjoyed 70 percent of possession, created 15 goal-scoring chances and attempted 12 shots, four of them on target.

- Report: Almeria 0-2 Barcelona
- Report: Messi suffers thigh injury

Key 1: Lionel Messi unbalanced the game in the 20th minute with another inch-perfect finish after a classic one-two combination in the team's final attacking third.

The Argentinean wizard's 11th goal of the season (and September is not even finished yet!) allowed him to equal Cesar Rodriguez as La Liga's fifth-best goal scorer with a mind-blowing 223 goals in only 251 appearances.

Unfortunately, Messi had to be substituted with yet another injury to his right thigh after less than half an hour on the pitch. The severity of his injury will be clear only after the team returns to the Catalan capital and rigorous tests are carried out by the club's doctors.

I must admit that, despite the fact that early predictions believed it may not take the legendary striker too long to recover from such muscular discomfort, seeing the best player on the planet walking off the pitch so regularly is a cause of huge concern.

As I have argued many times before, it is crucial that key players reach optimum fitness in late April-May but, at this rate, La Pulga's level at that time may also be in jeopardy.

The sad news also proves that the strict rotation policy that coach Gerardo Martino has introduced this season was right after all -- no need to get cranky about being substituted in the dying minutes of a virtually finished game next time.

Get better soon, Leo.

Key 2: Barcelona were fairly dominant from start to finish. Despite their passing being slightly inaccurate at times, their victory was never really in doubt, especially after Messi's brilliant opening goal. In fact, the tempo dropped after that point as the visitors were able to control the game well enough without actually feeling the need to hit fifth gear at any point from then on.

Mature performances from most key players in midfield enabled the Blaugrana to administer the advantage for over an hour of triangular, combinative football. Not having the need to desperately look for another goal allowed the team to play calmly on the floor, switch direction of the ball with long passes when needed, and continue to search for eventual openings in the Almeria back line.

Such laborious team effort produced the second goal, with Adriano running into the striking position from his left-back spot. The Catalans were certainly having fun at the time, with players rotating and overlapping each other all over the park.

That second goal made the match intensity decrease even more, with the Andalusians pretty much putting their heads down despite having another half an hour of football to play for. Having said that, the Blaugrana weren't always consistent either and their desire to continue to push forward was affected as a result.

It was certainly not the most thrilling performance in football history, but it gave Martino's men another valuable win toward retaining the title. Equalling the best-ever La Liga start is also relevant but, honestly, the domestic championship is a long-term race where only having more points than your rivals after the last game of the competition really matters.

On that note, I'd like to add that I personally couldn't care less about the result of the Madrid derby as, whatever happens, the good news is that at least one of those two title contenders will end up dropping some points in the process.

As long as the Blaugrana continue their impressive run of positive results, it is their Spanish opponents who should be worrying about others' results.

Key 3: As predicted, Marc Bartra was given the starting spot next to Gerard Pique in the heart of the Blaugrana defence. The 22-year-old responded to the manager's trust with vigilant, skilled defending which showed signs of him finally finding his feet in professional football after making only his 27th senior appearance.

Despite picking up a doubtful yellow card very early in the game, the youngster kept fighting assertively in every play and didn't put a foot wrong after. Recovering 13 balls (the most in the whole team) and completing 96 percent of his passes successfully will certainly give him strong reasons to be proud.

Let's hope this stint due to the absence of preferred first choice Javier Mascherano gives 183 cm-tall Bartra enough confidence and courage to compete for his place in the starting lineup once the Argentinean and eternal captain Carles Puyol are both available for selection again.

The Quote: "The records aren't important. In fact, all I've done is join a group of players who beat these year after year. Xavi, Iniesta, Busquets and Cesc Fabregas had the ball and knew when to accelerate and slow the game down. We didn't suffer at all in the second half." -- Martino

Have your say:

What did you think of the Blaugrana performance versus Almeria?

I welcome and appreciate all respectful feedback.

For more news and opinion notes on Barcelona, follow Francesc Tomas at @TomasESPN and Barcablog Facebook; 38,500 Cules have already joined.