Iniesta going nowhere; Bartra ready for defensive chance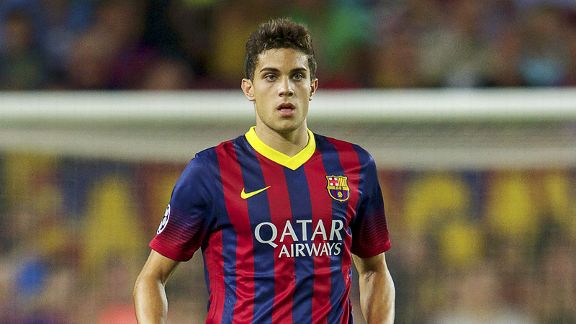 VI Images/Getty ImagesWith Javier Mascherano out injured, Marc Bartra is capitalizing on his chance to be Barcelona's starting center back.
Andres Iniesta represents all that's good about Barcelona: Class, dedication, self-improvement and, above all, pure football.

The legendary Blaugrana star arrived at the prestigious La Masia academy as a pale 11-year-old who was desperately trying to chase his dream of becoming a professional footballer.

- Report: Pique backs Bartra to impress

I was fortunate enough to witness his progression as a youngster (as he was my brother's teammate at the Barcelona Infantiles team at the time). While it is true that guidance from the Catalan coaches helped Iniesta develop his understanding of the club's tactics and classic formation, the Albacete-born kid wowed us all with jaw-dropping skills from his very first training session.

Eighteen years have passed since and, luckily, the boy who grew up over 500 kilometres away from his loving family has fulfilled the ambition he so desperately longed for. His trophy cabinet now includes an incredible 21 collective trophies with Barcelona, five international trophies with Spain and a huge range of individual awards including the Man of the Match in the 2010 World Cup final.

Now 29 years of age, it is obvious that the determined playmaker wants to ensure his next Barcelona contract values him in his true measure: A world-class player who is capable of leading any team from midfield with his unparalleled vision and ability to read the tempo at any given time.

Despite a variety of media trying to stir the situation up by creating unfounded rumours about a hypothetical departure to the Premier League, Iniesta has been quick to deny any unnecessary speculation: "I intend to end my career at Barcelona. The club feels the same. It's not about money. We have time to keep improving our club and player relationship."

Taking into account the recent episodes with Victor Valdes (desperate to get away in search of new adventures) and Thiago Silva (cynically worried about how he would manage to feed his family if he had landed at the Camp Nou), it is both refreshing and reassuring to see that those who truly love Barcelona won't even consider a move away from their spiritual home regardless of how much money and adventure they may be offered elsewhere.

I am personally looking forward to enjoying Iniesta's football for many years to come.

Marc Bartra: The time is now

The arrival of Gerardo Martino was, reportedly, one of the key reasons why Barcelona didn't sign a centre-back this summer as he wanted to get to know the players at his disposal before recruiting any reinforcements.

I do believe that Sandro Rosell and Andoni Zubizarreta should have used their position and experience in recent years to ensure that a quality defensive signing actually happened but, unfortunately, there is nothing for supporters to do but to have faith in those players who are currently in the team and wish that common sense prevails in the next transfer window.

As predicted, El Tata has chosen the same defensive partnership (Gerard Pique and Javier Mascherano) for every game this season. Sure, the team is leading the domestic league with an impressive 18 out of 18 points earned so far, however, the back-line has looked far too vulnerable far too often and, regrettably, defending set pieces consistently continues to be an impossible challenge.

The evolving, more direct variations which Martino has introduced in the formation since his arrival have meant that Barcelona has less possession of the ball than in the recent past and, as a result, they aren't controlling the game as well as they used to -- meaning that the centre-backs are faced with more lightning-fast counterattacks..

The unfortunate injury suffered by Mascherano in the 4-1 win over Real Sociedad will force the courageous Argentinean to the sidelines for the next two weeks.

Under-21 international Marc Bartra will certainly be eager to take the opportunity to show his worth during upcoming games and, to put it bluntly, he simply can't mess this chance up if he wants to be a serious contender for that role in the foreseeable future.

I must admit his performance against La Real in midweek was hugely positive, with the youngster showing enough composure and confidence in defence, and even finding the rival's net after an attacking move world-class strikers would have been proud of.

With Carles Puyol's long-awaited return now only being a matter of weeks, it is clear that Bartra must make the most of Mascherano's absence in order to establish himself as a real alternative for one of those two centre-half spots in the Blaugrana formation.

The 22-year-old La Masia graduate explained: "I needed a goal like that because it gives you confidence. It will help me to not let up and to keep on going. The most important thing is to keep on training hard. We cannot let our guard down, we have to be consistent and we must move forward."

Here's wishing Bartra all the success he deserves as, ultimately, the team will definitely improve as his individual performances continue to grow in confidence and quality.

Have your say

I welcome and appreciate all respectful feedback.

For more news and opinion notes on Barcelona, follow Francesc Tomas at @TomasESPN and Barcablog Facebook; 38,000 Cules have already joined.