Barcelona silence critics with convincing display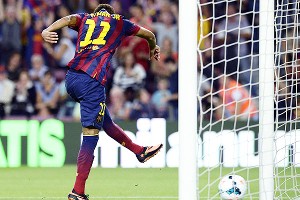 Lluis Gene/AFP/Getty ImagesNeymar's first La Liga goal came in the fifth minute to open the scoring for Barcelona against Real Sociedad.
Barcelona achieved a convincing 4-1 win against Real Sociedad Tuesday at the Camp Nou in Matchday 6 of La Liga. Neymar, Lionel Messi, Sergio Busquets and Marc Bartra scored for the Blaugrana, who enjoyed 67 percent of possession, created 23 scoring chances and attempted 19 shots, nine on target, two to the post.

Key 1 – The game came right in the middle of one of strangest debates the Madrid-based media have created out of nowhere in recent times: The Possession Crisis.

The Blaugranas jumped on the pitch and quickly ended the pointless discussion with another unquestionable victory. The huge, unnecessary fuss about Barcelona's inability to keep as much possession as Rayo Vallecano in their previous game should, based on Tuesday's evidence, finally be put to rest.

-Martino hints at Dos Santos loan
-Martino's tactics defended

Personally, I really don't mind whether the Catalans manage to keep possession 40, 60 or even 80 percent of the time. Football is a game based on scoring one more goal than the opponent and, at Barcelona, the focus must be on attacking relentlessly in order to find the net as many times as possible. Beautiful football is obviously also welcome, but definitely not as essential as achieving victory.

With that in mind, I was delighted to see the hosts working cohesively, performing like a finely balanced collective who are slowly but surely evolving under the guidance of the self-proclaimed external influence which is manager Gerardo Martino.

There's no need to deny that the Blaugrana system is changing into a more-direct, less-speculative model this season. Romantics will surely look back at the Pep Guardiola era and argue the formation used by the 2009 team would still be unstoppable. But Chelsea (2012) and Bayern Munich (2013) proved that theory wrong.

Whether Cules like it or not, most rivals had already worked out ways to stop that Barcelona approach and an evolution (not a drastic change, by the way) was certainly needed.

Against Sociedad, the Camp Nou giants regained their former high-up pressure, attacked with meaningful tempo and, most important, continued to build on their previous successes since El Tata took over as manager in the summer thanks to their generous physical and mental efforts.

La Liga leaders having won 18 out of 18 points while adapting to a new manager? A tremendously positive start if you ask me!

Key 2 – Neymar and Lionel Messi showed, once again, that those who spent the offseason arguing about their potential incompatibility on and off the pitch wasted their energy.

The 21-year-old Brazilian used his blistering pace and innate dribbling talent to constantly beat his marker which, increasingly often, allowed him to connect with the quadruple Ballon d'Or winner with ease.

Messi, as usual, added yet another goal to his unparalleled record collection and proved to be a real handful to the weakened Basque back-line. Being the massively competitive professional that he is, however, La Pulga was visibly disappointed after missing several clear chances to improve the scoreline.

The Argentine captain's mood worsened when, with only 11 minutes to be played, Martino decided to substitute him in favor of upcoming youngster Sergi Roberto.

Sure, nobody really likes to be taken off. Regardless, walking past your manager without even acknowledging him was definitely not a great sign of understanding the greater picture.

In my opinion, resting the most important player in the dying minutes of a home game which Barcelona had under total control was definitely the right decision.

Players such as Cesc Fabregas, Xavi Hernandez and Andres Iniesta have already been included in the rotation this year. So, whether Messi likes it or not, there will surely be a point in the season where he will have to be given much-needed rest as part of the whole-squad rotation policy.

Titles are decided in April and May. I am delighted to see how Martino is putting the long-term interests of the team first with a clearly structured way of organising the playing time of his key men.

Key 3 – The Camp Nou crowd chanted goalkeeper Victor Valdes' name several times during the game with the message: "We love you; Victor, stay".

While I fully understand why fans would like the on-form goalkeeper to renew his contract, I simply can't ignore the fact that he has repeatedly argued the reason why he wants to leave is "looking for new adventures" -- which the club can certainly not offer no matter how hard they try.

Barcelona have given Valdes the chance to be who he is today. Sure, he has also helped the team win many trophies but, ultimately, the relationship has been beneficial for both club and player. While his teammates respect his decision, they have also asked him to stay. The coach, board and president Sandro Rosell have all sung his praises and tried to convince him to stay.

Despite their efforts, I personally feel the decision is made and all this begging will not make Valdes change his mind. On that basis, let's hope he continues to perform highly to help the Catalans achieve their collective targets until the moment he walks out of the Camp Nou next summer.

If I was director of football Andoni Zubizarreta, I would have certainly signed a defender during the summer transfer window but, the sporting director had other thoughts -- which remain a mystery.

The Quote – "I believe you (the press) have many more doubts than us. It was a very good game; I am very pleased with the team's performance. Keeping this level isn't easy, but that's our goal." -- Martino.

Have your say

I welcome and appreciate all respectful feedback.

For more news and opinion notes on Barcelona, follow Francesc Tomas at @TomasESPN and Barcablog Facebook; 36,500 Cules have already joined.