Pivotal time awaits Iniesta at Barca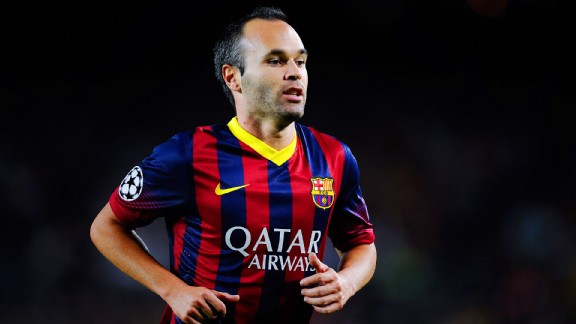 David Ramos/Getty ImagesRumors are already swirling that if Andres Iniesta does not renew with Barcelona, a move to Man City or Man United may be in the making.
Barcelona beat Rayo Vallecano 4-0 away from home on Saturday, but despite that resounding result, what caused the most post-match discussion was the Opta stat that gave Rayo 51% of the game's possession over the Blaugrana.

- Marcotti: Barca out-Barca-ed
- Report: Martino defends approach
- Ball: Football possessed

Has a statistic over a side's possession ever caused such commotion and intense analysis? It is important to point out that it was the first time since a 4-1 loss to Real Madrid in May 2008, an amazing 315 games ago, that Barca has enjoyed less possession than the opposition.

Any hint of a change in playing style has been looked for since Tata Martino's introduction as coach during the summer. But in a start to the season in which his side has won all five league games, the Spanish Super Cup and come through the first Champions League tie with a 4-0 win over Ajax, it a bit unfair to question the team's play up to now.

In Monday's press conference ahead of Real Sociedad's visit on Tuesday, Martino was questioned about that Rayo stat and asked whether the debate about a change of style under his stewardship was fair.

"I am not at all bothered about the debate on how we play, when a team is at the top of its game this is normal and it is also normal here when the coach is not from within the club or Dutch," was his quick reply.

Martino denies anything has intrinsically changed and pointed to a statistic of his own to back up that view.

"Last year we had 68% of possession (over the season) and now it is 67.8%, I don't think the 0.2% means anything much is changing."

Indeed Barca's campaign did start with 75% of the ball against Levante and 71% at Malaga. In the final three league games it has dropped with 62% at Valencia, 63% at home to Sevilla before surrendering the lion's share of play to Rayo on Saturday.

As underlined in this same column on Saturday, Rayo were unlucky to lose 4-0 and the game could have been very different if Victor Valdes did not make two great saves, including one from the spot, within a minute in the first half.

An explanation for the statistical change may lie in Martino's decision to continue rotating his squad and giving rest to players like Andres Iniesta, who started on the bench and Sergi Busquets, who made way for Alex Song. In doing so, Barca surrendered a bit of precision in midfield against Rayo.

Iniesta's close control and neat short play allows Barca to keep the ball in enclosed spaces. He rarely loses the ball, and at a time when his future at the club is being questioned, he could be the man to settle the possession debate.

Martino describes Iniesta as untouchable and 'titularisimo', using one word in Spanish to say he is virtually guaranteed a first team place within his plans. With Cesc Fabreags the latest player to be rested against Sociedad, it is likely Iniesta will return to the starting line-up on Tuesday.

On Monday, Martino put his slow start to the season down to his summer work with the Spanish team at the Confederations Cup, saying he needs 'some time to get his full fitness back'.

English tabloid The Daily Star says Iniesta could be on the agenda of both Manchester sides as United and City fight on and off the pitch to be top dogs not only in the city but in the Premier League. Certainly after the start they have had, it is plausible that United is at least prepared to make an enquiry about Iniesta, while for free-spending City he would be a luxury addition to the Spanish colony that Manuel Pellegrini is slowly building in the east side of the city.

The little midfielder from the small town of Fuentealbilla in Spain's Castilla La Mancha central plain has been a one club man all his life. Iniesta came through the ranks at 'La Masia' and has been at the club since he was 13, however whether he could be tempted away for one big contract in England before the end of his career remains in the air by his refusal so far to sign any of Barca's offers.

Could the fact he does not have the local background make him more prone to a surprising departure than say Xavi or Carlos Puyol? With Valdes due to leave at the end of the season and Jordi Alba and Gerard Pique having already left the club as youth players before returning, after Xaxi and Puyol it is only Iniesta and the Argentine Lionel Messi who are close to spending their entire careers at the club.

These are important days for the man whose goal brought the World Cup to Spain. If he can quickly raise his game back to its usual levels, we may see the end of all debate about Martino's new Barca, while the signing of a new contract would put to bed all rumours of a move to the Premier League.