Not as easy as it sounds for Barca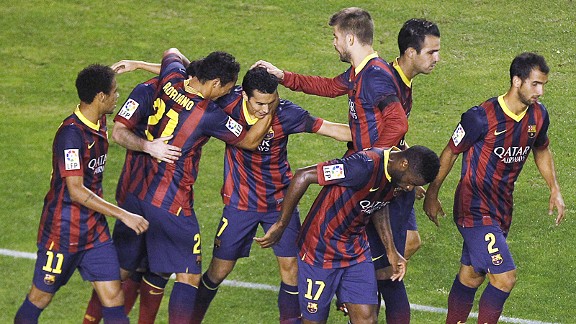 GettyImagesPedro is mobbed after scoring against Rayo Vallecano.
On paper, this game against Rayo should have been an easy victory for Barca, and the result may make it appear it was. Fortunately, games are played on grass and not paper, which allows for hard-fought away wins, the kind of victory that wins league titles at the end of the season and could have been very different.

Having triumphed 5-0 and 7-0 in the past two seasons in Madrid's deep south, Barca came up against a much questioned side Saturday that had lost its last three games, conceding 12 goals.

Although the 4-0 scoreline may lead you to think this was another comfortable win for Barca, it was not. They had to fight for everything, and it was some top individual performances that allowed them to make it five wins out of five in the league.

Rayo were combative throughout and clever and dangerous on the break in the first half, which they were unlucky to finish a goal behind. They competed with Barca all night and shared a fight for possession even in the final quarter of the game when the result was a given. Opta stats at the end gave Barca only 46 percent of the play, unusual for them.

Putting to one side the result for a minute, the fact that a club with TV revenues last season of around €16 million, about a tenth of what Barca rake in, could compete to such an extent on the night with Barca is perhaps a symptom of the depth of talent in Spanish football.

At the end of the day, it is after all a game of 11 against 11, and when you cross the white line, anything can happen. I'm overusing every cliché in the book, but my point is the Spanish league needs sides like Rayo to make the "big two" sweat for victories, and on Saturday one did.

That all said, while it is 11 against 11 on the pitch, what Rayo do not have are the extra squad options a club like Barcelona enjoys.

Tata Martino continued with his policy of resting key players and left Sergio Busquets at home, giving Alex Song a rare start in the league and he did not disappoint. The former Arsenal player was very much needed to cut up Rayo's play, especially in the first half, and he played well throughout.

Another "squad" player, Pedro, again managed to show why he has carved out such a successful career in a short time at the Camp Nou with the first three goals of the night. He has five for the season and will continue to be decisive.

Victor Valdes' contribution again was key, showing why he will be such a hard player to replace when he looks to new horizons at the end of the season. Just before the 36th minute penalty, he brilliantly saved from Roberto Trashorras. Valdes had already kept his side ahead with a superb save from Alberto Bueno, those two saves within 60 seconds meaning this game was not as close as it could have been.

By the way, what was Adriano thinking to give that penalty away? What a badly timed jump up and over the wily Roberto Trashorras from the Brazilian who at times appears to offer more from his attacking play than anything he does at the back.

Lionel Messi failed to get a goal in his 250th league match for the club, but he was central to the opening goal when he snaked past a few defenders before deciding against feeding Neymar on the left in favour of Pedro to his right.

Neymar also looked good down the left and is slowly beginning to be a dangerous weapon for Barca. He had his side's first shot on target on eight minutes that was cleared of the line by a Rayo defender, and 10 minutes later Messi played him into space again on the left only for him to guide the ball past the post.

In the second half, he came even closer to grabbing his first league goal for the club, only to be denied by the post, but it will come, and soon. Before he was taken off toward the end, he did the hard work before unselfishly setting up Pedro for his hat trick.

The Brazilian's almost perfect first touch gives his side a new option of pinging a long ball out of defence while still almost guaranteeing to keep possession. Javier Mascherano and Gerard Pique both used the tactic successfully on a number of occasions in Vallecas.

So overall a much improved performance from Barca, when compared to recent closer games in the league, but they had to work. Credit to Rayo, whose battle appears to be one of survival at the other end of the league this season. Despite the result, they showed they are up for it at least.