Key points: Barcelona blast four goals past Ajax
Barcelona achieved a well-deserved opening 4-0 win against Ajax Amsterdam at the Camp Nou in Group H of the Champions League. Lionel Messi (hat-trick) and Gerard Pique scored the goals for the Blaugrana, they enjoyed 56% of possession, created 16 goalscoring chances and attempted 12 shots, seven of them on target.

Key 1

Despite the impressive final scoreline, this was in fact a match which Barcelona didn't control until the second half was well underway.

As the season progresses, it is becoming increasingly clear that the traditional pass-and-move system is changing or, as I would much rather define it, evolving into a more direct formation.

During the first half, the Catalan midfielders were unable to keep as much possession as usual but, in exchange, managed to find themselves in goalscoring positions quite often.

Unfortunately, such lack of control also allowed Ajax to create many more chances than visitors to the Camp Nou have been capable of in recent years, but that is a risk that 'El Tata' seems willing to take in the immediate future.

Having said that, the team was, albeit infrequently, also capable of upping the tempo and making attacks more meaningful and dangerous, especially when opening the ball towards the wings.

Barcelona weren't always brilliant and their passing could have been more accurate and productive. However, fans shouldn't forget that this was only the first game of the first round of the European Cup and there is still plenty of time to improve.

Key 2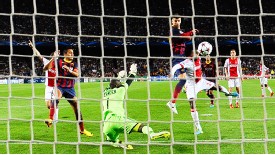 GettyImagesGerard Pique heads home Barcelona's third goal against Ajax.
I would love to see our midfielders taking long-range shots once in a while in order to surprise rival defenders. I do feel that looking for that extra final pass isn't always the best choice. Considering the fact that rivals have been watching Barcelona play the same system for many years, a variety of offensive possibilities would be more effective.

Every attacking play should have an end product (goal, shot, corner, foul, throw in...) so that, even when Barcelona don't score, the team has enough time to reorganise defensively and regain composure.

Key 3

Neymar continued to impress the Camp Nou faithful with his wonderful acceleration, blistering pace, vision and mobility. If Messi's goals were decisive in order to knock the Dutch champions out, so were the Brazilian's constant, lively runs from the left wing.

Neymar was always eager to receive the ball under pressure, a clear sign of his increasing importance within the team's attacking transitions. Without a doubt, the only Blaugrana signing of the summer was the most prominent forward for the hosts and played a key role in ensuring the three points remained in Catalunya by continuously challenging his markers.

Sure, the 21-year-old Brazilian international can be a bit greedy at times but, to be honest, it is refreshing to see a confident young player who doesn't instantly look for Messi to finish every play for him when under pressure.

Key 4

Gerardo Martino succeeded in his first taste of the Champions League only a few hours after his beloved father passed away -- huge commitment from a low-profile, yet incredibly charismatic leader.

I must admit I am impressed with El Tata's degree of commitment. Even during difficult times at a personal level, the Argentinean coach decided to stay with a group of players who, unfortunately, have been hit by adversity off the pitch far too many times. An admirable gesture from a man who is slowly, but surely, conquering the hearts of those who love Barcelona with his no-thrills, relentless approach.

It is certainly early days within the Martino era and, as described above, a few tweaks are needed here and there to make the team as competitive as Cules wish.

Having said that, the current string of positive results and a clean sheet in his European competition debut (thanks to the impressive Victor Valdes once again) will give him enough confidence to continue to implement his ideas.

Man of the match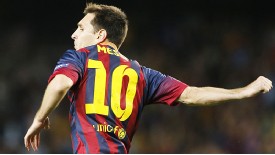 GettyImagesLionel Messi celebrates after putting Barcelona in front against Ajax.
Lionel Messi was, as the overall scoreline showed, the most decisive player on the pitch. It has come to a point where the quadruple Ballon d'Or winner has become virtually infallible in front of goal.

Cules have become so used to seeing the Argentinean wizard punishing rival defences that, despite him having scored his 62nd goal and 4th hat-trick in the Champions League, such records feel more like another day at the office rather than a tremendous achievement - which it obviously is.

In fact, 'La Pulga' had a relatively quiet game by his insanely high standards until the second half but, fortunately, his unequalled goalscoring ability allowed him to unbalance the game in his team's favour and grab the headlines on an individual basis with a couple of sparks of magic.

Player Ratings (0-10; 10=best)

Goalkeeper

Victor Valdes (9)

Defence

Dani Alves (6), Gerard Pique (7), Javier Mascherano (6), Adriano (6)

Midfield

Sergio Busquets (7), Cesc Fabregas (6), Andres Iniesta (6)

Forwards

Lionel Messi (9), Neymar Jr (8), Alexis Sanchez (6)

Substitutes

Xavi Hernandez (6), Pedro Rodriguez (6), Marc Bartra (6)

Have your say

What did you think of the Blaugrana performance vs. Ajax? Who was your Man of the Match? Do you agree with the Player Ratings?

I welcome and appreciate all respectful feedback. For more news and opinion notes on Barcelona, follow Francesc Tomas at @TomasESPN and Barcablog Facebook; 36,000 Cules have already joined.