Barca look to Messi and a little luck for last-gasp win over Sevilla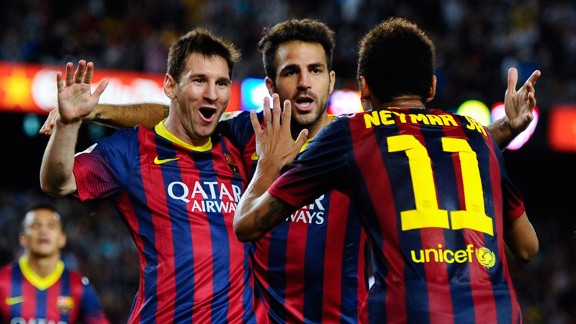 GettyImagesLionel Messi celebrates
The Sevilla game was always going to pose a danger to Barcelona after international week and Saturday's last gasp 3-2 win was a potential banana skin avoided due to a great deal of luck and, as always, the sheer determination of Lionel Messi to avoid defeat and produce a piece of magic when it mattered.

On 94 minutes with the game recently levelled at 2-2, Messi decided Barca simply had to finish the evening with a 100% record in La Liga, and thanks to him they did.

When he desperately burst down the right-hand channel in search of the byline it appeared far more likely that the Sevilla defenders would usher him, the ball, or both to safety.

- Alexis delivers at the death
- Video: Barcelona 3-2 Sevilla (CAR and PAC)

When he somehow pushed the ball past full-back Alberto Moreno, and appeared around the other side of the defender, in time to stretch a leg around a ball that was going out of play at speed, he again showed why he has been voted Ballon d'or on four occasions and is considered the greatest exponent of this sport in perhaps its entire history.

Part of Barca's luck came next, the last ditch hooked cross from Messi was met by a desperate foot from Beto in the Sevilla goal, only for the ball to land just right for Alexis Sanchez to slot home and claim an undeserved winner.

The other major slice of luck Barca enjoyed on the evening was the goal ruled out for Sevilla that Spanish media will be viewing from every angle until the midweek Champions League dates at the very least.

When the impressive Sevilla centre-half Cala rose to meet a corner on 64 minutes he appeared to do so legally. His header beat Barca goalkeeper Victor Valdes to make it 1-1 before referee Muniz Fernandiz decided he had witnessed an offence.

What that was nobody seemed to know and Cala was booked for protesting his innocence. It was not until the TV stations brought out a fifth different angle of the header before a possible infraction by Cala was spotted as he jumped above Dani Alves.

Whether it was a foul or not we will never know, what we can say is Barca were fortunate the referee spotted it, as on first, second third and fourth viewing it appeared to be a perfectly legal equaliser with 26 minutes to go.

As it was, Sevilla did manage to finally level the game at 2-2 at the death and here is where we can start with the negatives of the evening in what was at times a sloppy Barca performance.

Vitolo managed to leave Sergio Busquets, Gerard Pique and Adriano on the ground in a strong run on the left before allowing Ivan Rakitic to make it 2-1. While in the final minute Coke Andujar was left completely unmarked from a corner to grab the equaliser.

Indeed, so ragged were Barca defensively by that stage that Marko Marin almost won it for Sevilla before Messi set off on his run.

There were positives also, none more so than the first-half performance of Neymar, during which he looked close to ripping Sevilla apart on his own down the left-hand side.

His close control, attacking play and dribbling required three yellow cards from the opposition to stop. With the ball tied to his foot at times he looked unstoppable and he made right-back Coke's life a misery before the interval.

The Brazilian's best moment came on 30 minutes when he received a pass from Adriano on the halfway line and with coke breathing down his neck he dismissed the full-back with a quick one-touch back-flick before setting off on another run towards the Sevilla area.

He combined in the second half to provide Messi with his goal and Barca's second of the evening and his play is getting more intelligent as he helps his side keep possession when an attacking run is not an option.

In fact, his prominence in the first half meant we saw less of Messi than usual and if he did not grab a goal and make that run in the last minute it would have been remembered as one of his poorer games.

To go back to the negatives, it is the second game in a row Barca have held on to win 3-2, after going three goals ahead at Valencia. Afterwards Tata Martino could not explain why this was happening but he did correctly state that for him to "correct things in a winning team is always easier than in one that is losing".

And that is what Barca are at the moment: four from four in the league, a perfect record, but with obvious room for improvement.