Cruyff, Rosell & Laporta should bury hatchets, prioritise stability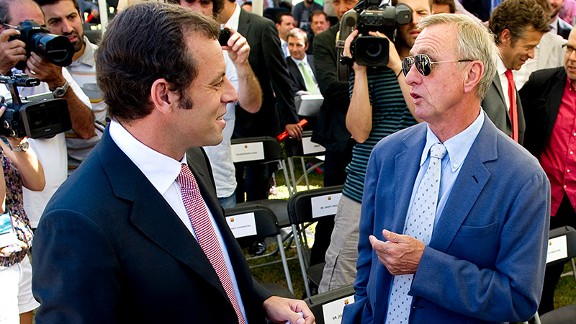 Josep Lago/AFP/Getty ImagesSandro Rosell, left, and Johan Cruyff need to put aside their differences for the good of the club.
Johan Cruyff will forever be remembered for his decisive role in changing Barcelona's history thanks to his inspiring forward thinking and ability to lead others while working for the club.

Before the Flying Dutchman's arrival as a player in 1973, the Cules were a tough, compact team which could usually challenge Real Madrid for the domestic league title. Forty years later, the Catalans have become a major club admired around the world thanks to the remarkable success achieved while playing delightful, attacking football.

As a result, Cruyff has become a key figure within the Blaugrana community and, as such, his opinions have the power to influence the thoughts of many. Unfortunately, his words since he was sacked due to disagreements with former president Josep Lluis Nunez have regularly created unnecessary division among supporters.

-Ledwith: Neymar and Messi back in tandem for Barca
-Cruyff will support Ajax vs. Barca

Despite not having been employed by the Blaugranas since 1996, Cruyff has generally been linked with the club in one way or another in that time. His role as behind-the-scenes adviser to charismatic president Joan Laporta and former manager Pep Guardiola is a clear example of how the seemingly retired Dutch continued to use his influence from the comfort of his own home whenever possible.

However, things turned sour from the moment that Sandro Rosell was elected as Laporta's successor. The situation became even more heated when the newly elected president stripped Cruyff of his honorary president title, arguing his appointment didn't fit within the club's statuses and was, as a result, undemocratic.

Regrettably, it all went downhill from there. The former player and manager didn't hesitate to embarrass the Barcelona board at the Champions League draw by demanding outstanding payment for his Cruyff Foundation projects before the world's media.

Don't get me wrong, I believe that Sandro Rosell should have ensured that the club fulfilled the generous 100,000-euros-a-year donation that his predecessor (and former best friend) Laporta had agreed to with the Dutch legend during his time in charge.

Having said that, my opinion is such complaints should have been made in private in order to protect the club's worldwide image. Unless, of course, that was the whole point.

Cruyff's animosity toward Rosell seems to have reached new heights: "I will support Ajax. I have had some differences with Barcelona's president. I will not set foot in the Camp Nou as long as he is there."

In other words: Johan doesn't want Barca to win an upcoming match in the biggest competition in European football because he doesn't get along with one of the directors. I'm sorry, but the 66-year-old's comments certainly don't do justice to his status as a Barcelona legend and are disappointing, to say the least.

As I have argued repeatedly here, these "You're-My-Friend-So-He's-Not-My-Friend" petty arguments have gone too far and lasted far too long. Club stability should be the main and only concern for those who truly love Barca, not ongoing personal disputes.

If Barcelona agreed to pay Cruyff, Rosell should have made the payment or, alternatively, cancelled the long-term deal Laporta signed. If Cruyff had a complaint to make, he should have used his lawyers on a private level. If Laporta wants to be president again, then he should wait for the next election and get more votes than the other candidates. Common sense is not always the most common of senses, unfortunately.

I want to highlight that I would never even dream of wishing my team to lose because I dislike one of the directors, managers or players -- that's definitely not something those who truly love the club would do, if you ask me.

Barcelona are one of the very few clubs in Spain (and the world, for that matter) which still belong to their supporters, called Socis in Barca's case. In an era where money is virtually the only thing that matters, the fact the local community can either appoint or sack the board of directors with its votes is definitely a rarity to be proud of.

The summer of 2016 will bring the heat to new levels, with Rosell and Laporta very likely to compete against each other for the presidential seat at the Camp Nou. May the best man win.

Until then, it must be back to reality for Cules. Luckily, the international break is over and the ball will start rolling again in La Liga on Saturday against Sevilla.

I sincerely hope that in the coming weeks and months, Blaugrana supporters are given a break from off-the-pitch politics so professionals such as Lionel Messi, Andres Iniesta or Neymar can actually grab the headlines doing what fans love watching the most: playing beautiful football.

Have your say

I welcome and appreciate all respectful feedback.

Follow Francesc Tomas at @TomasESPN and Barcablog Facebook for more news and opinion notes on Barcelona; 35,500 Cules have already joined.