Hot Potato: Replacing Victor Valdes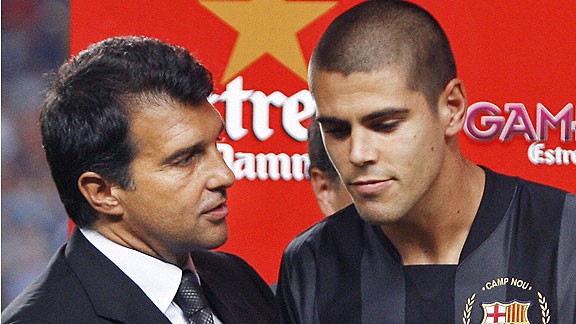 Lluis Gene/AFP/Getty ImagesFormer Barcelona president Joan Laporta, left, is part of the behind-the-scenes drama at the Camp Nou, That drama is part of the reason goalkeeper Victor Valdes is leaving.
Victor Valdes shocked Barcelona by announcing his departure from the club a massive 18 months before his contract actually expireds. The 31-year-old goalkeeper chose to share his decision with the media as soon as it was taken, ignoring the fact that his team was still challenging for a potential treble at that point.

Valdes explained before the summer transfer window opened: "I know I owe the club members and fans an explanation for why I decided not to renew my contract. Barca has given me everything and I owe them everything, but being a goalkeeper here takes it out of you. I didn't want people to debate the economics of a possible new contract and how much I love this club. It is an irreversible decision."

More than seven months have passed since Valdes shared his shocking decision, and, despite his trying to speak his mind in a couple of news conferences since, I am still trying to believe that the "desire for a new experience" is the only reason that made him so determined to leave.

Let's cut this long story short: Valdes' main reason to leave is his broken relationship with the club -- a case of gradual wear-and-tear after years of defending the Camp Nou goal.

The fact club legends such as Johan Cruyff, Pep Guardiola, Victor himself and now even Eric Abidal are all publicly showing their animosity towards president Sandro Rosell is definitely a worry.

I understand a leader can't please everybody at all times, but Barcelona needs a greater level of institutional stability off the pitch in order to bring further silverware to the Camp Nou museum. Rosell and his board are responsible to move the club forward while trying their absolute best to keep the peace when possible.

As I have argued many times before, the ongoing conflict between Rosell and former president Joan Laporta continues to hurt the institution on a daily basis and, regrettably, the point when such a divide could shake the club's foundations is closer than ever before.

The international goalkeeper has grown tired of feeling his achievements on the pitch were undervalued not only at the club, but also at the supporters' level. Despite Valdes' key role in the most successful period in history, not many in Catalunya consider him an outstanding player the club couldn't do without.

I feel Valdes should appreciate being a regular starter at the major European club which gave him the chance to become a five-time Zamora award winner and put any personal differences he might have with the board aside.

Either way, the decision is taken, and, regardless of how Cules feel about it, the most successful goalkeeper in the club's history is currently playing his last season at the Camp Nou after nearly two decades of defending the Blaugrana colours around the world.

Considering all of the rumours and talk surrounding his future, I must admit Valdes is having a remarkably good season, having already earned Barcelona a couple of games with several impressive saves.

Having said that, Cules don't want players at the club who aren't totally committed to the common cause in the long run. I thank Valdes for his services during his time at the Camp Nou and wish him all the best in the future once his contract expires.

The future goalkeeper

Personally, I would have preferred Rosell and under-pressure sporting director Andoni Zubizarreta to offload want-away Valdes during the summer transfer window and invest on a worthy replacement there and then.

However, the Catalan keeper insisted on remaining with the Cules until the end of his contract -- which will obviously enable him to negotiate a considerable transfer bonus with his next club after leaving no profit at the Camp Nou offices -- and then-coach Tito Vilanova agreed to keep him in the squad until July 2014.

I would love to be proven wrong on this, but I have very little trust in Zubizarreta's ability to find a worthy replacement after this summer's resounding fiasco when attempting the signing of the much-needed centre-half.

Personally, I just don't see how the man who failed to convince a single defender to join one of the best squads in football history despite having an unlimited budget will manage to lure younger stars such as Atletico Madrid's Thibaut Courtois or Manchester United's David De Gea away from their current clubs.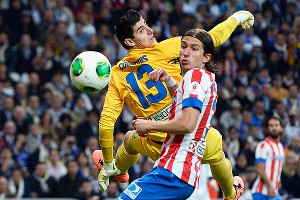 Pierre-Philippe Marcou/AFP/Getty ImagesAtletico goalkeeper Thibaut Courtois could be a Barcelona target after Victor Valdes leaves.
Personally, my preferred candidate for the No. 1 spot at Barcelona next season would be Courtois. His one-on-one stopping skills, reflexes and ability to inspire his back line are exceptional. Improvement on controlling the ball with his feet would be required, but that is something the Blaugrana coaches could help him with once he joins the team.

However, it is believed that Chelsea (who own Courtois' rights for the next three years) are planning to bring him back to Stamford Bridge next summer as a younger alternative to the veteran Petr Cech. Even if that wasn't the case, I just don't see Jose Mourinho allowing his young prospect to join his former employers Barcelona (with which he was an assistant from 1996 to 2000) anytime soon.

Alternatives such as Marc-Andre Ter Stegen, Vicente Guaita, Pepe Reina or Nahuel Guzman (reportedly Gerardo Martino's first choice) are also being considered.

I just hope that Rosell and Zubi do all within their power to ensure that Barcelona sign a reliable replacement for Valdes so the team can continue to challenge for every competition entered once the current No. 1 leaves.

Have your say

I welcome and appreciate all respectful feedback.

Follow Francesc Tomas at @TomasESPN and Barcablog Facebook for more news and opinion notes on Barcelona; 34,500 Cules have already joined.