What a start to the season it has been for Cesc Fabregas, both in an undefeated Barcelona side and on Friday with a superb assist to unlock the Finland defence and move Spain a step closer to qualification for the World Cup in Brazil.

The game was in the 19th minute and Iker Casillas had already made a fantastic stop to deny the Finns when Fabregas looked up and played a perfectly weighted chipped pass into the area for Barca teammate Jordi Alba to run on to and open the scoring in the 2-0 win.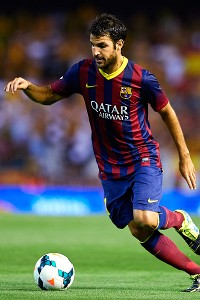 Manuel Queimadelos Alonso/Getty ImagesWith the Manchester United bid saga behind him, Cesc Fabregas has been outstanding for both Barcelona and Spain.
After the attention over the summer about a potential move to Manchester United, Fabregas has certainly knuckled down to the task of overcoming Barca's demanding fans and local press.

The former Arsenal captain has struggled at times since his return from London, but has still managed to contribute 20 league goals in two seasons and 29 in all competitions to a side that won the Copa del Rey in his first year and the league last season.

This season, he is yet to score, but has five assists and people are finally enthusing about his level of performance.

After last Sunday's 3-2 win over Valencia, Joaquim Bertran described him in the Sport as the only candidate to replace Xavi Hernandez and "the leader that Barça can't lose."

Much debate still exists over his best position. In the opening game against Levante he was by far Barca's most attacking player, and responded by being involved in everything.

Fabregas was unlucky not to score in the seven-goal demolition, but he got the season off to a great start playing an integral part in the three goals that ripped Levante apart in the first 22 minutes.

His intelligent run in the third minute saw him float past a static defence and provide Alexis with an easy tap-in. But perhaps more impressive was his chest-down for the second goal, followed by Lionel Messi's finish for the goal.

A week later at Malaga, he was once again the farthest forward and arguably his side's best performer after Victor Valdes, who had to pull of a number of saves to guarantee the three points in a tight game.

Last Sunday in Mestalla, Fabregas was deployed in a more central role and it was his quick thinking and movement that provided Messi with the opportunities to put the Blaugrana two goals ahead early on.

He has shown on many occasions for both Spain and Barca that he can play in the "false nine" position and cause all sorts of problems. It is a position he was never asked to play at Arsenal, but when the need arises and a spot on Barca or Spain is the goal, Cesc has become used to proving his versatility.

On Friday, he played on the left of a typically attacking midfield for the national team that had to also find space for Xavi, Iniesta and Pedro.

Credit must be given to Barcelona and Fabregas for the United bid never becoming anything more than just that. For a player who obviously enjoyed so much his first spell in the Premier League, it could have been easy for United's interest to quickly become unsettling.

"The more difficult the goal, the more I like it, and the one at Barca was the most complicated. But If I can retire here then all better, in my head I only think about winning things for Barcelona, " he told Spanish radio during the week.

The club has obviously transmitted to Cesc the importance of his role in the future. With Xavi's talents waning with age and Thiago Alcantara's move to Bayern, it seems that the time for Cesc to step up and show he will be Xavi's natural replacement has arrived.

With a World Cup coming up at the end of the season, Barca fans can expect to enjoy a high level of performance from Fabregas throughout the season -- the only thing left is to see in in which position Barca coach Gerardo Martino will use him most.