Messi ends Russian revolution with late double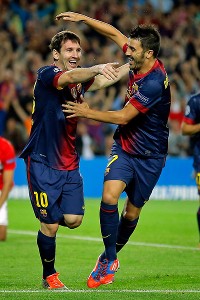 GettyImages / AP Photo/Daniel Ochoa De OlzaLionel Messi's brace help Barca defeat Spartak Moscow for a hard-earned three points.
Barcelona achieved a hard-fought 3-2 victory against Spartak Moscow at the Camp Nou in Matchday 1 of the Champions League group stage. Cristian Tello and Lionel Messi (double) scored the goals for the Blaugranas.

Tito Vilanova opted for a 4-3-3 formation and started with Victor Valdes in goal; Dani Alves, Javier Mascherano, Gerard Pique, Adriano in defense; Xavi, Sergio Busquets, Cesc Fabregas in midfield; Pedro, Messi, Tello as forwards.

The match started with Barcelona facing a very compact Spartak who, perhaps not surprisingly, opted for an intense defensive-minded approach. The Blaugranas tried to impose their rhythm by alternating patient combinations with quick one-touch combinations. Tello scored thanks to an impressive display of dribbling and finishing after he created space for himself from the left wing.

Despite sticking to their original plan, Spartak surprised the Camp Nou when Alves scored an own goal to equalize the match, following another clear example of how not to defend if we are serious about winning any titles this season.

The start of the second half didn't change the game much, with Emmanuel Emenike causing our four-man defense far too many problems, while Spartak parked their very crowded bus at the back in order to stop our pass-and-move system. The Russian plan worked again: Romulo netted after yet another terrible lack of defensive concentration.

Fortunately for Barcelona, we still had half an hour to turn things around. Although we didn't look particularly comfortable, Tello came to the rescue with another speedy run to create Messi's goal.

The Blaugranas kept piling on the pressure, and Spartak were beginning to feel the pain in their legs after over an hour of chasing after the ball and being stretched across the pitch. Barcelona went from strength to strength and improved as the game went on. Our increased intensity allowed Messi to finally crack the Russian resistance with a clever header.

Barcelona finished the game on a high, but the positive result can simply not hide the fact that we suffered far too much to add our first 3 points to our Champions League tally. In case anyone out there had any doubts, Spartak Moscow proved that there are simply no easy matches in the biggest competition in European football.

Despite leading Real Madrid by 8 points in La Liga, this Barcelona team is far from perfection at this stage. Having said that, our fighting spirit and the way our players stuck together through a difficult test definitely sent the right message to the rest of the teams in this competition.

Player Ratings

Victor Valdes – 6 – Spartak had two shots on target and scored twice. While the goals were definitely not his fault, it would have been nice to see him save at least one of them.

Dani Alves – 6 – Unlucky to score an own goal but, to be fair to him, that ball should have been cleared earlier by the rest of his defensive teammates. Happy to offer support when attacking.

Adriano – 6 – Back to reality after his glorious recent form. Joined attack freely but caught out of position in many occasions.

Javier Mascherano – 6 – Beaten by Emenike's speedy runs in many occasions, seemed to lack concentration at times. An unusually poor start, improved as the game developed.

Gerard Pique – 6 – Injured his ankle after just 10 minutes on the pitch. May be sidelined for the next 3 weeks as a result. A massive blow for the team.

Sergio Busquets – 7 – His quick steals in midfield and positioning when creating were crucial. Forced to help our defense whenever Spartak counterattacked.

Xavi Hernandez – 8 – Man Of The Match - The Commander pulled the team together when the match turned ugly. Read the game perfectly and enabled others to display their skills with his quick, accurate, well-timed passes. I doubt Barcelona would have turned this game around without him.

Cesc Fabregas – 7 – Generous display in midfield. Always trying to find clear runs from the second line, chasing deep positions with well-timed runs. Continuously rotating with Xavi, Busquets and Messi. Came close with a header during the first half.

Lionel Messi – 8 – Spent long periods of the match marked by up to 4 men, which meant that he wasn't able to get as involved as he would have hoped for. Despite not having the best match in football history, he came back to the forefront and scored a double which ultimately gave Barcelona the win and took his total Champions League tally to 52.

Pedro – 7 – A courageous performance, full of spirit. Able to beat his marker at either wing, interchanging positions with Tello throughout the match. Mostly successful or fouled when attempting to dribble.

Cristian Tello – 8 – Mostly able to zoom past his fullback with ease. Scored the opening goal of the night with a clinical finish from the wing. A remarkable performance which will surely give our youngster a well-deserved confidence boost.

Substitutes:

Alex Song– 7 – Substituted Pique after 11 minutes. Unable to clear the cross which lead to Spartak's first goal. Picked up a yellow card early on after a clumsy tackle. Improved during the second half.

Alexis Sanchez – 7 – Substituted Alves after 63 minutes. Added much needed stamina and mobility to our attack. His great cross allowed Messi to score the winning goal.

David Villa – 7 – Substituted Tello after 73 minutes. Fresh legs when Barcelona needed it the most. Came close to scoring but was denied by the Russian defense.

Coach:

Tito Vilanova – 8 – Read the game well when he opted for a more offensive 3-4-3 formation shortly after Spartak's second goal and introduced Alexis and Villa to widen the pitch and up the tempo. Another brave, decisive move that gave us the 3 points.

Have your say

What did you think of Barcelona's performance vs. Spartak Moscow?

Who was your Man of the Match? What are your player ratings?

As regular readers may have realized, I enjoy engaging in respectful debate using the ESPN conversation gadget. Over 30,500 Cules follow all my posts and comments at @Barcablog_com and Facebook already, feel free to join if you want to keep updated.