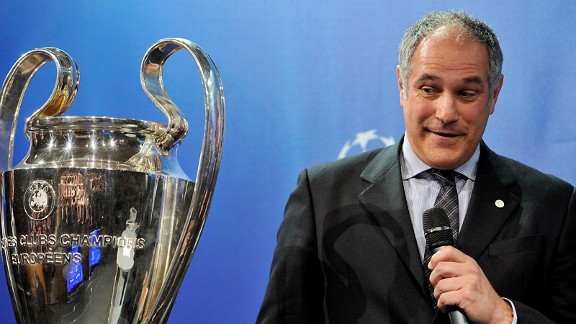 Harold Cunningham/Getty ImagesAndoni Zubizarreta's transfer activity has been second-guessed, but Barca should once again contend for the Champions League title next spring.
Some clubs don't have them, while others have had them for years. Others have just adopted one, while some have well-connected agents who have never played the game; others rely on the extensive knowledge of extremely famous old pros.

That is the Director of Football, or Sporting Director as they are known in Spain, and after a volatile transfer window and with the world press declaring losers and winners before a ball has even been kicked in anger, the role is under heavy scrutiny.
.
Despite what many Barca fans are describing as a disappointing window -- in which one of the game's most prodigious talents joined the club -- Barca has one of the best in Andoni Zubizarreta, who definitely falls into the experienced old pro category.

-Santos trio not part of Neymar deal
-Judge: Messi should not post bail

In some clubs, the question begs: what do these men of mystery do, especially when no signings are made from one end of the transfer window to the other? At Barcelona, where a footballing philosophy has existed for decades, the role is easier to define.

The Sporting Director figure has long been an important one at the club. Txixi Berguiristain held the role between 2003-10, bringing in stars such as Deco, Ronaldinho, and Samuel Eto'o with the advantage of a open chequebook.

Before him, Carles Rexach had the role, and was key in the 2000 signing of Lionel Messi, who would be heard from a number of years later.

However, the job has become more than just signing players and is increasingly about continuity, assuring Barca's football philosophy is upheld throughout the club.

Zubizarreta is highly regarded for his work with the club's coaching staff and his day-to-day work at all levels.

As the current controller all football matters at the club, 'Zubi', as he is handily known, spoke Tuesday about Barca's transfer window and his key message was that keeping club icon Carles Puyol 'is our signing'.

After last year's disappointing capitulation to Bayern Munich in the Champions League, the summer was definitely time to reflect on what needed to be improved.

Juan Carlos Unzué, former understudy to 'Zubi' and goalkeeper coach under Pep Guardiola, summed it up succinctly at the end of last season when he said

"Who do you leave out? Zubi has a difficult task because players he brings in have to be better than the ones already there."

The signing of a quality centre-half was the move pundits and fans expected, but in the end none arrived.

Zubi admitted there was interest in Thiago Silva on Tuesday, but while he said the club did everything to sign the player, he added "I know I'm going to blow a myth about Barca, but not everyone gets up every morning thinking about playing for this club."

Once Silva opted to stay at PSG, the club was linked to a long list of players, but the progress of Puyol's injury was the key for Zubi and new coach Gerardo Martino, who agreed that there was no need to buy just yet.

The old line football people trot out is 'we will only bring in players that improve on those we have' and this could well be the simple truth in this case. How many current centre halves can claim to be better than a fully fit Carles Puyol firing on all cylinders?

"Last season with the same players and some injury problems we managed the best first half of the season in history," Zubi said. That could be the key -- they trust and believe that Puyol will be back to his best very soon and they believe they have enough back up in Marc Bartra and Javier Mascherano to get them at least to the January window.

Perhaps also Barca fans need to be thankful the club rebuffed all attempts to take Cesc Fabregas. The player did not have his head turned by Manchester United and has started the season as arguably Barca's best performer.

Sometimes, the performance of the Sporting Director can be judged on who remains happy at a club rather than simply who is attracted.

It is also widely thought Zubi was the man that chose Martino as the new coach this summer, while Neymar slowly settles in and appears to have improved attacking options.

Zubizarreta was always a winner during his career, playing in four World Cups, winning six La Liga titles (four with Barca), the European Cup in 1992 as well as two Spanish Cups and a European Cup Winners Cup.

Barca fans will have to trust him on this one and accept his judgement. If he is proved wrong, January could be a busy month for this particular Sporting Director.