A frustrating summer for Barcelona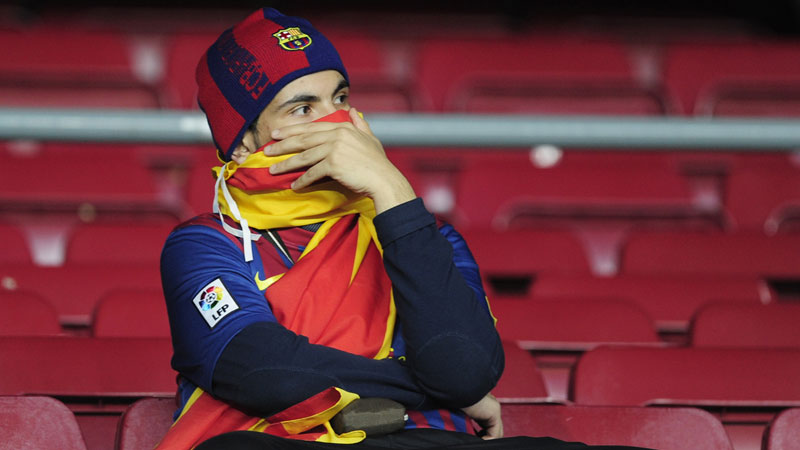 GettyImagesBarcelona supporters have endured a summer of disappointment.
Millions of supporters look forward to transfer deadline day in the hope that those in charge of their beloved football club would go the extra mile in order to sign that special player who could boost their team's chances of success in the upcoming season.

Unfortunately, sporting director Andoni Zubizarreta ruined all the suspense with his rather gloomy message after the game at Valencia: "I don't think we will sign anybody." As expected, his disappointing words didn't go unnoticed and thousands of Cules have expressed their deep outrage with the club's decision since.

To make matters worse, the former Barcelona goalkeeper explained on Tuesday: "The summer was difficult, but we have the squad we wanted. We did all we could to convince Thiago Silva but he preferred to stay at PSG. Our new signings are Carles Puyol and Sergi Roberto." A puzzling message which can't possibly convince anybody who has watched Barcelona play in the past three seasons.

I can honestly not believe that the many scouts whose only job throughout the whole year is to monitor the football market were all unable to find one single defender (apart from Thiago Silva, whom my 7-year-old cousin could have spotted by playing "FIFA13" on the PlayStation) who could challenge for a starting spot at Barcelona.

Sure, the directors are arguing that any centre-back who joins the Catalans must be tall, fast, able to play the ball on the floor with ease, powerful one-on-one and intelligent enough to position himself well when faced with quick counterattacks.

David Luiz, Daniel Agger, Mamadou Sakho, Mats Hummels, Jan Vertonghen, Thomas Vermaelen, Marquinhos, Inigo Martinez, Neven Subotic, Adil Rami, Jeremy Mathiew, Eliaquim Mangala ... Personally, I just can't believe that none of the many other defenders who were linked with the club this summer was unable to fill the obvious gap within the squad.

If money wasn't an issue, then the failure to sign the necessary centre-half must come down to poor negotiation skills on the club's behalf, as convincing a professional footballer to take a starting spot in a team that includes Lionel Messi, Andres Iniesta or Cesc Fabregas can't be that hard.

It certainly was a disappointing end to a summer which, in fact, started quite well with the early signing of Neymar in late May. From that moment on, however, the club were unable to sign anybody else, making Cules increasingly frustrated as the squad's defensive needs are crystal clear to anybody who understands how the game of football is currently played at the highest level.

Here is my individualised analysis of every deal that Barcelona has closed this summer: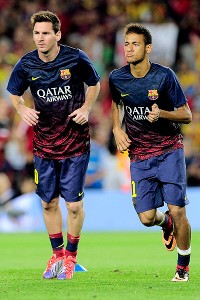 JOSEP LAGO/AFP/Getty ImagesThe capture of Neymar, right, was the highlight of Barca's summer.
Neymar: Bought from Santos for 57 million euros. The many sceptical experts who thought such fee was far too high for a largely inexperienced youngster were proved wrong quickly, with the 21-year-old impressing football lovers around the world with stellar performances at the Confederations Cup just days after his transfer was completed.

With the benefit of hindsight, it is now clear that the Blaugranas could have been priced out of the market if the club's board hadn't closed the deal before the forward joined La Canarinha on international duty.

Since joining the Catalans, Neymar has gone from strength to strength and is showing early signs of what a special player he has the potential of becoming in the future next to his new teammates. A fantastic signing who will certainly bring a new dimension to the Blaugrana attack.

Eric Abidal: Released on a free transfer. Abidal was able to miraculously get back to fitness after a couple of years fighting for his life away from the spotlight of professional football. The coaches and directors assessed the situation and, together, decided to release him on a free transfer. The Frenchman has returned to his national team and played in every match for AS Monaco since.

Barcelona lost a leader within the dressing room who could have influenced youngsters positively and helped the team in times of defensive need. Having said that, I just didn't see him as a regular starter so it would have made sense for the club to save his wage and invest it elsewhere -- Sandro Rosell and Zubi refused to sign anybody, unfortunately.

David Villa: Sold for 2 million euros. The club decided that his services were no longer required despite his scoring 10 goals after taking only 40 shots on goal in La Liga last season. El Guaje scored against the Catalans in the Supercopa and has started every game for Atletico de Madrid since.

The Blaugranas offloaded a player who would have enjoyed very little playing time this season, especially after the arrival of Neymar. While I agree he needed to leave the Camp Nou, I believe the club should have pushed harder toward obtaining a much higher transfer fee -- even if his colossal wage was taken into consideration.

Thiago Alcantara: Sold for 25 million euros. Mazinho's son decided to follow former manager Pep Guardiola's footsteps and join treble winners Bayern Munich. The youngster is currently unavailable due to the seven-week-long injury he suffered in his second official appearance for Die Roten.

I have always argued that those who aren't prepared to make any sacrifices to play for Barcelona don't deserve to be part of the squad. Thiago always prioritised his own career to the club's collective success, as shown in his refusal to challenge for Xavi's starting spot for another season. Good riddance.

Gerard Deulofeu: Loaned to Everton. Given the many forwards within the Barcelona first team, leaving was the best possible choice. Once he adapts to the Premiership, I would expect him to show his class, speed and goal-scoring ability under Roberto Martinez before returning a more experienced, mature player.

Bojan Krkic: Loaned to Ajax. Given yet another chance to prove himself after a couple of frustrating spells at Roma and AC Milan. The more offensive approach and the guidance of former Blaugrana Frank de Boer should help him shine at the Amsterdam Arena, but I'm certainly not holding my breath.

Rafinha Alcantara: Loaned to Celta. Has become a key player for Luis Enrique so far, leading the Gallegos' midfield by creating chances and even scoring in La Liga already. Definitely a player to monitor closely this season.

Andreu Fontas: Sold to Celta for 1 million euros. Barcelona included a buy-back clause in case the young defender excelled under Luis Enrique but, personally, I am not hugely optimistic about his chances.

Marc Muniesa: Released on a free transfer. After recovering from a couple of severe long-term injuries, the young defender never actually fulfilled the huge expectations placed on his shoulders from a very early age. Has played only one cup game for Stoke City so far.

Have your say

I welcome and appreciate all respectful feedback.

Follow Francesc Tomas at @TomasESPN and Barcablog Facebook for more news and opinion notes on Barcelona; 34,500 Cules have already joined.