Adriano strikes to victory; Neymar demands starting spot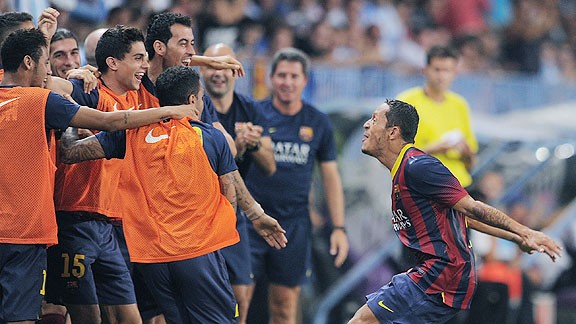 Denis Doyle/Getty ImagesAdriano's stunning left-footed shot helped Barcelona earn a tough three points at Malaga.
Barcelona achieved a narrow 1-0 win against Malaga at La Rosaleda in Matchday 2 of La Liga. Adriano Correia scored the goal for the Blaugrana, who enjoyed 72 percent of possession, created 15 goal-scoring chances and attempted 12 shots, 11 of them on target. This result helps Gerardo Martino's side retain their place at the top of the La Liga table with six out of six points thus far.

- Match report: Malaga 0-1 Barcelona

Key 1: Despite the absence of Lionel Messi due to the ongoing muscular trouble that has limited him to completing only one of the past 26 matches that Barcelona has been involved in, Martino decided, once again, not to include Neymar in the Catalans' starting eleven.

El Tata continues determined to ease the talented Brazilian into the squad progressively rather than giving him the responsibility to carry the team from the start of the season. This is a brave, admirable move which is aimed at protecting him from putting too much pressure on his young shoulders too early into his Blaugrana career and staving off any possible backlash if games don't go as well as the highly demanding supporters expected.

Neymar came on with just 30 minutes to go until the final whistle. The mobile youngster was played as a wide winger but rotated into more central spaces whenever needed, showing glimpses of his exquisite technical ability across the park.

As expected, the Brazil international was often stopped with countless aggressive tackles by rival defenders, but, unfortunately, that is a fact that he will have to learn to live with as a matter of urgency.

More and better is surely to come as, based on this and previous performances, Cules should be able to see Neymar as a regular starter in the not-too-distant future, once the initial adaptation period scheduled by Coach Martino is finally over.

Key 2: It was clear that the Blaugranas are still far from their optimal fitness, a factor which impeded the team from breaking the Malaga back line as often as they would have hoped for. Creative players, such as Xavi or Andres Iniesta, often struggled to find a way through a reasonably well-organised rival defence.

Having said that, and especially at this early point in the season and after another atypical summer spent touring away from Catalunya, winning three points after a far-from-brilliant performance away from the Camp Nou is definitely not a bad sign. I am confident that the Cules will improve progressively as the season develops, acquiring more of Martino's slight formation changes in the process.

Key 3: Barcelona dominated for the vast majority of the game. However, they could have been seriously hurt in the dying minutes by a team that was largely unable to create any sort of danger until that point. The Blaugranas continued to suffer on the break and struggled to defend the very few chances their rivals created in a confident, effective manner.

After more than three years of demanding the signing of a taller world-class centre back, the fact that club directors haven't yet reinforced the team's back line this summer (and don't seem at all likely to do so before the transfer window closes again) is hugely frustrating.

The Blaugranas should have been more decisive in the chase of that all-important second goal; more accurate finishing was definitely missed. Doing just enough will not cut it against better organised, higher-level opposition in the more decisive stages of the season.

Man of the Match: Cesc Fabregas was given the given the freedom to roam across the final attacking third and impressed as a false striker in the absence of Messi. The Catalan playmaker instigated many clever combinations in attack, always looking dangerous and clearing the hosts' back line with edgy through passes.

Fabregas' ability to come off the two rival centre backs to receive deeper into midfield dragged his markers out of position, opening spaces for others as a result. He didn't score but brought constant danger to the opponents' goal in another remarkable display of desire, skill and positional intelligence.

Blaugrana to Watch: Ultimately, it was Adriano's tremendous strike that earned Barcelona three very valuable points towards retaining the La Liga title. His curled, trademark effort from outside the area unbalanced the game with only a minute until halftime. A clear example of what a great long-range shooter he can be when confident.

Unfortunately, the Brazilian full back had to be taken off due to thigh muscle discomfort shortly after, a disappointing reoccurrence, which has been a constant since his transfer from Sevilla back in July 2010. Get better soon!

Player Ratings (0-10; 10=best)

Victor Valdes (7)

Adriano Correia (8), Gerard Pique (5), Javier Mascherano (7), Jordi Alba (6)

Alex Song (6), Xavi Hernandez (6), Andres Iniesta (5)

Cesc Fabregas (8), Pedro Rodriguez (5), Alexis Sanchez (6)

Substitutes: Dani Alves (6), Neymar (8), Sergi Roberto (6)

The quote: "I would have liked to have been able to play the Malaga game, but I need to be at 100 percent to be able to play and to help the team." -- Messi

Have your say

What did you think of the Blaugrana performance versus Malaga?

Who was your Man of the Match? Do you agree with the player ratings?

I welcome and appreciate all respectful feedback.

Follow Francesc Tomas at @TomasESPN and Barcablog Facebook for more news and opinion notes on Barcelona; 34,000 Cules have already joined.