No rush: Messi must prioritise his health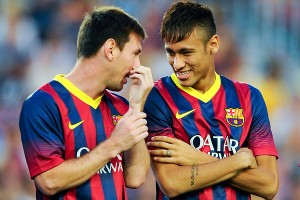 David Ramos/Getty ImagesIf Lionel Messi ends up taking a break, Neymar could become even more key for Barcelona this season.
Lionel Messi has completed only one of the 25 games Barcelona have played the last five months. In that time, the four-time Ballon d'Or winner has been subbed 10 times, entered as a sub on five occasions and was unavailable the other nine.

Considering the Argentine wizard's importance in terms of leadership and scoring, such an eye-opening stat can only be considered a huge worry that must be addressed as a matter of urgency. The Blaugranas should do all within their power to ensure their most valuable player can help the team when it matters the most.

Club sources have confirmed that Messi bruised the femoral biceps tendon in his left thigh during the first half of the 1-1 draw against Atletico Madrid in the Supercopa on Wednesday, making his participation in Sunday's league match at Malaga a serious question mark.

-Godin unrepentant in Messi row

I hope the club's statement is a true reflection of the actual situation. Experience tells me, especially as far as medical reports are concerned, that official notes sometimes try to hide the true severity of the injuries and announce unrealistic recovery periods to protect the player.

The way in which Messi miraculously recovered from flu to score a double in 30 minutes against Osasuna in January 2012 is a clear example, one that many in Pamplona still feel very bitter about.

I am not hugely concerned that Messi may be missing for a couple of matches as, let's face it, the other attacking options should be ready to step up for a shorter period, if needed. Despite having the best player in world football, coach Gerardo Martino should be able to trust others in his absence.

Players such as Neymar or Cesc Fabregas were initially on the bench against Atletico but got the chance to show their worth. Their second-half inclusion transformed the game by giving Barcelona much-needed mobility, depth and, ultimately, the all-important away goal which may be key to lifting the trophy at the Camp Nou next Wednesday.

However, it would be disastrous news if Messi's current injury was, in fact, related to the previous, endless hamstring worries which didn't allow him to perform at his best in the decisive stages last season.

It's obvious we will never find out, but I can't help but think the outcome of the Champions League semifinal against Bayern Munich may have been different if Messi had been fully fit.

Surprisingly, Messi played several charity matches during the offseason instead of resting by some faraway beach as the Barcelona directors would have expected. Definitely a good deed from a global perspective, but not the most advisable decision for a professional who needs to recover from ongoing muscular issues in order to fulfill the job for which he is paid a reported 16 million euros a year.

Messi ended last season suffering from injuries and, in the early stages of this campaign, he appears not to have gotten better. I am obviously not an expert, but it seems clear that many wrong decisions have been made since Messi first injured his hamstring against Paris Saint-Germain in April.

Until that point, Messi had been virtually injury-free for four years, but let's not forget that he was constantly suffering from muscular discomfort during the Frank Rijkaard era, which only strict medical monitoring seemed to be able to alleviate and prevent. Let's hope those difficult times remain a memory of the past.

I am fully aware that every game is relevant and the most important match is always the next. Having said that, the ultimate priority must be for key players to reach their peak fitness (not only physically but also mentally) in April and May, when crucial battles are fought in the biggest competitions.

Fortunately, Martino has already shown understanding of the importance of rotating the squad in the very early stages of the season. During the preseason, key players were limited to 45-minute stints. That continued when official competition started, with Andres Iniesta, Neymar and Jordi Alba on the bench at kickoff in the first Liga match and Messi himself substituted after 60 minutes -- a positive sign which should keep the squad fresh and ready until the later stages.

Here's wishing Messi a full (not necessarily quick) recovery so that Culés can enjoy his magic for many years to come.

Have your say

I welcome and appreciate all respectful feedback.

For more news and opinion notes on Barcelona, follow Francesc Tomas at @TomasESPN and Barcablog Facebook; 34,000 Cules have already joined.