Neymar brings Supercopa closer despite David Villa's opener
Barcelona achieved a valuable 1-1 draw against Atletico de Madrid at the Vicente Calderon in the first leg of the Spanish Supercopa. Neymar scored the goals for the Blaugrana, who enjoyed 75 percent of possession, created eight goal-scoring chances and attempted eight shots, four of them on target.

• Ledwith:Little to learn from thrashing of Levante
• Corrigan:Barcelona's centre-back conundrum

Despite controlling the ball for most of the game, the Blaugranas weren't able to find many gaps within the robust, well-organised defensive formation deployed by astute Argentinean tactician Diego Simeone. The hosts made reducing spaces in their own defensive third an absolute priority, worked terribly hard when chasing after the ball and managed to consistently win many of the key midfield battles. As a result, the Catalans were rarely able to break free and find through-passes as spaces were very limited.

To make matters worse, Los Colchoneros found themselves in the lead after just 12 minutes thanks to a thrilling volley by their star signing of the summer: former Barcelona striker David Villa. Don't get me wrong, I detest seeing the Blaugranas conceding goals at any given time; whether it is a mere friendly or the Champions League final doesn't make much of a difference.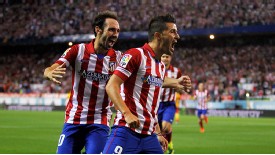 APDavid Villa celebrates scoring against his old team - Barcelona - in the Supercopa.
However, I was somehow pleased to see "El Guaje" making an impact for his new club after many months of disappointment following his tibia injury back in December 2011. I sincerely wish him all the best in the future and, judging by the way his new coach, teammates and supporters have treated him so far, it looks like he will be just fine.

Lionel Messi was substituted at halftime after 45 minutes of constant struggle to free himself from his two solid, aggressive markers. The club has explained that "La Pulga" will undergo tests on his bruised hamstring once the team returns to Catalyuna, but, at least initially, it seems more of a precautionary measure than a serious injury.

Considering the many muscular injuries that Messi suffered in the later stages of last season, I would have personally preferred him to rest during his holidays rather than tour the world playing charity games. Sure, the fact that the quadruple Ballon d'Or winner used his global image to raise funds is admirable, but, at the same time, preserving his own health should have been a higher priority on his list.

Let's just hope that the injury isn't serious and Cules can enjoy watching the best player on Earth defending their club's colours again in the very near future.

Let's be honest: La Supercopa is the least important trophy in the Spanish football calendar and many just see it as a glorified, higher intensity summer friendly. While I agree that the relevance of winning the title is fairly minor, I do believe that whatever team comes out victorious gets an extra confident boost for the upcoming season, which, frankly, Barcelona could really do with at this point.

This clash against Atletico will certainly not be remembered in the Blaugrana history books as the team's best ever performance but there still are some positives to be taken. The most important being, despite not creating many clear chances and being a goal down in the early stages, Los Cules managed to obtain a positive result away from home, which could be crucial in the return leg.

Man of the Match

Alexis Sanchez:: Was a constant threat for the Atletico defence. His piercing diagonal runs, relentless pressure and courageous attitude were admirable. Unfortunately, he didn't score. That being said, his hard work enabled others to develop their game by creating spaces, opening the pitch wide when needed and being constantly incisive.

Looking forward to seeing the Chilean youngster building on his recent performances in order to become an indispensable attacking reference in the near future.

Blaugrana to Watch


GettyImagesNeymar scored after coming off the bench.
Neymar: As it happened in the match against Levante in La Liga, Neymar was not included in the starting lineup and had to patiently wait for his chance on the bench. Gerardo Martino finally decided to use his skills 14 minutes into the second half, as Barcelona were seriously struggling to create much danger at that point.

After only six minutes on the pitch, the talented Brazilian found the net with a confident header, scoring his first official goal for the Catalans and, more importantly, taking his team closer to the title. His form is still far from being optimum but this was definitely another confident step towards becoming a key player within his new squad.

Player Ratings (0-10; 10=best)

Victor Valdes (6)

Dani Alves (6), Gerard Pique (5), Javier Mascherano (6), Jordi Alba (5)

Sergio Busquets (5), Xavi Hernandez (5), Andres Iniesta (5)

Lionel Messi (5), Pedro Rodriguez (5), Alexis Sanchez (7)

Substitutes: Cesc Fabregas (6), Neymar (7)

The Quote

"It was an intense match, as expected. There were no surprises. It was difficult for us to find spaces. This draw is a good result." – Martino.

Have your say

What did you think of the Blaugrana performance versus Atletico de Madrid? Who was your man of the match? Do you agree with the player ratings?

I welcome and appreciate all respectful feedback.

For more news and opinion notes on Barcelona, follow Francesc Tomas at @TomasESPN and Barcablog Facebook; 34,000 Cules have already joined.