Little to learn from thrashing of Levante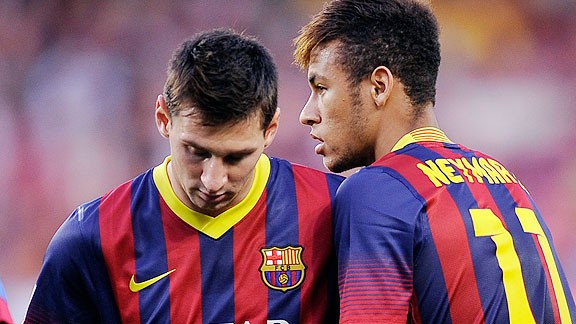 AP Photo/Manu FernandezLionel Messi scored twice for Barcelona, getting both goals before Neymar entered the game in the 64th minute. Messi left seven minutes later.
As new starts go, it is hard to beat. Barcelona's previous biggest first-day victory was in 1950, when they thrashed Real Sociedad 8-2. They hit only seven without reply Sunday in routing Levante, but it has to be the easiest opening day new coach Gerardo "Tata" Martino could have hoped for.

Apart from the new coach and the addition of a Brazilian superstar, in this showing little else appears to have disrupted Barca during what has been a difficult summer with Tito Vilanova stepping down and the eternal traveling to friendlies in far-off places.

However, little can be gleaned from a performance reminiscent of so many before, in a Spanish League in danger of looking more top-heavy than ever.

After the bloodletting the rest of La Liga has endured in preseason, with Real Madrid obviously the exception, it is unlikely Levante will be the only side to ship six-plus goals at the Camp Nou this season. That is a shame as these types of fixtures become more insignificant.

New Malaga coach Bernd Schuster already has said he has given up hope of taking anything from Barca next week.

Martino can do little else than beat what is put in front of him, but his introduction to Spanish football was a walkover.

While it could be argued the Argentine made it easier for Levante by leaving Neymar, Jordi Alba and Andres Iniesta on the bench, it was still little more than a stroll in the sun for Barca from the first minute.

Granted, there were some fantastic performances, none more so than from Alexis Sanchez and Cesc Fabregas, who received more criticism than most last season.

However, against the minnows from Valencia with a defence averaging 33 1/2 years, it was never difficult for Barca's fluid passing game to click into gear.

With usual suspects Lionel Messi and Xavi involved in everything and two genuine wide men in Pedro (brace) and Alexis Sanchez, it resembled men against boys.

Fabregas had a superb first half without getting the goal he deserved, but his chest-down in the buildup for the second and his delightful chip for Xavi for the sixth were the pick of the assists.

Messi chased, harried and played with the enthusiasm of a 17-year-old making his first-team debut -- expect bags more goals from him this season after the two Sunday.

At the back, Gerard Pique and Javier Mascherano did not give Martino many clues as to whether he needs to strengthen as a stunned Levante attack threatened once the whole game.

Martino said last week the centre half he is waiting for is Carles Puyol, but stronger sides later in the campaign will cause more problems than a Levante side whose front line was led by David Barral, who made his debut after a year in the wilderness of the second division with Sporting Gijon.

Martino did prove that his appointment is one that promises continuation. The passes were as crisp, the corners as short and the free kicks taken as quickly as ever.

The Argentine even appeared to have followed the line of his predecessors down to his elegant dress. In a pale blue jacket and dark blue polo shirt he appeared, if anything, overdressed on a humid, steamy evening.

On the other bench, Levante had a new coach of their own. Wily old fox Joaquin Caparros appeared the cooler of the two in a crisp white shirt, but he quickly got his sleeves rolled up and hot under the collar as Barca cut through his side at ease.

The Brazilian everyone had come to see finally arrived with 27 minutes remaining with "Neymar JR" on his shirt. But he only shared the pitch with Messi for seven of those.

Martino already has said he would introduce him slowly after a turbulent arrival at the club. Neymar looked as promising as anyone could with his side six goals to the good, and did manage a half-chance after combining well with Fabregas before he received his first booking in Spanish football for an innocuous challenge.

What his arrival will bring is more rest for key players such as Messi and Xavi, who were unable to perform when Bayern Munich came calling at the business end of last season.

What is certain is if the Brazilian, the Argentine and the Spanish internationals click again like they did Sunday, some poor side will be leaving the Nou Camp with a double-digit defeat at some stage this season, and La Liga will be poorer for that.