Barca's centre-back conundrum
PA PhotosFinding the man to replace Carles Puyol in the long-term has been a tricky process for Barcelona.
Fermat's Last Theorem was one of history's most difficult mathematical problems -- one that, after first being conjectured by Frenchman Pierre de Fermat in 1637, baffled many of the world's finest brains for centuries.

Numerous ingenious and not-so-ingenious attempts were made to find a solution to the deceptively simple-looking theorem before eventually, in 1995, a proof was finally published by Oxford University professor Andrew Wiles.

That left the greatest minds on earth with little to ponder upon, until the "Blaugrana Centre-Back Problem" emerged a few years ago.

The search for a solution to this teaser has continued during each subsequent transfer window. This summer, Barcelona's former coach, Tito Vilanova, his successor, Gerardo Martino, the club's sporting director, Andoni Zubizarreta, and the club's president, Sandro Rosell, have been putting their heads together.

David Luiz (Chelsea), Daniel Agger (Liverpool), Vincent Kompany (Manchester City), Thomas Vermaelen and Laurent Koscielny (Arsenal), Walter Samuel (Inter Milan), Sebastian Vergini (Newell's Old Boys), Inigo Martinez (Real Sociedad), Mamadou Sakho (PSG) and Eliaquim Mangala (Porto) were among the potential solutions carefully considered. Meanwhile, pundits and reporters in Catalonia and elsewhere have speculated endlessly about the potential challenges and implications of the quest.

Such a scenario is familiar to Barca watchers, given the club have been trying to fill a void at the back if not for three centuries, then at least since the 2006 Champions League final. This pursuit of an answer has been -- for the most part -- an unbroken sequence of disasters.

Gabriel Milito arrived from Real Zaragoza for €20 million in 2008. In 2009, Henrique from Brazil for €8 million and Martin Caceres from Villarreal for €16 million were tried. A dip into the Ukrainian market was attempted in 2010 with €25 million paid to Shakhtar Donetsk for Dimitri Chygrynskiy. All came and went while leaving little impression except for big minus signs in Barca's annual accounts.

There have also been regular attempts to solve the problem internally, by growing a defender with "Barca DNA" in the La Masia laboratory. But the list of promising, then later discarded, young products is almost as long as that of the failed signings. Alberto Botia is now at Elche, his fourth club in five seasons. Andreu Fontas has signed for Celta Vigo after making little impression on loan at Mallorca last year. Marc Muniesa joined Stoke on a free transfer this summer.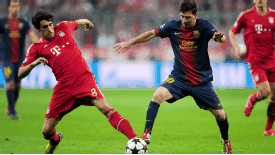 PA PhotosThe one that got away: Javi Martinez impressed in Bayern's 7-0 Champions League drubbing of Barcelona.
Meanwhile, Carles Puyol's ever worsening injury issues have led to the problem becoming more and more acute. And each summer a new paradigm emerges to challenge the consensus. Twelve months ago, Tito Vilanova made it clear he wanted to sign Javi Martinez to act as both a ball-playing centre-back and midfield pivote cover for Sergio Busquets. However, Barca's board would not or could not pay the Basque's €40 million release clause at Athletic Bilbao, so he ended up at Bayern Munich. Alex Song, the cut-price alternative, did not work out well.

April's 7-0 humiliation by Bayern Munich in the Champions League semifinals saw Martinez convince most pundits, and apparently also Vilanova, that this summer's answer should be different. Barca had at last discovered that football -- like mathematics -- has fundamental laws that must be obeyed. All teams need big, strong defenders who can win the ball in the air, outmuscle burly centre-forwards, put a few reducers on smaller, nippy attackers, and have no problem booting the ball into row Z when required. Paris Saint-Germain's Thiago Silva was identified, and Barca seemed to think they would finally get their man -- until it became clear the Brazilian and his wily agent had used their interest to leverage a pay-rise at the Parc des Princes.

That left Barca back at the drawing board, where the names reportedly chalked up made it difficult to determine what exact criteria were being used or attributes being considered. You could argue that Luiz, Kompany and Martinez are all good players, but they are completely different types of defender, and none are particularly similar in style to Puyol (unless you count Luiz's haircut). The impression given was of a scattergun approach rather than a careful scientific analysis of the problem.

Now Martino appears to have his own ideas. The Argentine reportedly "put a brake" on Barca's centre-back hunt. Since taking charge in July he has repeatedly argued that Barca's defensive problems last season, against Bayern and other teams, did not stem from an inability to head away long balls. The problem was a lack of intensity and less "pressing" further up the field. This theory has been echoed by many Barca players, from Leo Messi down, in recent weeks.

The outcome of Tuesday's "summit" meeting between Martino, Rosell and Zubizarreta seems to be that Barca will not buy a defender at all this summer. Given that the available options -- including Luiz and Agger -- lack the exact characteristics required to play centre-back for the club, it makes little sense to pay big money for any of them. Martino is apparently happy to go into the new season with Gerard Pique and Javier Mascherano as first choices. Backup would be provided by Puyol, 35, Marc Bartra, 22, and Frank Bagnack, 18. It was interesting to then see photos of Puyol upping his recovery program published on Barca's website the day after the "summit" took place.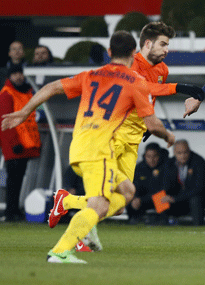 GettyImagesGerard Pique and Javier Mascherano were the centre-back partnership for most of their 2012-13 La Liga-winning campaign.
There is a certain logic to this thinking. Barca won their two Champions League finals with Yaya Toure (2009) and Mascherano (2011) at centre-back. For most of both games -- and the majority of Pep Guardiola's four seasons in charge -- they did not really "defend" at all, or not in the traditional sense of the word. They kept opponents out by holding the ball through possession, or by winning it back as soon as possible. A high "press" led by Messi & Co. up front did not allow opposition midfielders or defenders with relatively poor technique to settle on the ball.

This is where converted midfielder Mascherano shines, by using his anticipation, pace and tenacity to win back possession on or around the halfway line. The Argentine is also excellent at covering long diagonal balls behind Dani Alves or Jordi Alba when either or both full-back has bombed forward. Before all the injuries, Puyol was actually pretty similar, using his physicality, positional sense and aggression to keep the ball well away from Barca's area. None of the potential targets being considered have the right mix of attributes to improve what Martino already has.

So that is the theory -- for now, at least. Maybe this week's noises from Camp Nou were deliberate misinformation, aimed at getting Chelsea to drop their asking price for Luiz. Or perhaps a new theory will emerge (my own suggestion would be to identify a young, tall defender who can cover both full-back and centre-half, like Eric Abidal used to do). Math pundits know that with such complex theorems it is unwise to make definite predictions, as stunning breakthroughs can happen at any time, or decades and decades can pass without any progress being made.

So on balance it would be unwise to expect the "Blaugrana Centre-Back Problem" to be resolved anytime soon. It took the best minds on the planet 358 years to solve Fermat's Last Theorem. Barca's brains are unlikely to find a solution to their similarly tricky problem by the end of the current transfer window.