Barcelona and Madrid, too rich for devalued Liga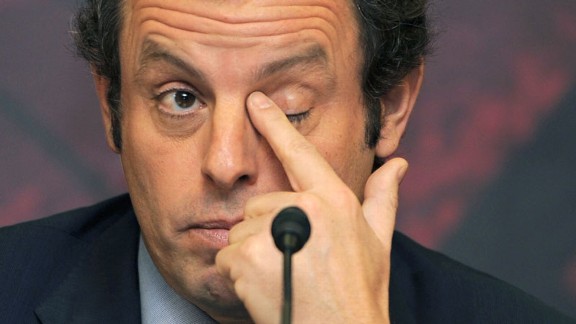 Lluis Gene/Getty ImagesSandro Rosell: It's one in the eye for the rest of La Liga.
Barcelona and Real Madrid are the biggest clubs in Spain due to a history littered with trophies and the several millions of dedicated supporters who have followed their every move for over a century. La Liga is able to interest so many fans from around the world largely because of an intrinsic love or loathing for either Los Cules or Los Merengues.

That being said, there are 18 more teams competing in the domestic league. I am fully aware that such affirmation may seem blatantly obvious but, unfortunately, there seem to be far too many directors running the Spanish game who, for a whatever reason, consistently favoure the top two on a disproportionate basis and are hurting the competition as a result.

Barcelona and Madrid each receive a massive 23% of the revenue obtained by selling television rights while teams such as Real Betis or Levante only get 2% of the total. In other words: Barcelona earn €128 million more than Levante per season as a reward for playing the same number of games in the same competition.

To put it into perspective, the biggest income difference in Premier League, between Manchester United and the newly-promoted teams, is just €23 million. In the Bundesliga, treble winners Bayern Munich are only allocated 7.6% of revenue, while others such as Schalke, Borussia Dortmund, Bayer Leverkusen or Werder Bremen all get around 6.6% of the total.

The system of distributing earnings in the Spanish league is making the rich richer and the poor poorer. When compared to other major European competitions, it is blatantly obvious that the Liga system is completely out-dated and unsustainable in the long-term.

The number of years that such a debatable system has been in place, together with the inability of some so-called minor clubs to organise their limited resources effectively during that time, has inevitably widened the gap between Barca, Madrid and the rest to a level that could threaten the integrity of the competition as a whole.

During the current transfer window, La Liga has lost far too many of their best players due to the club's failure to match offers presented by foreign clubs and, more importantly, the imperative need to use money obtained from transfers for paying off debts, acquired by illadvised actions while the cash flowed in previous years.

At this point, it is clear the clubs' priority must be to ensure their survival within the current adverse economical climate, rather than keeping stars by promising wages they can afford to pay - a terribly sad situation for the competition formerly known as La Liga de las Estrellas.

Radamel Falcao has joined Monaco for a €45 million fee after impressing with 28 La Liga goals for Atletico de Madrid last season. Roberto Soldado scored 24 goals for Valencia and Tottenham have recently signed him for €30 million. Alvaro Negredo, who netted 25 for Sevilla, now plays in Manchester after The Citizens agreed a transfer fee of €28 million. Other talented footballers such as Jesus Navas, Fernando Llorente or Iago Aspas have also left.

From a Barcelona fan perspective, weakened opposition should mean an easier ride to win the domestic league title. However, I feel the prospect of challenging for a trophy with the only realistic challenge coming from Real Madrid one that makes the competition far less attractive.

Don't get me wrong, beating Los Blancos would definitely be a tremendous achievement, especially after their conscientious effort to reinforce their squad by investing heavily once again. I am definitely looking forward to see Lionel Messi and Cristiano Ronaldo at their absolute best once again, competing to take their teams to top spot, most likely, also excelling on an individual basis.

Knowing that the whole world will be watching a two-horse race for the ultimate glory, however, does concern me. Personally, I believe that only a fairer distribution of collective revenue can ensure that La Liga continues to attract worldwide interest in coming years -- beyond the couple of highly-anticipated Clasicos, that is.

The days when teams such as Deportivo de la Coruna, Athletic de Bilbao, Real Sociedad or even Valencia were capable of lifting the ultimate trophy are, in theory, long gone. Witnessing Barcelona break the all-time points record last season was definitely enjoyable, but the fact that the main incentive for watching Spanish football was the battle for relegation is, in my eyes, just wrong.

Here is hoping for a surprise challenger to Barca and Madrid in the upcoming season and, from a more general perspective, a major rethink at club level so that the league can become a beacon for European football once again -- even if that means that Sandro Rosell and Florentino Perez have to give up some of their clubs' allocated resources.

Have your say

I welcome and appreciate all respectful feedback.

For more news and opinion notes on Barcelona, follow Francesc Tomas at @TomasESPN and Barcablog Facebook; 34,000 Cules have already joined.