Neymar and Cesc step up in Messi's absence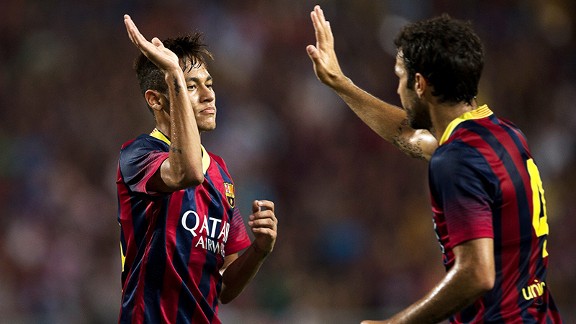 Nicolas Asfouri/AFP/Getty ImagesNeymar and Cesc Fabregas teamed up to lead Barcelona to victory in their pre-season finale.
Barcelona achieved an unimpressive 3-1 win against Malaysia XI at the Shah Alam Stadium in their sixth preseason friendly on Saturday. Cesc Fabregas, Neymar and Gerard Pique scored the goals for the Blaugrana, who enjoyed 81 percent of possession, created 22 goal-scoring chances and attempted 14 shots, seven of them on target.

Key 1: Lionel Messi was rested as a precautionary measure due to a thigh strain in his left leg. His last-minute absence meant Gerardo Martino had the chance to offer the false nine striking position to another squad member and, perhaps based on the solution former manager Tito Vilanova often used last season to solve the same problem, Martino chose Fabregas for the job.

The Catalan playmaker performed well, often linking with those around him and rotating with teammates Andres Iniesta and Neymar across Barcelona's attacking third. Fabregas managed to find the net with an accurate header and then assisted twice, making him a crucial participant in every goal that the team scored against the courageous hosts.

- Concern over Barca's hectic pre-season

Unfortunately, Fabregas limped off the pitch in the late stages of the match with a sprained ankle and is now a serious doubt to start the first Liga match against Levante next Sunday 18th August. From an individual point of view, it was a thoroughly disappointing end to a pretty impressive pre-season despite the constant rumours about his future.

- Fabregas injury mars Barcelona win

Key 2: This favourable result can, however, not hide the fact that Barcelona weren't always capable of breaking a relatively well-organised defence. Fully aware of the Blaugrana squad's superiority, the Malaysian opted to strengthen their back-line and tackle aggressively.

With the Liga debut only a week away, I was honestly hoping for a better display against a solid, yet clearly weaker team which based their game on stepping back and hoping to hit jackpot on the counter-attack -- as they in fact did after Javier Mascherano failed to clear a loose ball in the dying moments of the first half.

Knowing that most teams are likely to adopt the very same defensive style to try to contain Barcelona in the upcoming season, I sincerely hope coach Martino continues to work up ways of creating constant chances in the absence of Messi. The good signs shown by Neymar and Fabregas were positive, but a more decisive whole-team effort is needed.

Key 3: The best news, by far, is the fact that the 30,000 kilometre pre-season tour is finally over. At last, the Catalans are finally allowed to return home and prepare for the games ahead without the constant obligation of having to attend endless acts, press conferences and other non-sporting-related events.

Don't get me wrong, I understand that such tours are increasingly necessary from an economical and institutional perspective as the players are definitely the best ambassadors to promote the Barca brand. Personally though, I'd much prefer the team to enjoy a hassle-free month at the Ciutat Esportiva in San Joan Despi away from the constant pressures of facing numerous media and sponsors while still adjusting to different time-zones half-way across the globe.

Man of the Match: Neymar was, with Fabregas, the best Blaugrana on the pitch despite only being given 45 minutes to show his talent. The Brazilian signing showed his relentless desire to impress his new coach, teammates and supporters once again. After an impressive dribble inside the area, he scored the best and most important goal of the night.

I particularly love Neymar's confident approach; how he continues to create danger from whatever position he receives the ball from. The 21-year-old forward is never afraid to fail when he attempts creative plays as he knows that, ultimately, his insistent attitude is likely to get a valuable reward for his team in the end.

Blaugrana to Watch: I definitely enjoyed seeing Jordi Alba joining in on the attack by constantly overlapping Iniesta and Neymar up and down the left flank -- a powerful weapon that Barcelona must make the most of against ultra-defensive teams in the upcoming season.

Player Ratings (0-10; 10=best)

Victor Valdes (6)

Dani Alves (6), Gerard Pique (7), Javier Mascherano (6), Jordi Alba (7)

Sergio Busquets (6), Xavi Hernandez (6), Andres Iniesta (7)

Cesc Fabregas (8), Alexis Sanchez (6), Neymar (8)

Substitutes: Jose Manuel Pinto (6), Martin Montoya (6), Marc Bartra (6), Frank Bagnack (6), Adriano Correia (5), Alex Song (6), Jonathan Dos Santos (5), Sergi Roberto (6), Jean Marie Dongou (6), Cristian Tello (6)

The Quote: "We didn't see the best version of the team, but we're ready for the start of La Liga. We needed more than one touch to move the ball quickly and that conditioned our play. In terms of football, it's been a good tour. Despite the time change and the Club's commitments, we've been able to prepare the team well." -- Martino.

Have your say

What did you think of the Blaugrana performance vs. Malaysia XI?

Who was your Man of the Match? Do you agree with the Player Ratings?

I welcome and appreciate all respectful feedback.

For more news and opinion notes on Barcelona, follow Francesc Tomas at @TomasESPN and Barcablog Facebook; 34,000 Cules have already joined.