Messi, Neymar, Fabregas shine to lift Gamper trophy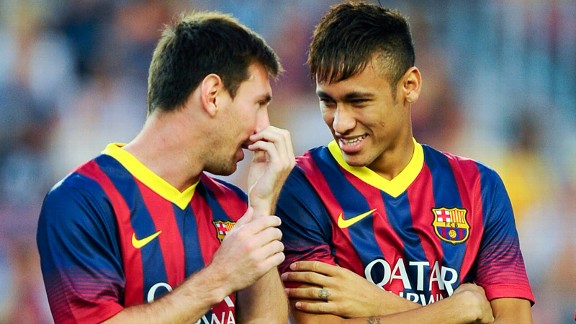 David Ramos/Getty ImagesLionel Messi and Neymar put a lot of smiles on faces at the Camp Nou Friday in Barcelona's 8-0 rout of Santos.
Barcelona achieved a convincing 8-0 win against Santos on Friday in the annual Joan Gamper Trophy friendly at the Camp Nou. Lionel Messi, Alexis Sanchez, Pedro Rodriguez, Cesc Fabregas (brace), Adriano Correia and Jean Marie Dongou scored for the Blaugrana, who enjoyed 67 percent of possessions, created 21 scoring chances and attempted 17 shots, 14 on target and two to the post.

Key 1: Despite not being included in the starting XI, it was clear the Cules who flooded into the Camp Nou were incredibly excited to welcome star signing Neymar into the stadium where, hopefully, the promising Brazilian forward will continue to grow into one of the best players in world football.

-Tello signs contract extension

In only 45 minutes and surrounded by players who will, in theory, start the majority of matches from the bench, the confident No. 11 showed signs of his undeniable class and seemed determined to share the ball with those around him, either by creating spaces by attracting defenders or finding his teammates after dribbling by his markers.

It would have been great to see him score, but assisting Fabregas for his first, then smashing the crossbar was certainly enough to excite supporters. : I can't wait to find out how Neymar's skills will improve the team as a whole once he reaches full fitness and he is fully adapted to the Blaugrana formation and mechanisms.

Key 2: Since he took charge of the Catalan giants, newly appointed manager Gerardo Martino has been direct and honest when speaking about his footballing philosophy. In his eyes, it is up to him to adapt to the club and players, not the other way around.

In other words: El Tata is fully aware this team has a clearly defined style that has proved very successful in recent years and, as a result, his job is to fine-tune the system rather than reinventing the wheel. His personal touches will, of course, be essential, but these should be additions rather than radical changes.

While I am fully aware Martino will need further meetings with the squad to fully embed his message, the truth is the team is already showing signs of promising improvement. The Blaugrana players were much better at regaining possession after losing control of the ball, often in the rival's final third, creating quick scoring chances shortly after as a result.

Barcelona were fresher, sharper, more ambitious than last year. May the positive attitude and hunger for victory continue.

Key 3: While nobody can argue about a dominating 8-0 victory, it must be highlighted that the Barcelona back line looked vulnerable at times, especially when defending set pieces. If we add that such weakness was exposed by a team far from its best in a relatively meaningless friendly, alarm bells should certainly be ringing.

As every football fan around the planet must know by now, the Blaugranas continue to research the market for a reliable centre-back who can add much-needed height and leadership to the team's back line. President Sandro Rosell has confirmed the club will make a new signing before Aug. 31. IU it had better be worth the wait!

Man of the Match – Lionel Messi, as usual, was instrumental in the Blaugrana win. His ability to make his teammates better is simply second to none in modern football. One goal, one assist, plenty of chances created and, above all, the general feeling that it would take an incredibly strong opponent to stop his team when La Pulga is fit, confident and hungry for victory.

Blaugrana to watch: Cesc Fabregas performed at an incredibly high level in the second half. His admirable desire to be involved in every attacking play made the team more dynamic, with the ball flowing quickly across the park. He scored twice, then hit the post shortly after in what was an encouragingly positive display.

Player ratings (0-10; 10=best)

Goalkeeper: Victor Valdes (6)

Defence: Dani Alves (6), Gerard Pique (6), Javier Mascherano (7), Jordi Alba (6)

Midfielders: Sergio Busquets (6), Xavi Hernandez (7), Andres Iniesta (7)

Forwards: Lionel Messi (9), Pedro Rodriguez (6), Alexis Sanchez (8)

Substitutes: Jose Manuel Pinto (6), Martin Montoya (6), Marc Bartra (5), Frank Bagnack (6), Adriano Correia (7), Alex Song (6), Sergi Roberto (7), Cesc Fabregas (9), Neymar (8), Jean Marie Dongou (7), Dani Nieto (6)

The Quote – "Now it is the time to be more united than ever. If the team and the fans are together, we will be able to overcome everything and I'm sure we'll win a title this year. We want to send a big hug to [former manager] Tito Vilanova. You have our encouragement and our strength. We are with you." -- Carles Puyol.

Have your say

What did you think of the Blaugrana performance versus Santos?

Who was your man of the match? Do you agree with the player ratings?

I welcome and appreciate all respectful feedback.

For more news and opinion notes on Barcelona, follow Francesc Tomas at @TomasESPN and Facebook; 33,800 Cules have already joined.