Fabregas must stay at Barcelona despite speculation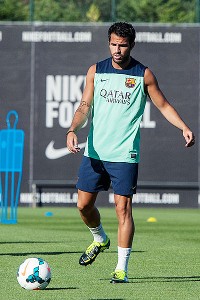 David Ramos/Getty ImagesCesc Fabregas enjoys a rare moment of peace during a recent Barca training session.
Despite Barcelona having already rejected several offers for Cesc Fabregas, the English media continues to link the Catalan playmaker with a move back to the Premiership only a couple of summers after his return to his home club.

It is no secret that the former Arsenal captain continues to have a large number of admirers in the British Isles, mostly based on fond memories of his tremendous progression from promising youngster to midfield maestro under Arsene Wenger.

Since his return to the Camp Nou for 29.5 million euros, however, a considerable number of Cules believe Cesc has failed to show his worth. In their eyes, the 26-year-old has shown an increasingly passive attitude which has stopped him from reaching the level of leadership which made him special during his time in England.

-Valdes: Fabregas staying at Barca
-Neymar held in Barcelona debut
-Barca legend Ramallets dies

While I agree that his performances with the Blaugrana have been somehow inconsistent at times, I would certainly not rate his first two seasons in La Liga as a failure -- his 29 goals and 32 assists in 96 appearances, while improvable, are undeniable proof of how valuable a player he has been since his return.

Sure, Cesc came back to the club that taught him the basics of football. But the specific mechanisms of the first-team passing rotation are certainly complex and any player, regardless of his class and prior knowledge, would need to fully adapt before being able to shine within the formation.

Competing with Xavi Hernandez and Andres Iniesta for a starting spot in the lineup is a huge challenge that many players, as Thiago Alcantara showed recently, would be prepared to run away from if given the slightest chance.

Despite competing directly with two of the best midfielders to play the game, Cesc featured in a remarkable 48 matches last season and was instrumental in taking the Blaugranas to their best domestic league campaign.

As could be expected due to the calibre of other playmakers in the squad, Fabregas was not always preferred as a starter for crucial matches. But I felt Tito Vilanova's decisions were always fair and purely based on performances in previous matches.

I strongly believe Cesc would have played in the bigger matches if his level had been higher at the time. As his impressive displays with the Spanish national team regularly show, he is certainly a world-class footballer who needs to trust his own ability to succeed.

I understand that Fabregas is eager to speak to new manager Tata Martino to find out more about his role in the upcoming season. I don't see a problem with that at all and, in fact, would definitely urge every player to do the same as such initiative shows involvement and commitment.

Considering the numerous recent staffing changes, it is difficult to predict what may happen in the near future. But, taking the previous season as a reference, I expect Fabregas to progressively take a more decisive role in midfield by replacing Xavi more often as the season develops.

Fabregas' vision and ability to combine with Lionel Messi within the final attacking third and rotate into space from deep have been essential for Barcelona since his return home. Having performed well for a couple of seasons, there is no reason to doubt that Cesc can continue to improve in years to come if fully committed and given the right amount of support and guidance.

Close friend and teammate Alex Song told the media: "I know Cesc well and these are just unfounded rumours. He loves the city and the club and is only thinking about staying at Barcelona."

While it would be more reassuring to have Fabregas himself denying all of the speculation about the future, the message is fairly clear: The Catalan midfielder has no intention of leaving the Camp Nou this summer.

The latest reports indicate that Manchester United are preparing a third bid. But I believe attempting to lure Fabregas from the Blaugranas this summer is virtually mission impossible as his journey with the Cules is just getting started.

Have your say

I welcome and appreciate all respectful feedback.

For more news and opinion notes on Barcelona, follow Francesc Tomas at @TomasESPN and Facebook; 33,800 Cules have already joined.