Messi, Dongou impress before Martino's arrival
Barcelona achieved a 7-0 win against Valerenga at the Ullevaal Stadium in their second preseason friendly. Alexis Sanchez, Cristian Tello, Lionel Messi, Jonathan Dos Santos, Jean Marie Dongou (brace) and Joan Roman scored for the Blaugrana, who enjoyed 69 percent possession, created 21 scoring chances and attempted 19 shots, 12 on target, one to the post.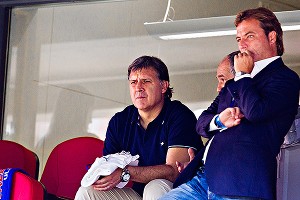 Vegard/AFP/Getty ImagesNew Barcelona manager Tata Martino, left, sizes up the Blaugrana from the stands during their 7-0 victory Saturday.
The Deciding Moment -- As expected, Barcelona were far superior from the initial whistle and seemed eager to decide the game as soon as possible. Lionel Messi, impressive once again, took matters into his own hands and was a major factor in the first three Blaugrana goals, all scored before the 12th minute.

Key 1 -- Despite the ongoing political debate off the pitch, the departure of Tito Vilanova and having most of their international players away on holiday, Barcelona managed to put on a strong collective display which should help team morale in these difficult times.

It was reassuring to see players such as Alex Song, Cristian Tello and Martin Montoya fighting to secure their place by performing at a good level despite their obvious lack of full fitness at this stage of the season.

Key 2 -- The Cules were determined to show new coach Tata Martino (sitting in the stands before taking charge of the team) what they were capable of against -- let's be honest -- a courageous yet disappointing rival. The Argentine manager has made his intent to get to know every player within the current squad very clear and, as a result, it was obvious they were all extra-motivated to make a favourable first impression.

Key 3 -- As has been typical in preseason in recent years, the Blaugrana coaches (lead by interim manager Jordi Roura once again) used this friendly to give many of the Barca B youngsters valuable playing time at first-team level.

While I was pleased with the class of Sergi Roberto and Sergi Samper in midfield and the desire of Patric at left-back, Jean Marie Dongou was the youngster who impressed me the most. The confident way the 18-year-old striker carried himself in the final attacking third showed glimpses of what is to come in the not-so-distant future.

Man of the Match -- I am fully aware this was only the Catalans' second preseason game, but early indications confirm Messi is fully focused to improve for yet another year. The way he dominated the game with a goal and two assists within just 12 minutes was impressive, even by his sky-high standards.

After missing many important games at the end of the 2012-13 season due to ongoing injuries, it is a huge relief to see the Argentine wizard back on form and terrorising rival defences in the commanding way which Blaugrana supporters have become so used to in recent times.

It would be fair to say that Alexis Sanchez has been subject to a remarkable amount of criticism since he landed at the Camp Nou in July 2011. Judging by his dynamic, generous display Saturday, it finally seems the Chilean is finally truly determined to impress after a couple of largely unsuccessful years wearing the Blaugrana.

Let's hope the 24-year-old can also shine against more robust, well-organised teams as the season develops. For now, it is great to see him building his confidence by scoring and assisting others regularly in preparation of bigger challenges to come.

Player Ratings (0-10; 10=best)

Goalkeeper: Jose Manuel Pinto (6)

Defence: Martin Montoya (7), Marc Bartra (6), Javier Mascherano (7), Adriano
Correia (7)

Midfielders: Jonathan Dos Santos (7), Alex Song (8), Sergi Roberto (7)

Forwards: Alexis Sanchez (8), Lionel Messi (9), Cristian Tello (8)

Substitutes: Oier Olazabal (6), Kiko Femenia (6), Sergi Gomez (6), Carles Planas (6), Patric (7), Ilie Sanchez (6), Sergi Samper (7), Javier Espinosa (6), Dani Nieto (6), Jean Marie Dongou (9), Joan Roman (8)


The Quote -- "It was special to score for the best team in the world. I am very happy. Playing well for the Barcelona first team is hugely important. The coach trusted the youngsters and it was up to us to prove him right" -- Jean Marie Dongou

Have your say

What did you think of the Blaugrana performance vs. Valerenga?

Who was your Man of the Match? Do you agree with the Player Ratings?

I welcome and appreciate all respectful feedback.

For more news and opinion notes on Barcelona, follow Francesc Tomas at @TomasESPN and Facebook; 33,800 Cules have already joined.