Who is Gerardo 'Tata' Martino?


Argentine journalist Fernando Niembro's interview with Gerardo Martino on Fox Buenos Aires' "Retratos," or "Portraits," provides a profile of the coach Barcelona chose to replace Tito Vilanova.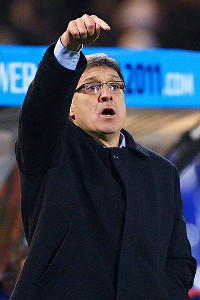 Max Montecinos/Getty ImagesGerardo Martino likes to keep his approach simple, which served him well as Paraguay's coach.
More than that, Martino was brought in to start a new era, one that has nothing to do with Josep Guardiola. Or almost nothing.

Guardiola always referenced his greatest coaching inspirations -- Johan Cruyff, Oviedo's former coach Juanma Lillo and the Argentines Cesar Luis Menotti and Marcelo Bielsa. Martino is a fierce admirer of Bielsa's style after getting to know Argentina's 2002 coach on Newell's Old Boys, the Argentine champion in 1990-91.

The conversation between this 51-year-old Argentine and Niembro includes some important points. At the time in 2008, Martino was Paraguay's national coach and held first place in the World Cup qualifiers, ahead of Brazil and Argentina. Since simplicity is his trademark, he did not exaggerate the moment: "There is a significant difference between the type of soccer we play and that of Brazil and Argentina. It is true that it doesn't seem that way when we play, but the difference is a great one."

- Tomas: Martino a positive for Barca

That year, I met Martino from afar, at a news conference in Asuncion while covering Paraguay's 2-0 qualifying victory over Brazil. Since then he has taken Paraguay to the quarterfinals of the World Cup in South Africa and won the Argentine Clausura with Newell's Old Boys.

These are his credentials for becoming Barcelona's head coach. And of course there is an additional credential. Martino is Lionel Messi's parents' idol, as Newell's supporters, where he made them happy between 1980 and 1994, apart from a short hiatus in Tenerife.

The sentences below are an aid to understanding Gerardo Martino, Barcelona's new head coach, and were extracted from the show:

What is the hardest task of a coach?
To know how to make choices. In that regard, if you are coaching Argentina, Brazil or Spain, the chances of your choices being contested are much higher. In general, when you coach a national team like Paraguay you don't have as many players to choose. Nonetheless, for the first time, in this period we had a group of 40 to 50 players.

Managing egos
Here, in Paraguay, that was never an issue. I think that those with more developed individuality are more likely to play well. And if they can display such individuality under high pressure. Those who avoid going forward to settle things alone, however, need more time and more work.

Asking to play in a different position
We've had experiences with that. I asked Roque Santa Cruz to play as right forward against Brazil and he did it. I also asked Haedo Valdez to play as a left forward against Brazil and he played on the left. Others don't need to be asked. Nonetheless, sometimes you do it in a specific situation.

Are you a manager or a coach?
I had a hard time accepting that I was nothing more than a manager. We needed to shape the team. And we had an advantage. Not long after starting, the Copa America was held in Venezuela and that allowed us to be together for 25 days. We prioritized the Copa America because it would provide us the base for the next three and a half years. A significant part of what you see in Paraguay's national team today was achieved in those 25 days of the Copa America [Paraguay lost to Argentina in the quarterfinals].

What have you requested in order to build the team you wanted?
Mainly, I convinced them of a specific way to play. To not change what led Paraguay to the previous three World Cups. A solid defensive work led to the 1998, 2002 and 2006 World Cups. We couldn't afford to lose that. Then I asked them to step up to the next level. That is, convince everyone that we could play anyone as an equal. All this could be achieved by working as a team.

It was said that Paraguay frequently resorted to long balls because of having bad pitches ...
That happens when you run out of ideas.

Pressure or creation?
With Paraguay, we had problems developing the game. And we tried to compensate that through pressure. That way we could recover the ball closer to the opponent's goal and be more vertical. Developing the game was the area where we were more lacking. I won't say it's critical to have a No. 10, but midfielders that know how to be creative are essential. Let me give you an example. If I have Riquelme, I play with Riquelme. If I have a highly creative No. 10, I play with him. It is, however, important to adapt such a player to the team's characteristics.

Did you have to work with anyone that limited your freedom?
I was never asked to limit my freedom. And this was working with people like Cubilla, Carlos Montes, Jose Yudica or Bielsa. I just wish I would have known Marcelo Bielsa 10 years earlier. Should that have happened, I would have learned to use my technical ability for the benefit of the team. Certainly, would I have known Bielsa sooner I could have been a much more decisive player.