What next for Barca's attack following Villa's exit?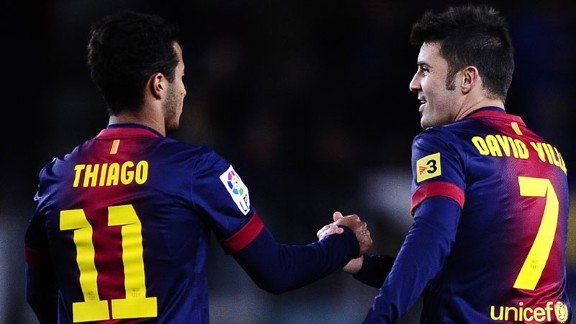 APDavid Villa gone, Thiago Alcantara going. Will others follow?
Following David Villa's €2,1 million sale to Atletico de Madrid (potentially rising to €5.1 million) there's a general consensus: los colchoneros have picked up a bargain and Barcelona have unnecessarily hastened the transfer of a player who moved from Valencia to Catalunya in 2010 for €40 million. Once again, Sandro Rosell has struggled to make a profit while offloading his players.

Back in May 2010, Villa's signing represented the last transfer of Joan Laporta's mandate, days before Rosell took over the presidential chair in June 2010. Aged 28, Villa signed a four-year contract with Barcelona at the peak of his career. But the contract itself had a little trap for the upcoming president, as Villa's wage was expected to rise from €7 million a year to €11 million for the 2013/14 season.

- Thiago set to join Bayern - report

In a way, the small print of his contract has become the driving force of his own exit, as such a ballooning payroll would collide at some point with Rosell's aim of minimizing expenses. It's a different story when a benevolent Rosell shows preferential treatment in extending the contracts of Xavi Hernandez (33) and Carles Puyol (35), which contrasts to the iciness applied in the case of Villa or Eric Abidal.

It is true that more money could have been raised with Villa's sale, but the Spanish national team top scorer's capacity is not what it once was. Ever since his injury, El Guaje has found it hard to combine his goal scoring duties with defensive responsibilities. Villa's problem with Barcelona's tactics is easy to explain: he was never made to wander on the wing, but he had to reinvent himself to play alongside Lionel Messi.

For the Spanish national team, Villa is no longer a pivotal figure either.

Villa shouldn't be rated for what he was or what he could be, but for what he currently is: a 31-year-old striker whose influence at club and at international level is fading away. Although his professionalism at Barcelona in no doubt, it's not incredible to suggest that his love for Barcelona is only circumstantial and temporary.

He was born in Asturias and he is a well known Sporting de Gijon fan. At Atletico Madrid, Villa will find a team desperately looking to replace Radamel Falcao and he will probably be a regular place in Simeone's starting eleven. If Villa wants to be Spain's striker in Brazil 2014 he has just taken a huge leap forward.

More "cheerios" expected

Villa and Bojan Krkic's departures may be followed by further exits. Unless Tito Vilanova decides otherwise, it seems feasible to think that Barcelona's attacking force for the 2013/14 season will be formed by Lionel Messi, Neymar da Silva Santos Junior, Pedro Rodriguez, Alexis Sanchez and presumably Cristian Tello too.

There will be five players battling for three attacking spots (the 4-3-3 is well settled since the Rijkaard era), plus the possibility of Tito succumbing to the charms of any other player during the pre season training sessions.

Last season Barcelona came to a point when only Messi (46 goals in 32 La Liga appearances) seemed capable of scoring. Cesc Fabregas came second, amassing 11 league goals, followed by David Villa (10). Alexis and Pedro netted eight and seven respectively. But it is their resilience rather than a clinical finishing ability that earns them a place in the squad for next season, as opposed to the ousted Villa.

But no matter how many strikers leave the club this summer, Neymar's arrival expands Barcelona's attacking alternatives. As Messi is now, the Brazilian player will be an undoubted starter. He was signed to make the difference in games Messi couldn't win on his own.

Thus, for the upcoming season 'La Pulga' and Neymar will have a spot guaranteed. Opponent's defences will now have to divide their attention on two geniuses rather than on a lone Argentinian. Meanwhile, Alexis, Pedro and Tello will battle for the remaining spot in the front three.

The Brazilian's effect will be a rejuvenating one but could also force more players to leave. It is mandatory to decide who needs a loan and who requires a tap on his back and a one way ticket to a new club. Sadly, Ibrahim Afellay may belong to this very last group.

If the current batch of forwards do all stay, Neymar (21), Messi (26), Alexis (24), Pedro (26) and Tello (22) will give Barca's attack an average age of 23.8 when La Liga kicks off next August, which is a surprisingly low figure for such experienced players.

Majestic as it sounds, Tito has at his disposal a Copa Libertadores and Confederations Cup champion, a four times Ballon D'Or and a World Cup winner, plus Tello and Alexis, whose careers are yet to peak.