Terrible business: David Villa joins Atletico for ridiculous fee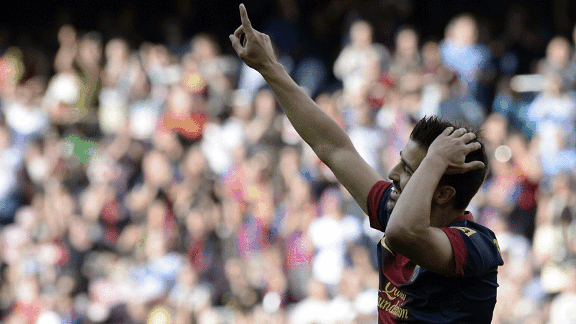 GettyImagesDavid Villa's successful career at Barcelona has come to an end.
Barcelona have agreed to sell David Villa to Atletico de Madrid for a potential €5.1 million. The deal, currently subject to the Spain international passing a medical, states that Los Colchoneros will pay an initial €2.1 million now, two more million next summer and a further one million if El Guaje stays until the end of the 2015-16 season.

The Blaugrana directors have also agreed that Atletico would have to pay them 50 percent of the transfer fee if Villa was to leave the Vicente Calderon before the end of his three-year contract.

Despite the fact that everyone expected the Asturian striker to leave Barcelona during the current summer transfer window, I must admit very few could have predicted that president Sandro Rosell and his board of directors would be prepared to accept such a low offer for the best goal scorer in the history of the Spanish national team -- a player who was bought for €40 million from Valencia just three seasons ago, don't forget.

Considering the desperate need for the Catalan giants to raise money in order to afford the signing of that hugely-anticipated, indispensable central defender, letting a player of Villa's calibre leave for such a ridiculously low amount is very hard to understand, to say the least. The specialised media predicted a transfer fee around the €12-14 million mark but, unfortunately, the club has ended up settling for a far less favourable offer.

I would like to think that the Barcelona board has taken David Villa's impeccable attitude and professionalism during his time at the Camp Nou as a reason to agree to terms with his preferred destination rather than simply shipping him off to the highest bidder. Regrettably, such kind intentions have just cost the club a considerable amount of cash that, quite frankly, it can't do without.

Let's put things into perspective by looking at some of the different values that players have been sold by in recent weeks: James Rodriguez to Monaco (€45 million), Mario Gomez to Fiorentina (€20 million) and Ricky van Wolfswinkel to Norwich (€10 million). The list goes on and on, but you can surely get the idea. It will be almost impossible for Cules to accept that the best deal the club directors could negotiate in exchange for David Villa was a mere €5.1 million.

The fact that Real Madrid have reportedly rejected a €27 million offer from Arsenal for want-away striker Gonzalo Higuain certainly adds more salt to the wound, to be honest. While I am certainly no fan of Merengue president Florentino Perez, I must admit that he has managed to offload some of his underperforming/unwanted players fairly well over the years. Obtaining €8 million for the sale of Esteban Granero or €6 million for Joselu puts the current Villa deal to shame.

Unfortunately, I guess the only way forward for Cules at this point is move on and accept that, once again, the club directors have been unable to make the required amount of profit when offloading their footballing assets.

Many Barcelona supporters and ticketholders have been complaining about many of the decisions that Rosell has taken since he took charge of the club back in 2010. The release of Eric Abidal, the ridiculous amount raised by the sale of Villa and the more-than-likely departure of promising youngster Thiago will only add more pressure on the board's shoulders and, inevitably, bring more instability.

Considering the many voices within the Blaugrana community that are beginning to publicly disagree with Rosell (and with his under-pressure manager Tito Vilanova), the next club elections, which are to be celebrated in the summer of 2016, are set to be even more interesting than previously anticipated.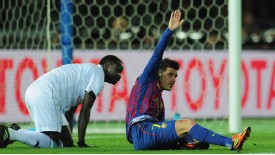 GettyImagesAn eight-month stint on the sidelines threatened to derail Villa's Barcelona career
#GraciasGuaje

Raw statistics tell us that Villa scored 48 goals, gave 17 assists and lifted eight collective trophies (including the 2010-11 Champions League) in 116 appearances during his three seasons at Barca.

Despite such numbers being impressive, Cules will mostly remember the Spanish forward for his generous nature, immaculate effort and admirable attitude during his time at the Camp Nou -- a true professional on and off the pitch who always prioritised team success to achievements at the personal level.

To the fans' disappointment, El Guaje's time at the Catalan giants was painfully affected by the terrible tibia injury he suffered in January 2012. After an incredibly positive first season, such misfortune forced him to be sidelined for a cruel eight months.

Once he was able to come back to professional action, coach Tito Vilanova often decided to leave him on the bench or only use him as a starter against minor Spanish teams. Considering the arrival of Neymar -- combined with the need for players such as Alexis Sanchez, Pedro Rodriguez and Cristian Tello to step up next season -- the move away from the Camp Nou would certainly benefit both the club and the player himself.

Personally, I strongly believe that joining Atletico de Madrid will be an incredibly positive move for Villa. Los Colchoneros had famously been searching the market for an incisive striker since the €45 million departure of Radamel Falcao to Monaco and, luckily for them, they managed to secure the services of a unique forward for a ridiculously low price. High-profile coach Diego Simeone must be delighted with the news.

Good luck in the future, Guaje. Thanks for the memories!

Have your say

I welcome and appreciate all respectful feedback.

For more news and opinion notes on Barcelona, follow Francesc Tomas at @TomasESPN and Facebook; 33,500 Cules have already joined.