Tito Vilanova led Barcelona to their best Liga campaign with a record 100 points, a tremendous 115 goals and a convincing 15-point difference over archrivals Real Madrid in his first season as a professional coach.

In my opinion, the fact that such success was achieved while desperately battling with cancer throughout the year makes his performance even more impressive. However, a whopping 68 percent of Cules have publicly expressed their lack of trust in the humble Catalan manager.

While the views of such a majority must obviously be respected, I must disagree on this occasion. Appointing Tito Vilanova as Pep Guardiola's successor was certainly the right choice last summer and, 12 months on, his results and attitude toward such a high-profile role prove that he is the man to lead the Blaugranas even further if, as doctors expect, he remains fit and healthy.

The departure of Guardiola, aka the most successful manager in Barcelona history, had the potential to send the club into a chaotic spiral of negative results last summer. Such a scenario would have, inevitably, brought ongoing disagreements between opinion-makers like Sandro Rosell, Joan Laporta and Agusti Benedito back into the media spotlight, damaging club stability as a result.

Fortunately, the appointment of Vilanova brought much-needed continuity to a group of players who, from the moment the ball started rolling in preseason, felt at ease with the routines, methods and philosophy that the new coach believed in. The manager's firm, decisive personality was definitely welcome by staff, directors and fans alike.

Positive results spoke for themselves. Once the season started, the squad knew that the new boss meant business. Never afraid to make quick decisions under pressure, Tito managed to regularly change the balance of matches by introducing tactical tweaks and making game-changing substitutions on a regular basis. His ability to read and then modify games as they unfolded was obvious from the very beginning of his tenure as manager.

Many Blaugranas supporters blamed Barcelona's inability to lift the Champions League and Copa del Rey trophies on the players' obvious dip in form during the second half of the season. Personally, I feel that the forced two-month absence of Vilanova caused the players, perhaps unconsciously, to drop their intensity in training and, unfortunately, they weren't able to recover it when the crucial stages of the season came.

However, the decision to allow former scout Jordi Roura to manage the Blaugranas while Tito fought for his life in New York must come down to the club's directors, and as a result, president Rosell and his advisers must also take their fair share of responsibility for the below-par performances from that point on. Blaming a dedicated man who was struggling with illness 6,000 kilometres away from the training ground at the time is neither fair nor useful.

While it is clear that Vilanova took many steps in the right direction during his first season in charge, it is also obvious that many aspects need urgent attention if the club is to dominate at the European level again in the near future.

Let's be honest: Barcelona supporters were all shocked and utterly disappointed after being eliminated from Europe with a disheartening 7-0 score line against Bayern Munich. Such a poor result should, however, be used as a turning point and spur the club on to solve ongoing problems and take the necessary steps to ensure Cules aren't put through such pain ever again.

The recent signing of Neymar should help the team to overcome the dangerous overreliance on Lionel Messi that made the Blaugranas' attack increasingly predictable last year. Judging by Vilanova's decisive insistence on signing the talented Brazilian youngster, I am certain that the coach has already thought of many creative ways to vary the team formation and mechanisms to accommodate him in the team's attacking transitions alongside Andres Iniesta and the quadruple Ballon d'Or winner.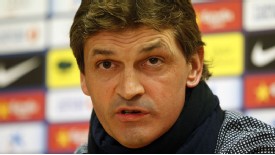 GettyImagesTito Vilanova has issues to address ahead of his second season in charge.
Conceding 40 goals in just 38 domestic league matches proves Barcelona became more vulnerable under Tito. His more direct, all-out attacking approach often left the defence exposed, making games more interesting for neutrals but definitely harder to watch for Cule supporters.

While the signing of reliable leader Thiago Silva would obviously strengthen the back line, I would also like to highlight the importance of bringing back the team's previous overall defensive intensity as a matter of urgency. Successful teams defend as a whole whenever dispossessed, not just when the last four are being faced with lightning-fast counterattacks from left, right and centre.

Bearing in mind the considerable amount of talent at his disposal, it wasn't always easy for the manager to grant youngsters as much playing time as they would have hoped. Having said that, allowing La Masia graduates to establish themselves in the first team has traditionally been a great way to keep more experienced players on their toes by adding healthy competition for the 11 starting spots.

I would love to see more of Thiago Alcantara, Cristian Tello, Martin Montoya or Marc Bartra next season -- unless, especially in the Hispano-Brazilian's case, they decide to stop fighting for their place and leave, of course.

I am confident that Tito Vilanova can build on the various successes achieved this year and use his increased level of experience to identify, then address, those areas that need urgent improvement. Great leaders are capable not only of taking difficult, perhaps controversial decisions but also uniting teams of talented professionals behind them.

You have my trust, Tito.

Have your say

I welcome and appreciate all respectful feedback.

For more news and opinion notes on Barcelona, follow Francesc Tomas at @TomasESPN and Facebook; 33,500 Cules have already joined.