Central defender urgently needed at Barca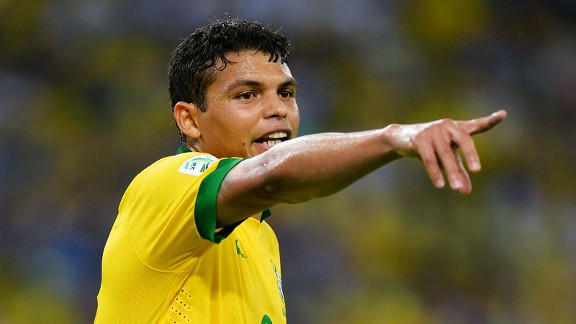 Laurence Griffiths/Getty ImagesBarcelona fans would be ecstatic to see Brazilian defender Thiago Silva team up with Gerard Pique on the Blaugrana's back line.
The unfortunate string of constant injuries and set-backs that captain Carles Puyol and club-legend Eric Abidal have suffered in recent years, together with the failed signings of Henrique, Dmytro Chygrynskiy and Martin Caceres, has turned the reinforcement of the Blaugrana back-line into an urgent priority.

The emergency experiments of reconverting defensive midfielders such as Javier Mascherano or Alex Song into the back-line, while not necessarily a major disaster, have just not made the team's defense as solid as Cules would have hoped for.

Despite several young centre-backs, such as Marc Bartra, Andreu Fontas or Marc Muniesa, having recently progressed through the club's youth system, the first team coaches have, for whatever reason, not managed to give the La Masia youngsters enough playing time to establish themselves at the highest level.

Unfortunately, the days of a consistent Alves-Puyol-Pique-Abidal back-line are long gone. The blatant truth is that Barcelona have been looking for a proven, reliable central defender for far too long and, at this point, I just don't see how the team could successfully challenge for major European glory next season without that hugely necessary leader in defense.

After a couple of years struggling to fill the gap, president Sandro Rosell and sporting director Andoni Zubizarreta now seem to agree on the need to invest heavily in order to sign a specialist who can partner with Gerard Pique throughout the whole season.

Manager Tito Vilanova has made it very clear: His main candidate for the job is Thiago Silva. The Catalan coach was so impressed with the way the Brazilian star performed against Barcelona in their Champions League tie this season that he, once again, reportedly asked him to join the Camp Nou giants this summer straight after the match.

After only 12 months with Les Parisiens, Thiago Silva isn't desperate to leave the French league but has hinted his admiration for Barcelona repeated times: "I spoke to Barcelona last season, but unfortunately negotiations broke. Playing at the Camp Nou is every player's dream, but I am happy at PSG for now. My wish has always been to play for a big European club."

Signing the 28-year-old defender will certainly not be an easy task. His current, millionaire-owned club Paris Saint-Germain has no need to raise any funds and is fully committed to keeping their best players in order to attract other talented professionals to their growing squad.

Personally, I feel the possibilities of seeing the Brazilian defender wearing the Blaugrana once La Liga restarts are very slim. While I sense the player would be willing to join forces with Lionel Messi and compatriots Neymar, Alves and Adriano, I am convinced that Qatari president Nasser Al-Khelaifi will refuse to allow his captain to leave regardless of the amount of cash Barcelona may offer.

The fact that former coach Carlo Ancelotti managed to leave to Real Madrid despite firm opposition from the French club's directors does send a glimmer of hope but, honestly, I am not hugely optimistic about the deal being completed in the near future.

The Catalan media have reported that Barcelona is preparing an initial 32 million euro offer and sent football director Raul Sanllehi to personally speak to the player in Brazil. It is also believed that the club expects Thiago Silva to agree to reduce his huge salary by at least 50 percent in order to fit within the current Blaugrana pay structure.

Ultimately, I feel Thiago Silva's signing for Barcelona will depend on the amount of pressure that the player himself is prepared to apply on his current club in order to find a way out.

In hindsight, it could be argued that spending 19 million euros in signing Alex Song instead of going all out for Silva last summer was a huge mistake, especially considering that Paris Saint-Germain secured his services for a total of 42 million euros. Having said that, looking back at what could have been in the past will simply not improve the current situation and all Cules can do now is look ahead.

Vilanova will surely continue to insist on signing the Brazilian centre-back but, given the obvious difficulties in order to complete that transfer, I feel other defensive options such as David Luiz, Marquinhos, Jan Vertonghen, Mats Hummels or Vincent Kompany should also be considered.

Have your say

I welcome and appreciate all respectful feedback.

For more news and opinion notes on Barcelona, follow Francesc Tomas at @TomasESPN and Facebook; 33,500 Cules have already joined.