Fabregas and Barcelona's next evolution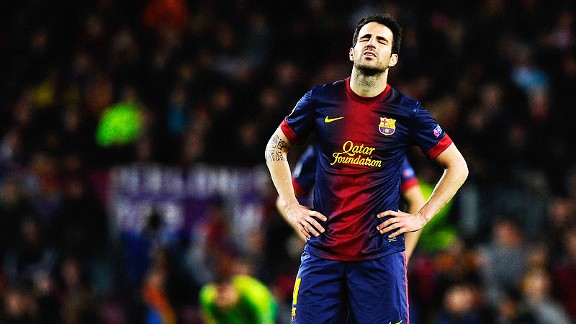 David Ramos/Getty ImagesBarcelona need to utilise Cesc Fabregas in a midfield role
Spain's heavy defeat against a voltaic Brazil in the Confederations Cup final left a bitter, but familiar, taste in the mouths of certain Spanish players. Just as in last spring's fiasco against Bayern Munich in the Champions League, Xavi Hernandez, Pedro, Andres Iniesta and all their Barcelona teammates were run over by a superior side, not only in the physical aspect of the game, but also in the pragmatic side of it.

In their post match reactions, Spanish players largely denied that the loss marked the end of an era. At least until a couple of players timidly stated the apocalyptic: "Maybe they got the hang of our game."

Barcelona's worldwide success and the recent trophy haul of the Spanish national team have been so closely related that it makes it difficult to dissociate one from the other. Although club and national teams are different environments, the quote "hang of our game" should be enough to force a reaction on both the Spanish and Barcelona sides.

As regards los cules, the words should not be worrisome. After all, they are the defending champions of the Liga title. The message, though, should remind them of a forgotten Barcelona principle. There was a time when the club's yearly evolution came before their opponents could act. Pep Guardiola's secret to success relied on an obsessive quest for improvement, such as playing Lionel Messi as a center forward or switching to the 3-4-3 formation.

Now, the next necessary evolution might be right in front of Tito Vilanova's eyes. By putting Cesc Fabregas in Xavi's position, he could allow the Arenys de Mar-born midfielder to take over for his battered teammate. This way, Xavi could play 20 important games a season at 100% and play in the 2014 World Cup with Spain, while Cesc would no longer be a confused part-striker, but a team leader.

Fabregas is no stranger to the midfielder role. He proved at Arsenal that he could lead a top team. But upon arriving at Barcelona, he has fought for the spot with the established Xavi. As a result, the club found him a new position as a "fake striker." The coaching team argued that Cesc simply needed to assimilate into Barca's system.

The truth is that Fabregas is a victim of Xavi, who had spent a decade mastering the midfielder role. Early in his career, Xavi himself faced a similar situation in the shadow of Guardiola. But Xavi's way of dictating the game is not the only way to do it. There's only one Xavi. There's only one Guardiola. There must be one Cesc.

Fabregas can compare his career storyline to Xavi's, but must blossom in his own way. He will hardly have the pause and tempo of Xavi, but he can certainly provide Barcelona with an extra gear and some extra electricity. Perhaps the extra electricity that the Spanish national team lacked in Maracana.