Time to build future: Door wide open for some to go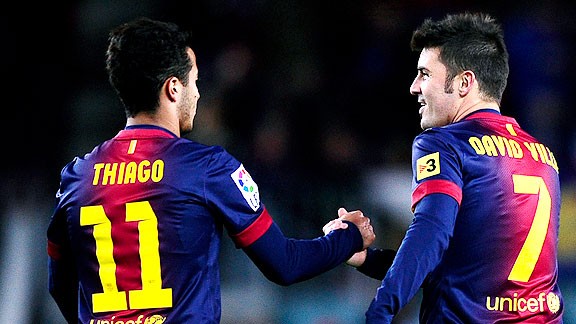 AP Photo/Manu FernandezThaigo and David Villa could be saying farewell to the Camp Nou.
With little more than two weeks before Barcelona start training again ahead of the 2013-14 season, one would have expected most of the many questions that Cules were asking ahead of the summer transfer window to be answered by now. Nothing further than the truth, I'm afraid.

A month has passed since Tito Vilanova's team presented their well-deserved La Liga trophy to the Camp Nou faithful. Since then, the club has spent 57 million euros on securing Brazilian wonderkid Neymar, cashed one million by offloading Andreu Fontas to Celta Vigo after his disappointing loan spell at Mallorca and controversially released Eric Abidal and youngster Marc Muniesa.

While I understand negotiations to sign new, top-class players can take a lot of time, I am hugely concerned the future of many returning/promoted players remains uncertain.

The prospect of starting the preseason with 30 first-team players is simply ridiculous and, as a result, a final decision on the following Blaugranas must be made:

David Villa has reportedly decided to further his successful career away from the Camp Nou due to the lack of decisive trust shown by Vilanova last season and the recent arrival of Neymar. While it would be a shame to see such a charismatic player leave, my feeling is that the time is now right for him to do so.

Tottenham Hotspur, Juventus, Fiorentina and even Atletico Madrid are reportedly preparing offers to sign him. Given the interest of various major European clubs, I feel the Blaugranas should demand a minimum of 14 million euros for the top scorer in the Spanish national team's history.

Thiago Alcantara is one the most attractive, reasonably-priced youngsters in world football. The Barcelona board clumsily failed to realise his 90 million euro buyout clause had in fact dropped to 18 million because he hadn't featured in at least 60 percent of games. With teams such as Manchester United or Pep Guardiola's Bayern Munich reportedly interested, it is now down to the La Masia graduate himself to decide what next step to take in his career.

I would like Thiago to stay but, if he doesn't feel determined to challenge Xavi, Cesc Fabregas or Andres Iniesta for a starting spot, I would happily take the money and wish him luck elsewhere. Ultimately, those who aren't committed to defending the Blaugrana don't deserve to do so.

Gerard Deulofeu recently extended his current Barcelona contract until June 2017. Given the amount of talent in the Blaugrana first team, all involved seemed to agree a loan spell at a competitive side is the next step for the promising 19-year-old forward. Having scored 18 goals in the Segunda Division, the interest of clubs such as Borussia Dortmund, Valencia or Real Sociedad is certainly not a surprise.

Bojan Krkic is due to return to the Camp Nou after two years of a relative struggle in Italy's Serie A. Having failed to fulfill his true potential, I believe it is time for Barcelona to part ways with the 22-year-old Catalan striker. Offers in the range of 6-8 million euros would be welcome.

Ibrahim Afellay has shown glimpses of his class at Schalke 04 but, realistically, simply can't compete for a place at Barcelona. To make matters worse, the German club isn't interested in keeping him either. I would agree to a sale for 3-4 million euros but, at this moment, finding a favourable way out seems difficult.

Isaac Cuenca has continued to suffer from ongoing knee injuries while on loan at Ajax Amsterdam. The Dutch club is interested in extending his loan for another season but, to put it bluntly, I just don't see him challenging for a starting spot at the Camp Nou in the future. I'd accept transfer offers in the range of 3-5 million and use those funds this summer.

Rafinha Alcantara has agreed to extend his Blaugrana contract until June 2016. The 20-year-old playmaker, who scored 10 goals in 36 Barcelona B appearances last season, seems prepared to accept one of the many Primera Division loan offers he has received. Given dad Mazinho's close link with Celta, I would expect Thiago's younger brother to be playing for the Gallegos once La Liga restarts in late August.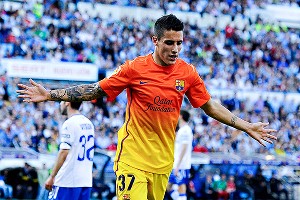 David Ramos/Getty ImagesCristian Tello scored twice against Zaragoza April 14 as Lionel Messi rested.
Cristian Tello has reportedly rejected the many offers he has received from clubs such as Liverpool, Borussia Dortmund, Valencia or Benfica and decided to negotiate a new Blaugrana contract, which should see his minuscule 10 million euro buyout clause increase. I see plenty of potential in the young winger and believe he can become a key man in order to open up rival defences next season. His pace, freshness and confident attitude makes him a unique player who Vilanova should certainly keep at the Camp Nou.

Sergi Roberto has been promoted to the first team after making 106 appearances for Barcelona B the last four seasons. The promising 21-year-old midfielder would be an ideal candidate to replace Thiago if he ended up leaving the Blaugranas this summer.

Jonathan Dos Santos controversially decided to stay at Barcelona last summer despite Vilanova having clearly explained playing time would be very scarce. Twelve months on, the Mexican youngster seems to have understood his need to seek first-team football elsewhere. At this moment, Anderlecht, Betis and Celta are the more likely destinations. I would be delighted to accept offers in the range of 3-4 million euros.

Unfortunately, all Blaugrana supporters can do at this stage is anxiously wait for positive news and trust that president Sandro Rosell and sporting director Andoni Zubizarreta are working tirelessly behind the scenes to solve the many difficult issues on their plates.

Once thing is clear: There is simply no time to be wasted or any room for mistakes.

Have your say

I welcome and appreciate all respectful feedback.

For more news and opinion notes on Barcelona, follow Francesc Tomas at @TomasESPN and Facebook; 33,500 Cules have already joined.