David Villa is ready to solve Barcelona's attacking worries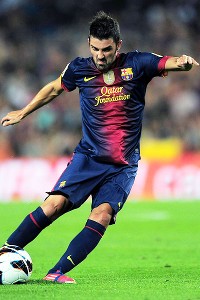 GettyImages / Lluis Gene/Getty Images"I'm finally feeling good after such a long time," said David Villa, who looks to see more minutes with Barcelona.
After many frustrating months following his tibia injury in December 2011, David Villa is smiling again and ready to come back with a bang into the Barcelona side.

"I'm finally feeling good after such a long time. I'm being named to the team, I'm available to play and I'm getting some minutes on the pitch," explained Villa. "I have been almost eight months without competing, getting back to form requires time. I have to be patient, there's no need to rush things now. I want to repay the support from the club and fans, I'm very eager to help the team achieve success this year."

David Villa is one of those players who has been able to adapt his game to the needs of whatever team he has played for throughout his career. The Asturian impressed as a youngster with 80 goals in four seasons at Sporting Gijon and Zaragoza, where he played as a classic, pure striker.

El Guaje's talent didn't go unnoticed for long, with Valencia snatching him for a bargain 12 million euros back in 2005. His mobility, limitless effort and ability to combine with others despite tight marking enabled him to net a further 128 times for Los Che, making him an obvious target for any major club in European football.

Despite intense interest from teams such as Real Madrid or Chelsea, David Villa decided to join Barcelona in what I consider one of the best signings in our recent history. While the 40 million euro price-tag was certainly not cheap, the truth is that his adaptation to the Blaugrana system was instant, mostly based on the fact that he knew most of our key attacking players (Xavi, Iniesta, Pedro...) and had played a very similar formation with the Spanish national team anyway.

Pep Guardiola had just placed Lionel Messi as our false striker following the resounding Ibrahimovic fiasco, which allowed La Pulga to move around our attack freely. As a result, David Villa was forced to swap his star-of-the-show role for the much more laborious job of generating spaces for others and defending more intensively while scoring as many goals as he had previously done for other clubs -- starting from the left-wing.

That was an incredibly difficult task which, perhaps not surprisingly, Villa was able to complete to his usual high standards: 23 goals and 9 assists which helped Barcelona win La Liga and the Champions League in style. The MVP (Messi-Villa-Pedro) attack was in full flow, gaining recognition and admiration from football fans all around the world.

David Villa was looking ahead to another glorious season in 2011/12 but his unfortunate injury shattered all his hopes of glory. The result? Barcelona were unable to retain their major titles based on an alarming over-dependency on Lionel Messi -- the only Blaugrana player who seemed able to score regularly during Villa's absence.

If El Guaje is able to put his difficult road to recovery behind and return to his former fitness, there is simply no question that the Barcelona team as a whole will reap the benefits.

After extending his lead as Spain's best-ever goalscorer in midweek (with a massive 52 international goals, an average of 0.62 per game), expect a fully confident David Villa to make an impact for the Blaugrana in the very near future.

Welcome back, Guaje!

Have your say

Do you trust David Villa to make a positive impact when he returns to Barcelona?

Do you have any other important points you would like to share with us?

I welcome and appreciate all respectful feedback.

Never miss an update: Join 30,000 Cules on Facebook or @Barcablog_com.