Sell Messi? Cruyff must be kidding
Johan Cruyff is a key figure in Barcelona history. His influence in the high degree of success the Blaugranas have enjoyed since he coached in the early 1990s is undeniable and, to put it simply, the club would not be where it is today if it wasn't for the philosophy he so firmly implemented a couple of decades ago.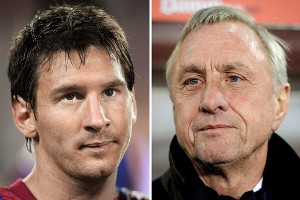 DESK/AFP/Getty ImagesIs Johan Cruyff, right, serious about selling Lionel Messi, or does one have to read between the lines?
Since he was famously sacked by former president Josep Lluis Nunez in May 1996, the Dutch legend has spent most of his time commenting on the latest Blaugrana developments from the comfort of his relaxed position as a highly respected club legend.

Sure, Johan has also had a one-friendly-match-per-year job as Catalunya national coach and supported Ajax Amsterdam and Chivas de Guadalajara on an advisory basis. But let's face it, those responsibilities haven't stopped him from having an informed, current opinion on the latest Blaugrana news.

While it is true Cules tend to stop and listen whenever Cruyff comments about Barcelona, his opinions sometimes create unnecessary controversy which could harm the club if given enough importance or taken literally.

Talking to a Madrid-based newspaper, he shocked Blaugrana supporters with these comments: "With Neymar on board, I would have planned for the possibility of selling Messi. It's like the free kicks. Neymar is very good at taking them, and Messi has already shown he is. Who's going to take them? Or the fact that Neymar and Barcelona are with Nike while Leo is with Adidas. These are situations that could cause problems."

Oh dear. In my opinion, the mere thought of somebody of Cruyff's stature within the Blaugrana community considering the sale of the club's best-ever player and goalscorer at the peak of his career simply because a younger, promising striker has been signed is utter nonsense.

Having listened to many of Cruyff's thoughts over the years, Barcelona supporters have somehow learned to unpick the hidden messages behind the controversial headlines -- a fairly difficult task in occasions like this one, I must admit.

I would like to believe Cruyff doesn't actually want to get rid of Messi -- as he is clearly far too intelligent to make such an outrageous suggestion -- and instead is using his position of power to highlight that Leo's relationship with Neymar may turn ugly if they fail to adapt to each other's game.

As I explained in more depth here, the young Brazilian forward has shown nothing but respect for not only Messi, but also the rest of his new teammates whenever he has had the chance to publicly do so. His humble approach before his arrival at the Camp Nou will definitely help him on his new journey.

Having said that, the main reason why Barcelona spent 57 million euros in securing his services is his ability to almost single-handedly create favourable situations with very little support from those around him. His fresh, confident attitude will certainly lift a team that has suffered from severe Messi-dependence recently.

I just don't see why Cruyff would feel the need to add any more pressure on the Catalans' new signing. From the club's point of view, it would have surely been better for such a respected figure to sit back and give Neymar time to adapt to the system and find his feet within the dressing room.

Cruyff has shown his support for former Blaugrana president Joan Laporta in many occasions. Such affinity has been much more public in recent times, especially since current president Sandro Rosell stripped Johan of his honorary president title as soon as he took charge at the Camp Nou in July 2010.

From that point, there has been a pretty nasty political battle in front of the ever-attentive eyes of the media which, unsurprisingly, has managed to divide Cules into those in favour of Rosell and those who can't wait for Laporta to make a glorious return.

From a personal perspective, I am much more concerned about what happens on than off the pitch. The ongoing disagreements between the two millionaires, while of a relative importance from a social perspective, doesn't necessarily have a decisive impact on whether Andres Iniesta continues to impress or not.

Considering the great amount of individual quality within the squad, focusing on the ongoing feud between the former and current president could be a costly mistake. A higher degree of stability at club level would, however, be very welcome by players, coaches and supporters alike.

I do believe Cules must stay together and support those who work for the club as they are the only ones who can make any improvements to the team. Rosell's presidency has definitely had highs and lows so far, but I am pleased with his reducing the club's immense debt. From a sporting perspective, the current transfer window will be crucial.

If either Laporta (or Cruyff, for that matter) think they could do a better job, all they need to do is wait until the next club elections in 2015-16 and let the 120,000 club Socis decide who they want to be represented by.

For the time being, a peaceful relationship between all parties involved would definitely be welcome.

Have your say

I welcome and appreciate all respectful feedback.

For more news and opinion notes on Barcelona, follow Francesc Tomas at @TomasESPN and Facebook; 33,500 Cules have already joined.