Magic Neymar justifies high expectations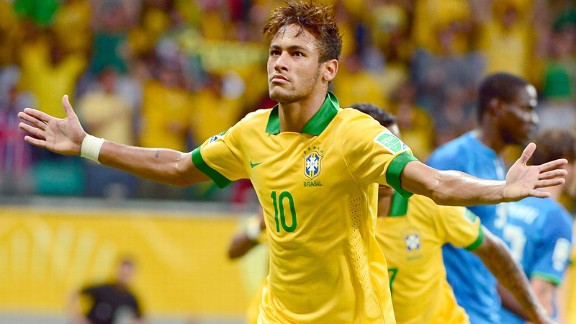 Christophe Simon/Getty ImagesNew Barcelona man Neymar has been living up to the hype for Brazil at the Confederations Cup.
It is no secret that many Cules were quite apprehensive about the signing of Neymar for a considerable 57 million euros. Many argued that it was irresponsible of president Sandro Rosell to invest so heavily on a youngster who had yet to show his worth at both the European and international level.

While fans will still have to wait several weeks until the Brazilian forward joins forces with the likes of Lionel Messi, Andres Iniesta and Xavi Hernandez at the Camp Nou, his recent, brilliant performances for his national team are certainly encouraging.

- Bennett: Neymar rising to the occasion

While Neymar is not the Confederations Cup top goal-scorer at this point (he is one goal behind rumoured Blaugrana target Fernando Torres), the spectacular nature in which he has found the net on three occasions so far make him one of the most exciting reasons to watch the remainder of the competition.

Sure, the Confederations Cup is not exactly the most competitive tournament in world football, but the way in which the 21-year-old has shrugged off the enormous pressure that comes with being regarded as the main attacking hope for the traditionally successful hosts can simply not be ignored.

Neymar has shown plenty of delightful skill, jaw-dropping talent and commitment to contribute to the overall success of the team in his three matches since he inherited the legendary No. 10 at La Canarinha. His accurate passing, ability to dribble past markers and, most impressively, deadly range of striking options have helped his national team enormously in reaching the semifinals, having won every match while scoring nine times against the likes of Italy, Mexico and Japan.

As I explained in more detail here, there is a considerable number of football fans (not necessarily Barcelona supporters) who feel that Neymar will find it hard to adapt to a club which has four-time Ballon d'Or winner Messi as their clear attacking reference.

Neymar explained: "I'm very happy to be a Barcelona player, it is a dream come true. I have butterflies in my stomach. To play with Messi and other amazing footballers at Barcelona has made me very eager to arrive there. I'm here to help and to help Messi to continue to be the best player in the world."

I am fully aware that actions speak louder than words, but the Brazilian youngster has definitely shown signs of maturity and having the willingness to adapt his individual game so that he can fit within the current formation rather than demanding the system to be modified because of his arrival -- the key reason why Zlatan Ibrahimovic failed miserably at the Camp Nou after the ridiculous 46 million euros-plus Samuel Eto'o deal with Inter Milan back in July 2009.

At this point, I would also like to highlight that the main reason why Tito Vilanova was so insistent about signing Neymar is his ability to create dangerous situations at any given time, sometimes even on an individual basis.

Especially since the voluntary departure of Pep Guardiola, Barcelona have been suffering from a self-harming Messi-dependence which makes their attack much more predictable and, as a result, easier to contain. The addition of another constant, reliable goal-scoring threat from the wings will force rival defences to open up, causing many more clear gaps to appear.

Personally, I am certain that the relationship between Messi and Neymar will become one of Barcelona's main strengths on the pitch. The Argentinean is the undisputed star at this stage and, as part of his responsibility of being a team leader, he has the duty of ensuring the talented newcomer finds his feet within the dressing room as quickly as possible. As we all know, teams only become highly successful when all their members are willing, allowed and capable of contributing their talents toward the common, collective goal.

Nobody can argue the fact that Neymar is much more valuable now than he was a couple of weeks ago. Being in charge of taking key decisions, as we have seen with the clumsy way in which Rosell allowed Thiago's buy-out clause to drop dramatically for no easily justifiable reason, can be very tricky at times. However, the efficient, quick way in which Barcelona secured the Brazilian forward's services as soon as the team's season finished despite interest from richer clubs can certainly be considered as a job well done.

Neymar's recent performances for La Canarinha have been sprinkled by constant glimpses of magic, terrific strikes and raw pace on and off the ball. Sure, he has not yet played a single minute for Barcelona, but the positive signs he has shown so far are beginning to win the hearts of the highly demanding Catalan crowd.

The Camp Nou awaits the arrival of the most exciting signing in recent history.

Have your say

I welcome and appreciate all respectful feedback.

For more news and opinion notes on Barcelona, follow Francesc Tomas at @TomasESPN and Facebook; 33,500 Cules have already joined.