Respect Messi; Thiago's 18-million mystery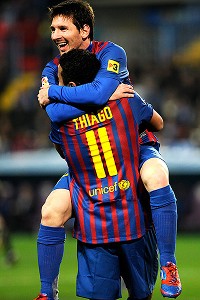 Cristina Quicler/Getty ImagesThiago Alcantara and Lionel Messi are in the news for different reasons -- and may not be teammates next season if Thiago leaves.
Lionel Messi continues to be scrutinised by the world's media. Given the fact that the Argentine forward has been recently accused of tax dodging and his well-deserved status as a global star, it seems inevitable that the public wants to find out every tiny detail about any developments -- no major surprises here.

What I find unacceptable is how a huge majority of the Madrid-based media seem to be using the situation as a golden opportunity to trash the quadruple Ballon d'Or winner's reputation. Spanish press and television seem to be making a conscious effort to publicise the story to a point at which, quite frankly, one would think that they are referring to a dangerous serial killer rather than a humble 25-year-old man who kicks a football for a living.

-Report: Messi, father charged with tax fraud

Jorge Messi, Lionel's dad, explained: "What they are doing to Leo is very cruel. We are annoyed that some media are organising a campaign of hate and lies about him. We are also calm because we have always paid what we needed to. I can assure you that he pays 8-digit amounts of tax every year."

Personally, I trust the player was unaware of the situation, but that is something the relevant authorities have to investigate.

Having said that, I would like this unsavoury chapter solved as soon as possible. If Messi is found guilty of wrongdoing and needs to pay, just tell him how much so he can put this distasteful episode behind him.

The sooner we start focusing on Messi's achievements on the pitch, the better.

Thiago's hat trick increases worth

Thiago Alcantara scored a brilliant, rare hat trick to lead Spain to a 4-2 win over Italy in the European under-21 championship final on Tuesday.

Unsurprisingly, the memorable performance has earned the La Masia graduate even more attention from major clubs all around Europe. Combined with the rather careless idea to allow a contract clause that reduces his buyout from 90 million euros to a mere 18 million until Aug. 1, it is obvious the next couple of weeks will be crucial for the Hispano-Brazilian's career.

Let's be honest: If I were in charge of a topflight club which was looking to sign a relatively cheap, immensely talented playmaker who could lead my team's midfield for many years to come, I would certainly try to convince Thiago of the many advantages that leaving the Camp Nou now could potentially have.

It's a no-brainer: the promise of more chances to shine at professional level, increased playing time and an exceedingly generous yearly wage should most certainly convince the young player to walk away from the Catalan giants.

At this point, the question is clear: Are there any good reasons for Thiago to stay at Barcelona then? As a lifelong Barcelona supporter, I would like to think so. After the club provided the player with plenty of opportunities to develop his skills since he joined the youth system back in 2005, one would think that the 22-year-old would be willing to return the favour and feel excited about the prospect of becoming an influential part of the Blaugranas' first team.

Sure, it takes time for a young player coming through the ranks to establish himself in the Barcelona first team but, as club legends Xavi Hernandez and Andres Iniesta have shown in recent years, patience actually does pay off. Coach Tito Vilanova and sporting director Andoni Zubizarreta have both reportedly spoken to Thiago about the bright future that awaits at the Camp Nou in the past few days, expressing their full confidence in his potential and the prospect of him becoming a key member of the squad as soon as next season starts.

Unfortunately, I personally just don't sense that Thiago (and, most important, his dad and agent, Mazinho) are prepared to prioritise the chance to succeed in Catalunya over the many offers they have already reportedly received from major clubs such as Real Madrid, Bayern Munich or Manchester United.

So what happens next then? Ideally, the playmaker would decide to ignore all offers and accept the challenge to compete with Xavi, Iniesta and Cesc for the two interior midfield spots within the Blaugrana lineup.

In the worst-case scenario, Barcelona would end up losing a youngster who has never really expressed an interest to commit to the club on a long-term basis while earning a valuable 18 million euros which would contribute toward the signing of the long-awaited central defender the squad so desperately needs.

As I have explained, Barcelona have plenty of talented midfielders and in Cesc Fabregas have someone who has the experience and necessary attitude to lead whenever Xavi's level begins to drop. Despite the initial disappointment that Thiago's departure could cause, upcoming committed youngsters such as Sergi Roberto could definitely fulfill his current role within the squad.

If Thiago wants to leave, so be it: As long as he can pay his buyout clause, the door is wide open. Cules definitely don't want players who aren't fully committed to representing the club as part of their squad -- a point that is also valid for unsettled goalkeeper Victor Valdes, by the way.

Time for Thiago and daddy Mazinho to either pay the 18 million euros and leave or accept the current situation and stop pressuring the club via the media.

Have your say

I welcome and appreciate all respectful feedback.

For more news and opinion notes on Barcelona, follow Francesc Tomas at @TomasESPN and Facebook; 33,500 Cules have already joined.