The key difference between Fabregas and Thiago
Cesc Fabregas continues to be linked with an imminent return to the EPL as his class, ability to dominate the pace of the game and rotate into space while combining with those around him haven't gone unnoticed by other major European clubs.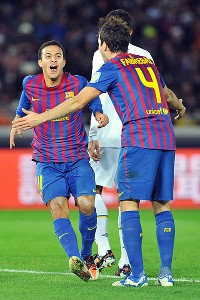 Kazuhiro Nogi/AFP/Getty ImagesThiago Alcantara, left, could use some lessons in professional comportment from teammate Cesc Fabregas.
Despite not having reached the level of dominance he enjoyed at Arsenal, Fabregas' 3,336 minutes in 47 appearances made him one of the most-used players within the Barcelona squad in Tito Vilanova's first season in charge -- a clear indication of how highly he is trusted by the Catalan coach.

Many Cules, however, were very critical of Cesc's performances this past season, arguing lack of consistent commitment, aggressive spirit or, quite simply, being worth the 34 million euros tBlaugrana directors reportedly had to splash out to bring him back to the Camp Nou.

Having attended games at Barcelona's majestic stadium from a very early age, I must say I'm not entirely surprised about the attitude that many so-called supporters are showing towards the 26-year-old midfielder.

-Agent says Koscielny a Barca target
-Pique: Mou felt 'inferior' to Barca

With La Masia having produced world-class talent such as Xavi, Andres Iniesta or Sergio Busquets at cost zero in the recent past, I can see how a minority of fans may feel paying such a vast amount of hard-earned cash on a player who left Barcelona voluntarily as a youngster is an unnecessary waste of resources -- especially considering the progression of players such as Thiago Alcantara or Sergi Roberto may also be affected as a result.

Personally, I still believe the considerable amount of money that president Sandro Rosell decided to invest in the 2010 World Cup winner will pay off in the long run. Unfortunately, there will come a day when eternal midfield leader Xavi begins to drop his level of performance and, at that point, having the experienced, reliable, creative Cesc Fabregas ready to step up in his absence is an exciting, reassuring factor. Having both players learning from each other until that point will also be crucial.

Many will argue that Thiago would also be capable of fulfilling the midfield role by Iniesta when the time comes but, at this moment, I tend to disagree. While I am a firm believer on the Hispano-Brazilian youngster's potential, his tendency to lose possession while in attacking transitions and lack of experience at the highest level show that he is just not as ready as the former Arsenal captain to take center-stage at Barcelona yet.

On a side note, I am also increasingly tired of the way in which dad and agent Mazinho continuously link Thiago's future to Real Madrid or whatever other club may have expressed an interest on securing the youngster's services despite having signed a long-term contract with the Blaugranas that expires in July 2015.

Despite the player's buyout clause having been reduced from 90 to 18 million euros due to the player not having reached the 60 percent of appearances required (mainly due to the fact he was mostly unavailable due to injury in the earlier stages of the season), there's no lack of trust in him from Vilanova.

Fabregas has reportedly been approached by both Manchester clubs, AC Milan and even Arsenal this summer. But in a gesture that shows his undoubted long-term commitment to Barcelona, was quick to elegantly dismissall speculation: "I've always said I'm delighted at Barca. Whoever says I'm leaving doesn't know me and has never talked to me or my agent. If anybody says something different than that I want to play for Barcelona, that's absurd."

In clear contrast, Thiago added more fuel to the ongoing transfer rumours by explaining: "We will talk about them after the European Championships." Dad Mazinho recently went on record to add more fuel to the fire: "Thiago would play plenty of minutes in any team in the world. He needs to play, but has a contract with Barcelona. We don't know what will happen in the future. We have another situation to analyse."

Ideally, I would love Thiago to stay at the Camp Nou, but it is entirely up to the player himself to decide whether to follow the steps taken by Xavi and Iniesta in the past to patiently wait for increasing playing time or, alternatively, opt to accept a better yearly wage elsewhere.

Fact: Iniesta played 26 matches in his first two seasons as a professional, scoring two goals and winning no titles. Thiago has made 63 appearances, scored seven goals and lifted five trophies in the same period.

Having watched him excel at the European Under-21 championships in Israel (Spain meets Italy for the title Tuesday), it is clear that Rafinha's older brother continues to develop into a tremendously gifted midfielder who is capable of leading the midfield when given the responsibility and surrounded by quality teammates -- which is why Vilanova granted him a considerable 36 appearances for Barcelona this season.

While the 22-year-old La Masia graduate decides on what step to take next in his career, it is reassuring to know that Fabregas is firmly committed to build on the very respectable 29 goals and 32 assists in his past two seasons as a Blaugrana despite the obvious interest from other major clubs.

Let's hope Thiago can follow Fabregas' example and focus on improving his own game enough to succeed at the club that, don't forget, has given him the chance to become who he is today.

The grass always looks greener on the other side, but players who are capable of staying loyal to the club's colours have a better chance of securing their place in supporters' hearts.

Have your say

I welcome and appreciate all respectful feedback.

For more news and opinion notes on Barcelona, follow Francesc Tomas at @TomasESPN and Facebook; 33,500 Cules have already joined.