A Blaugrana Confederations Cup; Messi shines in return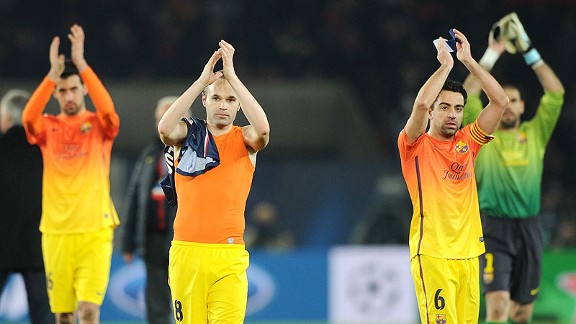 LLUIS GENE/AFP/Getty ImagesAndres Iniesta and Xavi are just two of the 11 Barcelona players who will be featuring at the Confederations Cup.
With the majority of the Barcelona news focusing on either transfer sagas or club politics, many seem to have forgotten that a considerable number of Blaugranas (eleven) are about to set the ball rolling at the Confederations Cup in Brazil.

- Confed Cup Team Preview: Spain

Let's be honest here: I still believe this tournament is yet another clever strategy which allows FIFA directors and national football federations to raise extra funds by ruining players' resting time while clubs pay their huge salaries.

Personally, I would much rather hear stories about Andres Iniesta recharging his batteries by relaxing with his family in the Albacete country-side than risking an injury by competing against Tahiti over 8,000 kilometres away from home but, unfortunately, there isn't much that can be done about it at this point.

Listening to what the Barcelona players on international duty have been saying in recent weeks though, it looks like they are actually taking the competition seriously and are looking forward to showing their worth against the likes of Italy, Mexico or Uruguay.

Victor Valdes, Gerard Pique, Jordi Alba, Sergio Busquets, Andres Iniesta, Xavi, Pedro, David Villa and Cesc Fabregas have all been called up by Spanish coach Vicente del Bosque and are hoping to contribute towards Spain's challenge for yet another title at international level, aiming to build on their recent successes at the 2010 World Cup and the 2008 and 2012 European championships.

Fortunately for the Spaniards, there is plenty of young talent for the manager to choose from. The fact that EPL stars such as Santi Cazorla and Juan Mata will struggle to get regular playing time is a true example of the squad's potential.

Given the overall quality of the talented professionals at the manager's disposal, I only see Pique, Alba, Busquets, Xavi and Iniesta as regular starters -- which, as I explained above, wouldn't necessarily be a problem from a Blaugrana point of view as less playing time means fresher players after the summer break.

Recent Barcelona signing Neymar and 2009 Confederations Cup winner Dani Alves have an important role to play if Brazil are to be successful in front of their highly-demanding home crowd. Inevitably, nothing but victory would satisfy the five-time World Cup winners only one year ahead of hosting the world's best in the summer of 2014.

Inheriting Pele's legendary number 10 shirt at La Canarinha has added extra pressure on Neymar's shoulders but, personally, I feel it would be unrealistic to expect the 21-year-old to carry the team through with titanic individual efforts -- the overall consistency and ability for teammates to play on each other's strengths will be key.

FIFA certainly have a difficult job on their hands. Despite ongoing attempts to build the reputation of the Confederations Cup, the tournament has failed to fully capture the fans' attention in previous editions. Sepp Blatter and his influential friends at the top of the biggest organisation in world football must be certainly hoping that the prospect of a Brazil-Spain final is enough to keep a relative amount of interest in the competition.

From a Barcelona supporter's perspective though, my main concern is having all international players back and healthy at the Camp Nou as soon as the holidays they agreed to with Tito Vilanova come to an end.

Messi is back

After many weeks struggling with a recurring hamstring injury, Lionel Messi came back in style, starring for Argentina in their win at Guatemala (0-4). His impressive hat-trick helped him surpass Diego Armando Maradona in the Albiceleste's all-time goal-scorers list -- a minor detail for most but, knowing how seriously the Barcelona star takes his record-breaking antiques, certainly yet another milestone for him the be proud of.

- Messi scores hat trick in Argentina's win

Good to see La Pulga back on the pitch terrorising rival defenders rather worrying about being questioned about tax dodging by the unsurprisingly insistent Madrid-based media.

On the matter, president Sandro Rosell explained: "I've spoken to Messi's family. They are very calm and we are too. We give them all our support and we have no doubt that they are completely innocent."

Considering everything that Messi has given Barcelona over the years, it is only natural that the club jumps to his defence in moments of need. While it is clear that managing Barcelona is a complex task that Rosell is finding difficult at times, hearing the president's support towards the team's biggest star is certainly reassuring.

Have your say

I welcome and appreciate all respectful feedback.

For more news and opinion notes on Barcelona, follow Francesc Tomas at @TomasESPN and Facebook; 33,500 Cules have already joined.