Barca player ratings 2012-13 -- Part 2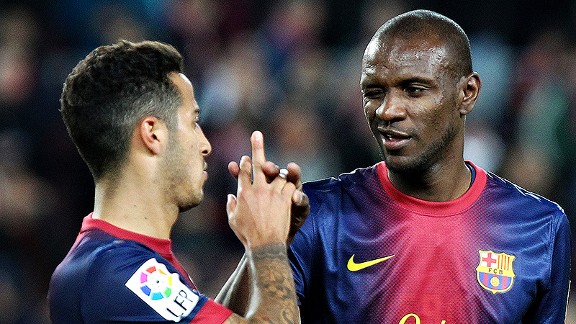 Quique Garcia/AFP/Getty ImagesThiago Alcantara, left, will remain part of Barcelona's bright future, while the courageous Eric Abidal is sadly leaving the Camp Nou.
Part 2 of my Blaugrana player ratings for the 2012-13 La Liga championship season. Click the links for Part 1 of the player ratings and the comprehensive end of season review.

Thiago Alcantara, midfielder: 6 -- After struggling with injury in the earlier stages of the season, the La Masia graduate starting proving his freshness, vision and unique touch in midfield whenever given the chance.

Thiago stat: 28 through-passes into the area in 36 appearances. Keep, loan or sell? Keep, ensuring the Hispano-Brazilian youngster progressively gets increasing playing time in order to fulfill his full potential as he is basic for the club's future.

Jonathan Dos Santos, midfielder: 4 -- Despite being asked by coach Tito Vilanova to accept the attractive loan offers he received last summer, the Mexican youngster opted for trying his luck at the Camp Nou. Unsurprisingly, he hasn't enjoyed much playing time and wasted a crucial year of his development as a result.

Dos Santos stat: 191 minutes played total, only 66 in La Liga, zero in the Champions League. Keep, loan or sell? Loan to a top-flight club, then monitor his development.

Jose Manuel Pinto, goalkeeper: 7 -- Despite many people doubting him due to his age (37), the truth is the veteran goalkeeper has performed remarkably well whenever needed, making more difficult saves and less mistakes when passing the ball than in previous years. His positive attitude on and off the pitch also influences younger players in the dressing room, ensuring continuity.

Pinto stat: 16 goals conceded, 44 saves in 16 appearances. Keep, loan or sell? Keep, as his level hasn't dropped at all. The uncertainty about Victor Valdes' future is another reason to trust his reliable substitute while Barcelona looks for a younger, long-term alternative.

Javier Mascherano, defender/midfielder: 6 -- As most of his defensive teammates, has been unable to add the required level of consistency to the Blaugrana back-line. Having said that, I felt his partnership with Gerard Pique was, once again, the strongest choice in central defence. His six-week absence due to an inconvenient injury in the later stages of the season was a key factor for Barcelona's struggle in crucial matches.

Mascherano stat: 368 balls recovered in 37 appearances. Keep, loan or sell? Keep. The Argentine's ability to contribute well in a variety of positions is a great asset that Vilanova just can't do without.

Marc Bartra, defender: 6 -- While the La Masia graduate has enjoyed some valuable playing time, I feel Vilanova should have trusted him more whenever regular central defenders were unavailable. After years of learning the mechanisms of that specific position at the Blaugrana youth academy, the youngster only lacks experience at first-team level to continue his development.

Bartra stat: 8 starts; 101 balls recovered in a total of 16 appearances. Keep, loan or sell? Keep, as he has shown enough skills and desire to learn from his more experienced teammates and, given the team's weakness in central defence, has a more important role to play next year.

Sergio Busquets, midfielder: 6 -- Continued his natural progression into one of Barcelona's future leaders on the pitch, playing a key role in the team's transition into attack as part of the traditional triangular midfield with Xavi Hernandez and Andres Iniesta. However, his impact dropped as the season developed due to constant minor injuries which affected his rhythm and confidence to tackle as aggressively and quickly as would have liked.

Busquets stat: 69 fouls received, 371 balls recovered in 43 matches. Keep, loan or sell? Keep. His class, understanding of the Barcelona system and experience at the highest level will continue to be crucial in years to come.

Pedro Rodriguez, forward: 4 -- Another poor season. I am severely disappointed to see how the unpredictable youngster who could score 23 then 22 goals his first two seasons has transformed into an insecure winger who very rarely attempts anything risky, opting to pass the ball to Lionel Messi whenever under pressure. His determination to track back whenever dispossessed is admirable, but his attacking form has been lacking for far too long now.

Pedro stat: 62 shots attempted, 10 goals scored in 43 appearances. Keep, loan or sell? Keep, as his quality is undeniable and, at 25, his best years could very well be ahead of him. Only major, urgent improvement would justify his long-term future at the Camp Nou though. If that wasn't the case, I would certainly consider offers for him in the next transfer window.

Jordi Alba, defender: 8 -- Undoubtedly the best Blaugrana signing in recent seasons. The courageous, speedy full-back has brought much-needed energy to Barcelona's left wing. His combinations with Iniesta were definitely one of the highlights of the season. His determination to track back into position to cover the space left behind him when possession was lost was also admirable -- a fact that, unfortunately, hasn't been the case with Dani Alves on the right.

Alba stat: 68 crosses into the area, 5 goals, 14 shots, 40 starts in 42 appearances. Keep, loan or sell? Keep, as his desire, aggressive attitude and pace is basic for Barcelona's future.

Martin Montoya, defender: 6 -- Started strong, challenging the seemingly untouchable Alves for a starting spot at right-back. Inexplicably, his share of playing time decreased as the season went by and ended up watching from the stands in more than one occasion. Personally, I can't understand why the speedy, powerful, reliable youngster hasn't been given a better chance to consistently show his worth with Barcelona's first team.

Montoya stat: 23 crosses into the area, 121 balls recovered, 16 starts in 23 appearances. Keep, loan or sell? Keep, but given his obvious quality and the fact that he only has one more year left in his contract, I feel only an improved share of playing time would convince him to stay beyond July 2014.

Adriano Correia, defender: 6 -- Like Montoya, became a real threat to Alves' place in the starting lineup. Unfortunately, a string of injuries affected his overall performance. Once recovered, Vilanova decided to continuously play him as a central defender, which didn't do the team (or himself) any favours as his weaknesses were constantly exposed.

Adriano stat: 6 goals scored; 7 matches as a substitute, replaced 12 times in 32 appearances. Keep, loan or sell? I am fully aware that Adriano just extended his Barcelona contract until July 2017 but I would have accepted the offers which were reportedly made for him as I feel the funds could have contributed towards the signing of the highly-anticipated central defender. Considering Montoya's progression, the Catalan would have been ready to fulfill Adriano's role without hesitation.

Eric Abidal, defender: n/a -- Managed to come back to professional football after recovering from major life-threatening surgery for the second time. Words can simply not describe the admiration I feel for an exemplary professional who has rightfully secured an eternal place in Cules' hearts.

Abidal stat: 192 minutes played. Keep, loan or sell? Barcelona has already released the courageous Frenchman in a controversial decision which, as I explained in more detail here and sentiments aside, I must agree with.

Alex Song, midfielder: 6 -- After a fairly slow adaptation period to Spanish football and, most important, the Blaugrana formation and mechanisms, the Cameroon international gained more importance within the team as the season progressed, even replacing Busquets on many occasions in La Liga matches.

Song stat: 250 balls recovered, 128 balls lost, 25 starts in 33 appearances. Keep, loan or sell? Keep. Despite his inability to establish himself in central defence (one of the key reasons why the club invested 19 million euros on signing him last summer), he has shown enough strength and commitment to continue to grow on importance within the Blaugrana midfield.

Cristian Tello, forward: 7 -- The La Masia graduate proved to be a valid alternative to the Catalans' predictable, Messidependent attack. His raw pace, freshness and confident approach was crucial to change the direction of the games where he was asked to contribute by manager Vilanova.

Tello stat: 8 goals, 16 starts, replaced 8 times, 16 matches used as a substitute in 32 appearances. Keep, loan or sell? Keep, as the 21-year-old is the fastest attacking player in the Barcelona squad and will definitely get better as his progression continues.

Stats and facts collected from ESPNFC and the official FC Barcelona website.

Have your say

I welcome and appreciate all respectful feedback.

For more news and opinion notes on Barcelona, follow Francesc Tomas at @TomasESPN and Facebook; 33,500 Cules have already joined.