Barcelona: End of season review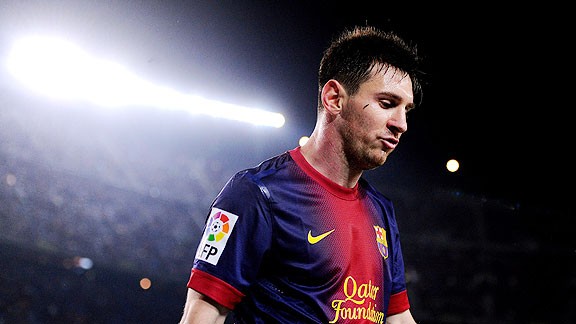 David Ramos/Getty ImagesLionel Messi was hands down the player of the year for Barcelona with 60 goals in 50 matches.
With yet another exciting season having come to an end, it is time to look back and analyse what the Blaugranas have achieved since the ball started rolling back in August.

A successful domestic season

Newcomer Tito Vilanova famously replaced coach Pep Guardiola after his voluntary decision to swap coaching Barcelona for a stress-free sabbatical year looking around the streets of Manhattan.

The club decided to only invest a combined 33 million euros in signing Jordi Alba and Alex Song to reinforce the team last summer, hoping that those two additions would be enough to cover the gaps in an already successful, high-quality squad full of world-class players.

Despite some less-than-optimistic preseason predictions, former assistant manager Vilanova led the Blaugranas to an impressive start which, ultimately, the team was able to build on and maintain in order to bring the club's 22nd La Liga trophy to the Camp Nou museum.

Consistency, continuous brilliance and a conscious effort to respect each and every single one of their domestic rivals was key to regaining the league but, more impressively, the amount of records broken in the process will certainly be remembered as one of the most glorious in Blaugrana history -- despite the coach having to fight cancer midway through the season. Impressive.

Further improvement needed

Unfortunately, the team hasn't been able to perform as highly when facing arch-rivals Real Madrid or any of the so-called big teams (Paris Saint Germain, AC Milan and newly-crowned treble winners Bayern Munich) at the European level. Sure, being eliminated at the semifinal stage at both the Champions League and Copa del Rey is not necessarily unacceptable, but given the potential of the current squad and the inexcusable way in which such eliminations happened, I can't help but feel a slight sense of disappointment.

While Barcelona have been playing attractive, elaborate football for a number of seasons, the truth is that high-quality teams led by astute tacticians seem to have found the way to frustrate the Catalans: Defending their own final third ferociously, then repeatedly exposing their obvious defensive weaknesses with quick counterattacking efforts.

Transfer priorities

I am pleased to see that president Sandro Rosell and sporting director Andoni Zubizarreta seem to have read the signs correctly and are already working on reinforcing the squad in order to put Barcelona in a position to successfully challenge for the second treble in the club's history next season.

The recent signing of Brazilian youngster Neymar should certainly bring much-needed fresh air and a touch of improvisation to the Blaugrana attack, hopefully taking some responsibility off Lionel Messi's shoulders.

Despite the incredibly heavy 57 million euro price tag, I feel signing one of the most promising forwards in world football can only be a positive sign if, as expected, Vilanova can find a way to get the best out of both Neymar and Messi by working together towards the common goal, rather than individual glory.

It has also been widely reported that Barcelona is currently searching for a reliable, experienced, taller centre-back to strengthen their weakened back-line. Pressure is certainly on, especially after having recently released Eric Abidal following plenty of internal debate about his ability to perform at the highest level for a further year.

Thiago Silva, David Luiz, Marquinhos, Inigo Martinez... The shortlist of candidates to partner with Gerard Pique at the heart of the Blaugrana defence is oozing with quality but, at this stage, only time (and considerable amounts of money, unfortunately) will tell who ends up at the majestic Camp Nou after the summer.

One point is clear though: The Catalans can simply not afford to start the new season without signing that essential centre-back, whatever his name and however expensive he may be.

Player of the season

Undoubtedly, Messi has been the key player for Barcelona once again this year. His 60 goals in 50 appearances and ability to score consistently whenever needed have made him an indispensable asset to Vilanova, always ready to unbalance games by producing endless sparks of magic.

The diminutive Number 10 has continued his jaw-dropping progress, becoming even more pivotal to the overall team performance this year. Despite being surrounded by some of the best attacking players in world football, Messi has clearly stepped up as the spiritual leader; someone able to put the team on his shoulders and motivate others to perform at the highest possible level.

Having said that, the increase of La Pulga's relevance within the team has led to others over-relying on his abilities to decide games and, as a direct result, their individual goal-scoring returns have dropped below expectations. This has made Barcelona much more predictable and easier to defend against, as ultimately everyone knows that it will probably be Messi who attempts the shot at the end of the Catalans' prolonged passing transition.

Under-performer(s) of the season

Both Pedro Rodriguez and Alexis Sanchez have been suffering from severe Messi-dependence all year and have therefore been unable to consistently perform to the required standard, putting a huge question mark over their futures at the club as a result.

Frustratingly, both players have been unable to add a reliable alternative up front and mostly limited their attacking game by looking for Messi when under pressure rather than dribbling or out-running their markers into space.

Barcelona famously won the treble back in 2009 with an attacking three that included Samuel Eto'o, Thierry Henry and a developing Messi. While it is clear that times have changed, the idea of having a collection of individually gifted forwards who can all contribute a minimum of 20 goals per season must be revisited as a matter of urgency.

PS: Stay tuned for my upcoming, comprehensive 'Player-by-player Season Review 2012-13', which will include plenty of stats, analytical facts and my personal views on who should be kept, loaned, sold or released during the summer transfer window.

Have your say

I welcome and appreciate all respectful feedback.

For more news and opinion notes on Barcelona, follow Francesc Tomas at @BarcablogESPN and Facebook; 33,500 Cules have already joined.