Neymar's arrival recalls Barca's lack of luck with transfers
Neymar's arrival at the Camp Nou is a welcome boost for Barcelona after a trying few months, but it will take more than the world's most feted young star sweeping through the door to eclipse all of their problems. Nobody is saying that they should scrap La Masia or the club's footballing philosophy, but in the nearly six-week period since the 4-0 hammering at Bayern Munich in the Champions League semifinal first leg, there has been some serious soul searching.

In this period of reflection, Barca's transfer activity has come under intense scrutiny. Since Andoni Zubizarreta arrived as sporting director in summer 2010, Barcelona have spent €151 million on transfers. As Marca's Luis Rojo pointed out in the days following the game, that amount yielded just two starters for the humiliation at the Allianz Arena -- Jordi Alba and Alexis Sanchez, though admittedly few would argue that the club haven't had good value from David Villa, for example.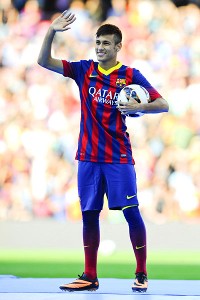 David Ramos/Getty ImagesNeymar is the newest hope for Barca, who haven't received much value from their transfers under Andoni Zubizarreta.
Nevertheless, the comparison to their opponent was unflattering. In the same period, Bayern laid out €126 million on players who comprise five of their formidable first choice XI (including Javi Martinez and Mario Mandzukic) while keeping options such as Xherdan Shaqiri and Luiz Gustavo on the bench. The value Barcelona have been getting out of the transfer market in recent years -- or the lack of it -- couldn't be clearer.

So whether Neymar will be a success -- and, indeed, whether a player of his profile should have been the priority as Barca regroup -- is a question with a far from obvious response. This summer's dealings will be key for this lauded team's future prosperity, but the club's trials in the transfer market pre-date the arrival of Zubizarreta, as the following examples show.

Alexander Hleb (arrived from Arsenal in 2008, initial fee of €15 million). Signed on the back of a productive season for the Gunners, Hleb quickly reverted to the frustrating figure familiar to Arsenal fans early in his spell in north London. He started a mere eight domestic matches in his season at the Camp Nou. Loan spells at former club Stuttgart, Birmingham City and Wolfsburg followed before he was released from his deal in January 2012, subsequently signing for Russian side Krylia Sovetov.

Martin Caceres (Villarreal, 2008, €16.5 million). This buccaneering defender was 21 when he joined but was given little time to develop, making only 13 La Liga appearances before loans at Juventus and Sevilla. In May 2011, Caceres completed a full transfer to Sevilla, with Barca registering a loss of almost €14 million. The Andalucian club later made a profit of nearly €10 million when it sold him onto Juve in summer 2012 after another loan spell in Turin.

Dmytro Chygrynskiy (Shakhtar Donetsk, 2009, €25 million). Chygrynskiy joined at the age of 22, with Barca bargaining long and hard to get him. The Ukraine international played just 12 -- largely unconvincing -- La Liga matches for Barca. He was sold back to Shakhtar a year later at a €10 million loss, against the wishes of Pep Guardiola but with the club in need of liquidity.

With a style using skills adapted from a youth spent playing ice hockey, Chygrynskiy was an example of the club sometimes failing to integrate players from other footballing cultures. His failure partly encouraged Guardiola's use of players in defence who could circulate the ball effectively, rather than necessarily specialist defenders -- with midfielder Javier Mascherano, signed in 2010, used successfully in a defensive role to this end.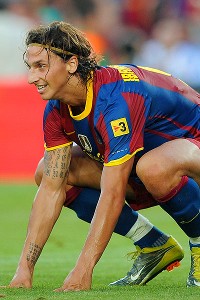 Denis Doyle/Getty ImagesBarca was reluctant to adapt Zlatan Ibrahimovic to their style and use him as an alternative out-ball to circumvent packed defences.
Zlatan Ibrahimovic (Inter, 2009, €69.5 million). The Swede's solitary season in Catalonia tends to be regarded as the major black mark on the club's balance sheet in recent seasons. Samuel Eto'o was used as a €20 million-valued makeweight in the deal of course, with the Cameroonian going on to win a second successive Champions League at Inter. In this light, it is easily forgotten that Ibrahimovic scored a respectable 21 goals in all competitions.

Yet while Barcelona knew what type of player they were getting when they signed Ibrahimovic, they appeared reluctant to adapt their style and use him as an alternative out-ball to circumvent packed defences -- despite the tactic working to great effect in the Champions League quarterfinal first leg at Arsenal. He cut an increasingly isolated figure as the season went on before being loaned to Milan in 2010, and eventually sold to the Rossoneri for just €24 million.

Henrique/Keirrison (both Palmeiras, 2008/2009, €8 million/€14 million). The purchase of these two Brazilians a year apart, were two of Barcelona's more perplexing pieces of business. They never made a single first-team appearance between them, with defender Henrique released on a free in 2012 after loan spells at Leverkusen, Racing Santander and back at Palmeiras. Also connected to the investment fund Traffic, Keirrison was instantly loaned to Benfica but started just one match during his time in Lisbon, and was brutally described by Portuguese newspaper A Bola as "barely even a footballer." He is currently with Coritiba on a deal that runs until 2014.

Cesc Fabregas (Arsenal, 2011, €29 million). The ending of this interminable transfer saga should have been worth the wait -- the Spain international was a colossal signing anyway but of even greater value to Barca having already come through La Masia in his teens and thus understanding the intrinsic nature of the club's modus operandi. The scorer of 28 goals and creator of a truckload more since his return, Fabregas could never be described as a failure but it is indisputable that Barca have struggled to integrate him effectively.

There has been much talk of him "re-learning" the Barca style -- something that Fabregas himself described as "a lot more mechanical [than Arsenal]" in an interview with French magazine So Foot last year -- but less understanding of how the team might make the most of the variation offered by his very British ability to make late runs from midfield.

The jury is still out on a few more; €26 million Alexis Sanchez already has been informed that he will be retained for 2013-14, but he is probably the most threatened by Neymar's arrival, while €19 million Alex Song has made little impact so far. Even with Neymar's undoubted attributes, that recurring word -- "integration" -- will be key in both his adaptation and in Barcelona's overall ability to make their presence felt anew in the latter stages of the Champions League.