Abidal and Valdes: Different reasons to say goodbye
Football can be cruel at times. Having successfully defeated a liver tumour a couple of times and even managed to come back to a degree of fitness that will allow him to continue playing as a professional, the Barcelona directors decided it was time for Eric Abidal to leave the Camp Nou after six seasons defending the Blaugrana.

Strictly speaking, the reasons the club decided to release the former France international are obvious: the 33-year-old has recently recovered from major surgery and the mere fact that the doctors have given him the green light to continue to play at this level isn't much short of miraculous. Unfortunately, the coaches that have monitored the Frenchman's progress since his last operation doubt that he can return to the level required to compete for a spot at Barcelona.

- Valdes plans to see out final year
- No immediate Monaco move for Valdes

That being said, it is clear that seeing Abidal leave the team brings back glorious memories that have already been written with golden letters in the Blaugrana history books: his pivotal role on and off the pitch during the Pep Guardiola era; the speed at which he came back after his first operation to lift the club's fourth Champions League; his positivity and inspiring energetic attitude ahead of his second stint in hospital... The list of remarkable moments, not just in front of the cameras but also behind the scenes, is simply endless.

Perhaps unknowingly, and definitely unexpectedly, Abidal became an inspirational leader for team-mates, coaches and fans alike. The way in which he always faced adversity with a smile was a breath of fresh air, a much-needed breeze of positivity. His determined, relentless desire to overcome any difficulties life threw his way also enabled others to put their own attitudes and problems into perspective.

Eric Abidal: A remarkable example of how to live a life despite adversity, continuously striving for improvement while staying true to your values.

Good luck in the future, Abi. You certainly deserve it.

Victor Valdes wants to see out his contract

Just hours after Eric Abidal's emotional farewell, it was time for Victor Valdes to finally face the press after four long months of unjustified silence. As had been the case the previous day, anticipation was massive at the Camp Nou but, this time, the media didn't quite know what to expect.

The Catalan goalkeeper had been far too secretive about his future since his agent released a note informing the world of the player's refusal to negotiate the renewal of his contract at Barcelona beyond July 2014 and to further his career elsewhere.

Victor Valdes explained: "I know I owe the club members and fans an explanation as to why I decided not to renew my contract. The goalkeeping jersey at this club weighs a lot. There is a lot of responsibility. This is a decision I have made over the seasons, psychologically, bit by bit. I have a year left and I owe that to the club. My idea is to see that out. I see myself playing in other leagues, and looking for other challenges. [But] I do not feel that tomorrow could be my last game for Barca."

After nearly 18 years defending the Blaugrana and having contributed to 20 professional trophies, including three Champions Leagues and six domestic leagues, I can understand why Victor Valdes would like to experience football in different countries but, honestly, I don't feel he has dealt with the situation in the best possible way.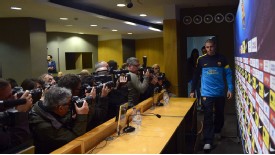 AssociatedVictor Valdes arrives at the Camp Nou to explain his desire to move on
Despite the player's long-awaited analysis of the situation, the key question of whether Victor Valdes will remain at Barcelona or not next season remains unanswered as, ultimately, it is up to the club, not just the player, to take that decision.

In other words: The goalkeeper clearly expressed his desire to stay but, in doing so, he passed on all the responsibility over his future to the club's directors, who now have one more fire to extinguish.

Ideally, the best scenario would be player and directors working together to find a solution that would benefit both parties, but an agreement seems unlikely at this stage.

From the club's perspective, it seems obvious that selling the player for a decent amount this summer would make much more sense than keeping him when he has so clearly stated his desire to leave. Realistically, selling the goalkeeper would also be the only way to afford the signing of a quality replacement without unsettling the current, strict transfer policy.

From Valdes' point of view, staying at the Camp Nou for a further season would allow him to negotiate an even better economical deal with his future employers, as any transfer fee Barcelona would have received as compensation would go directly into the player's pocket.

I still believe it would have been better for Valdes to listen to the club's directors and inform fans of his decision after the last game of the season, to be played on Saturday against Malaga at the Camp Nou, as telling the world so far in advance certainly didn't help anybody given that his contract situation, four months after the announcement, remains the same.

Failing that, and understanding Valdes' inner need and right to share his decision with the world as soon as it was taken, I still believe that he should have spoken to the media about his feelings many months ago instead of allowing constant speculation to continue.

While such rumours and debate were not the most decisive factors in Barcelona's decline in the later stages of the season, it seems clear that it didn't help in maintaining the necessary harmony level within the dressing room at a time when manager Tito Vilanova was fighting cancer thousands of miles from the Camp Nou.

Personally, I would have expected Victor Valdes to be a bit more cooperative with the club that has given him everything but, instead, he has decided to drop a bombshell that the club directors must now try to shift with extreme care.

Many names such as Marc Andre ter Stegen, Pepe Reina, Vicente Guaita or even David de Gea have already been linked with the goalkeeping job at Barcelona but, at this point, the identity of the future Blaugrana No. 1 remains unclear.

Have your say

I welcome and appreciate all respectful feedback.

For more news and opinion notes on Barcelona, follow Francesc Tomas at @BarcablogESPN and Facebook; 33,000 Cules have already joined.