Barcelona lift La Liga trophy after winning in the rain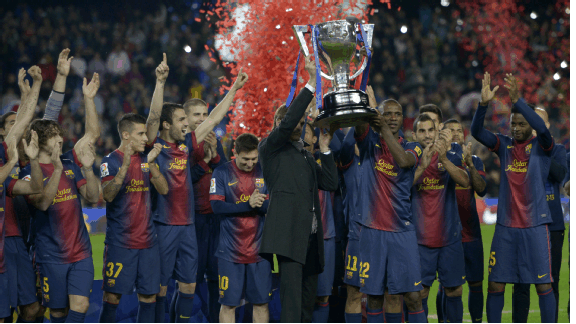 GettyImagesTito Vilanova and Eric Abidal hold aloft the La Liga trophy after the victory against Real Valladolid at the Camp Nou
Barcelona achieved a well-deserved 2-1 win over Real Valladolid at the Camp Nou on Sunday in Matchday 36 of La Liga. Pedro Rodriguez and Marc Valiente (own goal) scored for the Blaugrana, who enjoyed 71 percent of possession, created 17 scoring chances and attempted 12 shots, five on target and one to the crossbar.

The Deciding Moment – Just 20 minutes after kickoff, Xavi Hernandez cleverly regained possession in Valladolid's defensive third after intercepting a clumsy pass by the visitors' centre-back. The Catalan maestro didn't waste the clear 4-against-1 superiority and gave the overlapping Pedro an accurate assist, which El Canario slotted comfortably under a defenceless Jaime.

-Video: Barca players meet X Games athletes

Key 1 – With the Blaugranas having already celebrated the title around the streets of the Catalan capital, there was little more than pride at stake as neither team had any real pressure to win the points. With that in mind, it was only natural the match became nothing more than a glorified friendly under the unusually constant rain.

As most rivals do when facing the Blaugrana in their magnificent home stadium, Valladolid decided to drop very deep and hope for quick counter-attacking breaks. I thought the tempo of the Blaugrana midfielders could have been higher at times but, despite this, Barcelona enjoyed the necessary control of possession and, ultimately, forced Los Pucelanos into submission with their traditional pass-and-move approach.

Despite a late penalty conceded after a careless mistake in midfield by late substitute Jonathan Dos Santos, this was a fairly comfortable victory in front of the highly demanding Camp Nou crowd.

Key 2 – With Lionel Messi watching from the stands due to injury, Tito Vilanova gave David Villa, Cesc Fabregas and Pedro yet another chance to prove their worth. The three Spanish internationals seemed determined to make an impact from the start, knowing that their futures may depend heavily on finishing the current season on a high.

One of the key weaknesses Barcelona has had this season is an over-reliance on Messi to lead the attack. The fact the Argentine forward tends to absorb a lot of influence is undeniable and, in my opinion, makes the team much more predictable and easier to defend against whenever La Pulga isn't at his best.

Fortunately, everyone stepped up to cover up the absence of the world's best player by taking more responsibility to make things happen up front. There was also an increased degree of defensive intensity which allowed Barcelona to recover many balls up front, which seemed to bring back one of the key Barcelona trademarks: not allowing the opposition to enjoy enough time to build any meaningful possession.

Key 3 – The game started with Valladolid honouring Barcelona's achievement with the traditional Guard of Honour and ended with the inspirational Vilanova and Eric Abidal lifting the La Liga trophy before their loved ones after a difficult year both personally and professionally.

Despite the incessant rain trying to spoil the title celebrations, spirits remained high enough to celebrate the Catalans' 22nd domestic league title just a season after losing the title to Jose Mourinho's record-breaking Real Madrid -- what a difference a year makes, right?

In the words of William Shakespeare: all's well that ends well. Time to celebrate the fourth Liga league trophy in five years.

Man of the Match – Andres Iniesta used his tremendous class to create constant danger with his unparalleled dribbling ability and passing vision. Combined well with those around him and rotated freely across midfield.

Blaugrana to Watch – Martin Montoya performed at a remarkable level at both ends of the pitch. The La Masia graduate was involved in many piercing forward runs which made him unpredictable. Sure, he gave away a late penalty, but mistakes are all part of the learning process of upcoming youngsters. Personally, I was left wondering why he hadn't replaced Dani Alves earlier in the season.

The Weakest Link – Cesc Fabregas seemed to lack confidence playing as a False 9 once again, as if he was desperately far from his preferred position despite having played there fairly regularly for club and country this year.

The Catalan midfielder used to be the architect at Arsenal but, despite a few sporadic glimpses of brilliance, his form this season has been far from spectacular, becoming a shadow of his former self. Having said that, his professionalism and effort is unquestionable. Here's hoping for a prompt return back to form.

The Quote – "La Liga has been away from Barcelona for one year, but it's back. Without your help, it would have been more difficult." - Vilanova speaking to fans.

Player Ratings (0-10; 10=best)

Victor Valdes (6)

Martin Montoya (7), Gerard Pique (6), Javier Mascherano (7), Jordi Alba (7)

Sergio Busquets (6), Xavi Hernandez (7), Andres Iniesta (8)

David Villa (6), Pedro Rodriguez (7), Cesc Fabregas (6)

Substitutes: Thiago Alcantara (6), Jonathan Dos Santos (6), Cristian Tello (6)

Have your say

What did you think of this Blaugrana performance? Who was your Man of the Match?

I welcome and appreciate all respectful feedback.

For more news and opinion notes on Barcelona, follow Francesc Tomas at @BarcablogESPN and Facebook; 33,000 Cules have already joined.