Neymar and Thiago Silva: Time for Rosell to deliver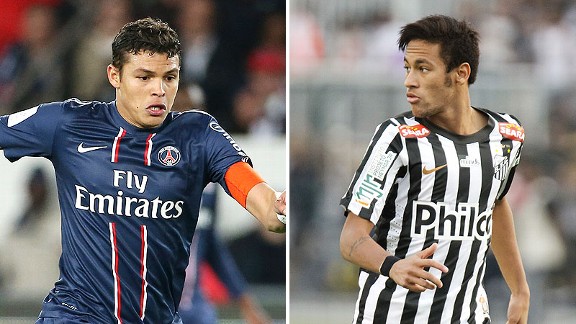 Getty ImagesThe signings of Thiago Silva, left, and Neymar, right, would greatly bolster Barcelona's squad for the 2013-14 campaign.
With 90,000 fans looking forward to being presented with the prestigious La Liga trophy at the Camp Nou on Sunday, one would think that these are peaceful times at the Camp Nou -- the general feeling in the streets of the Catalan capital is not as blindly optimistic, I'm afraid.

Barcelona supporters have always wanted their team to do well in all competitions, but their traditionally high expectations have become even higher in recent years. The amount of silverware which has been stored at the Camp Nou museum since the early 1990s, far from calming their hunger, has made them even more determined to achieve further glory.

This is particularly obvious when you hear/read the views of the younger Cule generation. In their eyes, winning the domestic league title is nothing short of an obligation; a season without a Champions League victory isn't considered a success. Some argue that the Blaugranas have disappointed whenever challenged by major rivals this season -- teams such as Bayern Munich, Real Madrid, AC Milan or Paris Saint Germain.

- Pedro: Neymar would fit in at Barcelona

While I agree that negative results at crucial points of the season did hurt the team's chances of winning both the Spanish and European Cups, the fact that the Catalans have been consistently impressive in the domestic league and should be capable of building on such success next season.

If the board manages to sign at least two new players who can instantly boost the quality of Tito Vilanova's starting lineup, there is no question that this team should be able to challenge for every competition once the ball starts rolling again after the summer break. Please note that a third signing would be needed if the club received a convincing offer for unsettled goalkeeper Victor Valdes.

At this point, it is up to the current president, sporting director and coach to finally get key transfer decisions right as the club's immediate future depends on their ability to make the upcoming transfer window a success.

Given the undeniable need to bring new blood into the squad, it is obvious that pressure is progressively building on Sandro Rosell to deliver. Since he became president in July 2010, he has been responsible for attracting Cesc Fabregas, Alexis Sanchez, Jordi Alba and Alex Song to the Camp Nou. Unfortunately, only the speedy left-back has made a significant difference, with the other three signings failing to establish themselves as regular starters so far.

Clearly, Barcelona's main weakness this year has been the team's inability to press effectively as a unit when dispossessed and, more specifically, the lack of consistency in central defence.

While many names have been splashed all over the Catalan media, Tito Vilanova's first preference continues to be Thiago Silva. The Blaugranas were famously out-priced by Paris Saint Germain last summer but seem even more determined to bring him to the Camp Nou now, especially after his impressive display of strength, leadership and desire in the recent Champions League clash between both clubs.

The Brazilian's agent admitted this week: "PSG won't be the last team Thiago Silva plays for in his career. We haven't spoken to Barcelona since last summer. It's normal that they realise my player's talents, many other clubs have." -- In other words: The 29-year-old international would be willing to leave Paris if the right offer from the right club came.

The other area which needs desperate improvement is the need to eliminate the alarming over-reliance on Lionel Messi in attack. The Argentinean wizard has scored a tremendous 60 goals this season, which is a shocking 45 more than his most prolific teammate and 40% of the team's total. While this situation is ideal for Messi to continue to win individual awards, the team's effectiveness without him is seriously affected as a result.

Barcelona must sign a creative forward who is not only capable of scoring prolifically but also attracting enough defenders in order to free up space and create cracks in rival defences. Judging by the latest developments, the board and coaches seem to have already decided that Neymar would be ideal for the job.

Reports explain that Barcelona directors are currently negotiating with Santos and the player's representatives in Brazil and are optimistic that, despite a late desperate attempt from Real Madrid to lure the player to the Spanish capital instead, Neymar will wear the Blaugrana next season.

Personally, I feel that El Mohicano is exactly what the team needs: The 21-year-old forward has scored 122 goals in his last 171 matches for his club and 19 times in 31 appearances for the Brazilian national team.

As long as he can adapt to European football and work cooperatively with his new teammates, I am confident his arrival would boost the team's chances to achieve further glory in years to come.

Final Word

I am aware that the next election isn't due until the summer of 2016, but if Rosell fails to improve the team appropriately once again, then many Socis would certainly try to vote him off his presidential seat before then.

Note: Unlike many rival clubs, Barcelona is actually owned by over 120,000 ticket-holders who can democratically vote to either express their trust on or replace the club's leadership.

Cules can be critical even when their team excels continuously on the pitch and enjoys prolonged success so it can't be a surprise that, when problems arise, they are the first to urge those in charge to step in and find urgent solutions.

Here's hoping for a successful transfer window and an improved first eleven next season.

Pressure is on, Sandro.

Have your say

I welcome and appreciate all respectful feedback.

For more news and opinion notes on Barcelona, follow Francesc Tomas at @BarcablogESPN and Facebook; 33,000 Cules have already joined.