Substitute Messi brings Liga title closer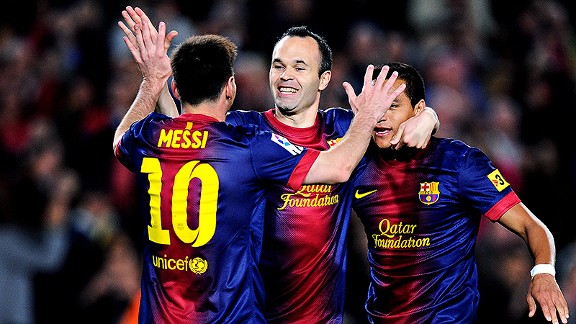 David Ramos/Getty ImagesLionel Messi celebrates with teammates Andres Iniesta, center, and Alexis Sanchez after scoring Barcelona's fourth goal.
Barcelona achieved a valuable 4-2 win over Real Betis at the Camp Nou in Matchday 34 of La Liga on Sunday. Alexis Sanchez, David Villa and Lionel Messi (brace) scored for the Blaugrana, who enjoyed 69 percent of possession, created 19 goal-scoring chances and attempted 16 shots, 11 on target, two to the post.

After an incredibly difficult week due to the humiliating 7-0 aggregate defeat against Bayern Munich in the Champions League semifinals -- with Messi sitting out the second leg -- the Catalans had the chance to bring back some stability to the club's day-to-day life by grabbing three more points in their journey to bring the domestic league trophy back to the Camp Nou.

Manager Tito Vilanova was forced into making several changes to his starting 11. Key players, such as Victor Valdes, Pedro, Carles Puyol and Javier Mascherano, were all unavailable due to injury or sickness; top scorer Lionel Messi and influential midfielder Sergio Busquets were initially on the bench as they fight to regain full fitness.

As if Barcelona was suffering from a prolonged, painful hangover, Betis managed to score a mere couple of minutes after kickoff, exposing the hosts' makeshift defense once again -- another dreadful start that made the least-confident Cules fear the worst after the killer blow inflicted by the German champions in midweek.

Fortunately -- and before the highly demanding Camp Nou supporters began putting even more unnecessary pressure on those players who, in their eyes, have underperformed in recent times -- Sanchez leveled the score with a superb header after a brilliant individual effort by Andres Iniesta from the right wing.

From then on, Barcelona were able to impose their rhythm and create clear scoring chances regularly that the forwards, inexplicably, failed to convert into a comfortable advantage for the home side. To make matters worse, Ruben scored for the Verdiblancos with a tremendous long-range effort before halftime, leaving the Blaugranas with a mountain to climb after the break.

Given the importance of the match in deciding the title as soon as possible to avoid complications on and off the pitch, Vilanova rightfully decided to use the best player at his disposal as a matter of urgency, asking Messi to warm up as soon as the ball started rolling in the second half.

In fact, Messi seemed to boost the team even before jumping on the pitch, with the uninspired Villa finally finding the net for the equaliser seconds before being substituted by the Argentine wizard.

From then on, La Pulga put the team on his back and, quite simply, carried his teammates to an eventual victory with several sparks of sublime skill and exquisite footballing flair: a superb top-corner curled free-kick goal Diego Maradona would have been proud of; another set-piece effort which hit the crossbar minutes later; a confident tap-in after playing a crucial part in the most dynamic Blaugrana attack … the list is almost endless.

Once again, the Catalan stadium was somehow lifted by Messi's sole inspiring presence; the tiny genius transforming a fairly balanced match into yet another priceless victory. Having now scored in 21 consecutive league matches, giving him a total of 46 in La Liga, Leo's influence in the team's success continues to reach new heights.

Sure, the lack of firepower without Messi, the inability to defend consistently throughout 90 minutes and the fact Barcelona had to come from behind once more is concerning. But the way the players overcame the adversity and achieved yet another valuable win toward the title is remarkable.

With a solid 11-point advantage and only 12 points to play for, it is safe to say that the La Liga trophy is now closer to the Camp Nou museum than ever despite the many difficulties Barcelona have faced since the beginning of the season.

Player Ratings (0-10; 10=best)

Jose Manuel Pinto (6): Replaced the injured Victor Valdes in goal with a decent performance despite being beaten twice.

Dani Alves (6): Bombarded forward constantly from the right flank, eventually providing an accurate cross for David Villa.

Adriano (5): Played as a centre-half once again. Caught out of position several times, as is to be expected from someone without the necessary experience in that role.

Gerard Pique (5): Exposed in the middle of the Blaugrana makeshift back-line at times. Failed to provide the defense with the required leadership.

Jordi Alba (6): Eager to contribute with continuous forward runs, combining and overlapping well.

Alex Song (7): Another consistent performance, providing the team with a reliable midfield reference.

Xavi Hernandez (7): Controlled the game with his well-timed openings to the wings and accurate combinations in the opponent's final third.

Andres Iniesta (7): Another incisive performance, always determined to ask questions from the rival defense. One of his tremendous crosses enabled Alexis to score Barcelona's first.

David Villa (5): After several awful misses, finally found the net with a furious header seconds before being substituted by Messi. Would be disappointed by his unusual mistakes but, to be honest, he did well to put himself into those scoring positions in the first place.

Cristian Tello (8): The electric youngster was able to beat his markers with ease thanks to his unparalleled acceleration and determined attitude. Made the goal shiver with a thunderous strike smashed into the crossbar. Having scored seven league goals in 11 starts, I'm still wondering why Tito didn't use his pace and sharpness to unbalance the tie against Bayern in midweek.

Alexis Sanchez (7): Another spirited display, full of energy and desire. His perfectly timed header could be crucial toward winning La Liga. Seems to be combining better with everyone around him as the season develops, encouraging signs of individual growth and improvement for the future.

Substitutes: Lionel Messi (9) Man of the Match, Thiago Alcantara (6), Sergio Busquets (n/a)

Have your say

What did you think of Barcelona's performance vs. Real Betis?

Who was your Man of the Match? What are your player ratings?

I welcome and appreciate all respectful feedback.

For more news and opinion notes on Barcelona, follow Francesc Tomas at @BarcablogESPN and Facebook; 33,000 Cules have already joined.